Sweetheart Table vs. Head Table-Pros and Cons
The perks and drawbacks of sitting as a couple or with your nearest and dearest at the reception.
They say that developing a seating chart for your wedding will be one of the biggest challenges you face whilst planning your wedding day – and particularly your wedding reception. If you choose to assign tables for your wedding guests – especially if all attendees are given specifics seats – you'll have to pour over your guest list to devise the best possible arrangement for your friends and family.
Many couples spend so much time concentrating on their extended families, high school friends, and young children that they forget to make an equally important seating assignment: Their own as the bride and groom. When it comes to the newlyweds' placement during dinner at the wedding reception, the bride and groom often have two options: a head table setup or a "sweetheart table."
The head table refers to a larger table that includes the bride and groom, their wedding party, and/or immediate family members. The sweetheart table is a much smaller table wherein the bride and groom sit by themselves at their own table during the reception. Both the sweetheart table and head table options have their upsides and downsides. As seeing that the positives for one option also serve as the negatives for the other. We decided to put forth the "head table" pros and "sweetheart table" pros, in lieu of true pros and cons, to help you choose what seating arrangement is right for your wedding.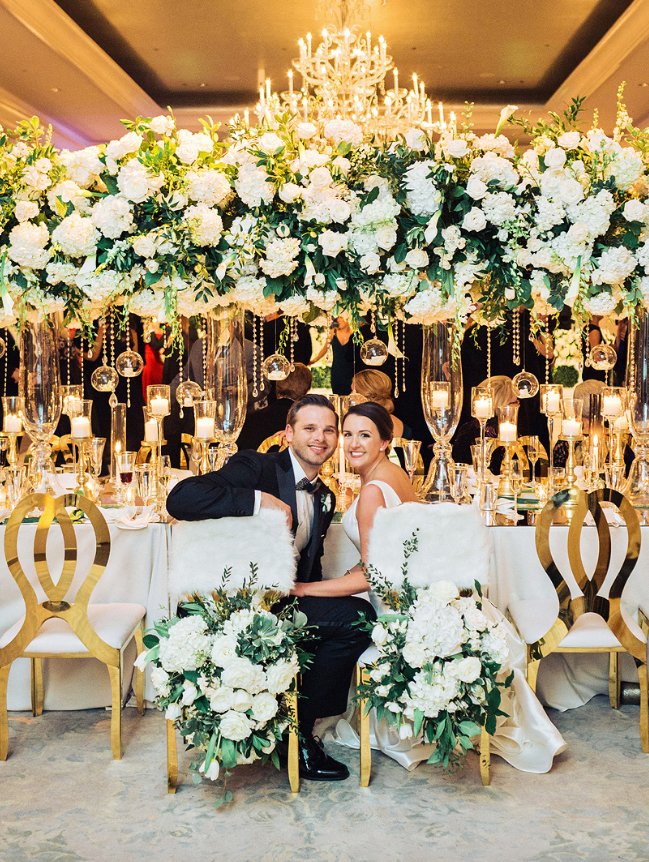 Why to Choose a Head Table vs. a Sweetheart Table
You're immersed in the company of loved ones.
When you're seated at a head table, you and your new spouse will be surrounded by the most important people in your lives, which can be a godsend when trying to wind down after all of the ceremony nerves. Your maid of honor (or matron of honor), best man, and wedding party – including the bridesmaids, groomsmen, and sometimes ushers or other attendants – will help to settle your jitters and prepare you for an evening of fun and celebration. It's important to remind yourself of the non-serious elements of your big day!
It's yet another way to honor those close to you.
Many couples often forget that any friend or sibling that accepts the title of "bridal party member" also accepts to honor you, the bride or groom. Your bridal party has elected to stand up with you as you commit your love and loyalty to another person, and many newlyweds want to make their friends feel their appreciation by seating them at the wedding head table. Choosing to host a head table is yet another small way to ensure your bridesmaids and groomsmen feel special at the reception.
Guests don't feel as separated from you.
As opposed to being isolated at a sweetheart table, you and your new husband or wife will be talking and laughing with others, which will lessen any perceived divides between you and your guests. Though the newlyweds are the reason for the celebration and party, no guest wants to feel like they are somehow separate and divided from you and your spouse. Especially on a day set aside to celebrate love.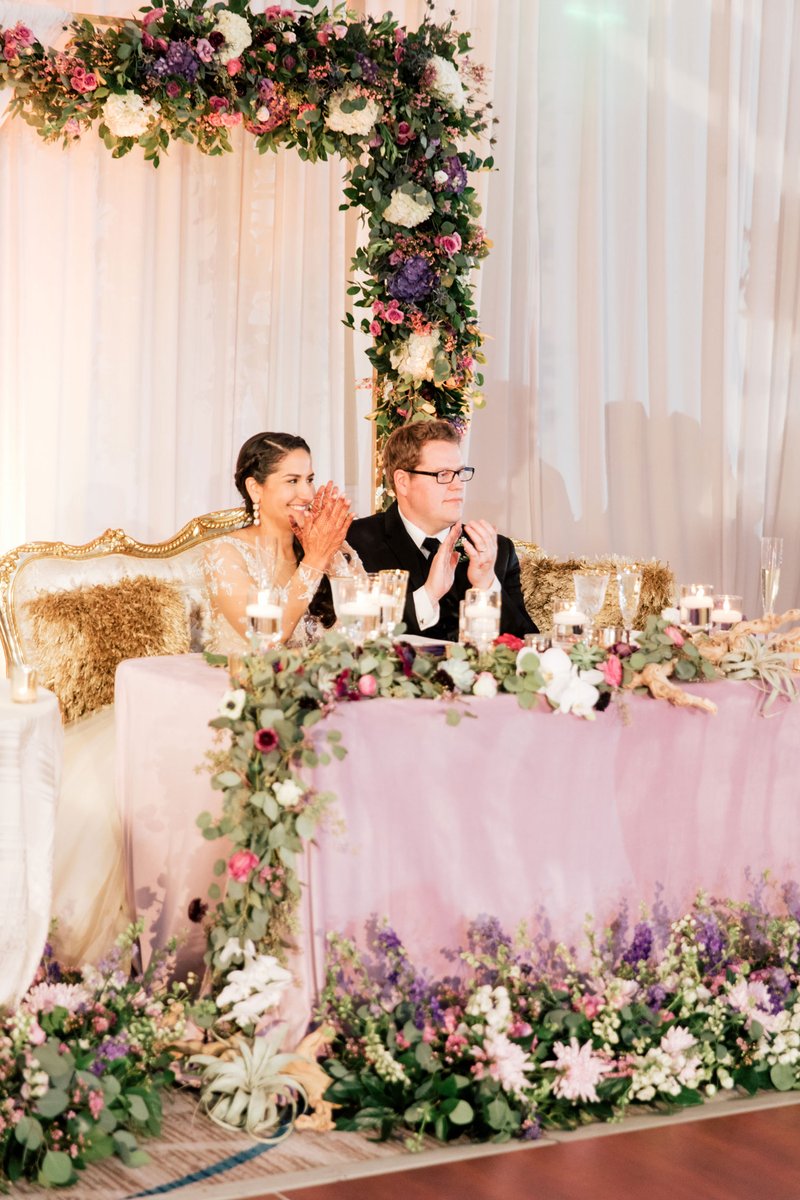 Why to Choose a Sweetheart Table vs. a Head Table
You can spend some rare alone time with your beloved.
The wedding day will absolutely fly by, and though the purpose of the event is your marriage, couples often note that they don't get to have much one-on-one time with their love throughout the celebration. If you couldn't schedule an intimate "first look," or plan for half an hour alone after the ceremony, a sweetheart table gives you the opportunity to relax with your new husband or wife.
Your bridal party has a better opportunity to mingle.
Your bridesmaids and groomsmen won't have to line themselves up at a long head table – instead, they'll be able to converse with one another more easily at reception tables. Similarly, they will be guaranteed a spot next to their dates, while wedding head tables may not allow space for the significant others of bridal party members. If the bride and groom are seated separately at a sweetheart table, no bridesmaids or groomsmen will have to be split from their loved ones.
You'll feel the need to stand up and converse with all guests.
Being alone at a sweetheart table will likely make it easier to get out of your seats to greet all of your family members and guests at their respective tables. While you can quickly get complacent surrounded by friends, the slight distance at sweetheart tables will compel you to spend time walking around, talking with your bridal party as well as all other revelers. Guests are sure to appreciate the special attention they receive from the couple of honor.
In summary, if you choose to create a focal point as newlyweds at a sweetheart table, wedding guests and your bridal party may have more of an opportunity to mingle together and with you; However, ahead table wedding arrangement will ensure your bridal party feels extra special throughout the celebration. Once you decide whether a sweetheart table vs head table is right for your big day, it's time to sit back, be happy with your decision, and let the rest of the planning continue!
For more ideas, explore our site for inspiration from real weddings, as well as expert advice from the best in the wedding industry. Find additional advice on the pros and cons of having a bridal party and playing wedding reception games, and be sure to follow Inside Weddings on Pinterest and Instagram for daily wedding inspiration!
Related article: 5 Colors to Avoid Wearing as a Wedding Guest
Welcome to contact!