5 Colors to Avoid Wearing as a Wedding Guest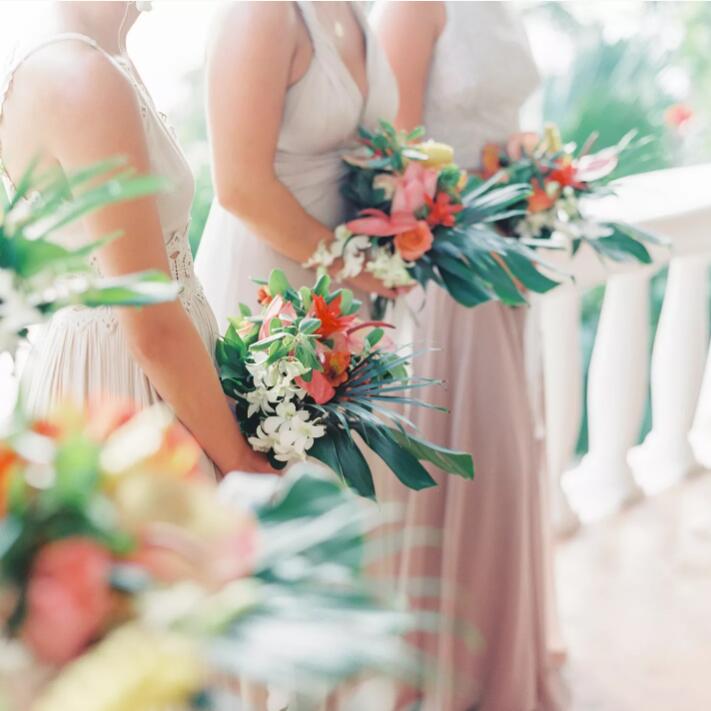 When you find yourself rummaging through your closet, trying to pick out the perfect dress to wear to an upcoming wedding on your calendar, take note that there are a handful of colors you should avoid so that you don't find yourself committing any attendee faux pas like getting mistaken for the bride, a bridesmaid, or even just a guest who stumbled into the wrong party.
So go ahead. Lay out all of your options, and immediately eliminate any dresses that are one of these colors or fabrics, lest you transgress and become that guest.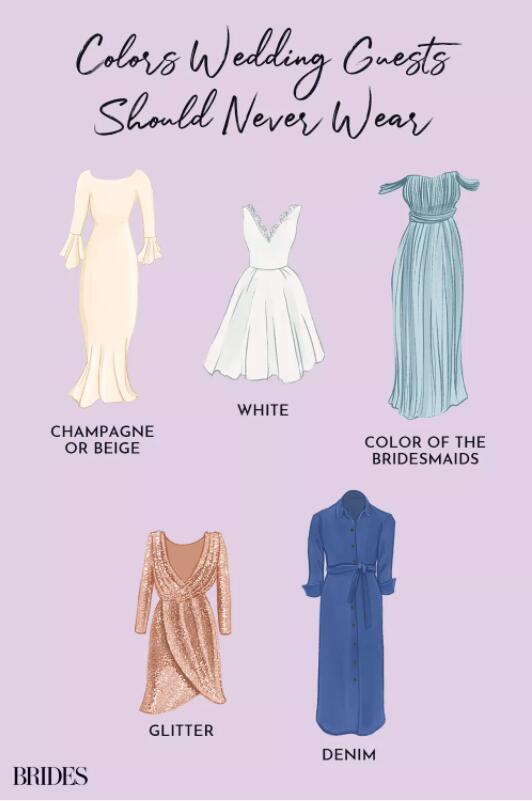 1. Let's Start With the Obvious: White
Itching to wear a gorgeous white dress you just purchased? Nope. Put that back in your closet ASAP. While it may sound like the number one wedding guest faux pas that everyone should know, some people forget it or ignore the rule and show up in a pearly-white wedding guest dress. Of course, there's always an exception, so if—and only if—the bride has called for all guests to wear white, go ahead and bust out that LWD.
2. Or Anything Even Close to White
Steer clear of off-white, eggshell, beige, champagne, cream, or any other super light color that could be mistaken for white when the lights are dim and the people around you are toasting drink number three, kapiche?
3. The Color the Bridesmaids Are Wearing
If you're close with the bride, ask her for a heads-up on what color the bridesmaids' dresses are. That way, you won't look like you're trying to be a third wheel to the wedding party by wearing a different style mint green dress than the other girls in the bridal party. Trust us, and take heed of our past experiences as this has happened to us before. Awkward…
4. Glitter, Glitter, Glitter Everywhere
Save the sparkles for the bachelorette party or another Saturday night on the town. Avoid wearing anything too shimmery or distracting. All eyes should be on the bride, and your disco-ball-looking dress may ruin her big moment to shine.
5. Denim
This one is a toss-up. Even if the wedding guest dress code calls for casual, that's no excuse to bust out your old faded jeans—but a cute cropped denim jacket could work as a cover-up or to dress down an otherwise too-formal look. But maybe save denim pants, skirts, overalls, and dresses for the bachelorette party.
Related article: What Not to Wear to a Wedding
Need to order wedding furniture? Welcome to contact!
Please follow our Instagram or Facebook to get more latest news.