Sweetheart Table Ideas: Romantic Space for Bride and Groom
When it comes to wedding receptions, the sweetheart table is the epitome of romance and intimacy. It's the special spot where the newlyweds can share a private moment and bask in the love and joy of their union. If you're looking to create a dreamy and unforgettable sweetheart table, we've got you covered. In this blog post, we'll explore enchanting ideas to help you craft a romantic space that perfectly reflects the love between the bride and groom.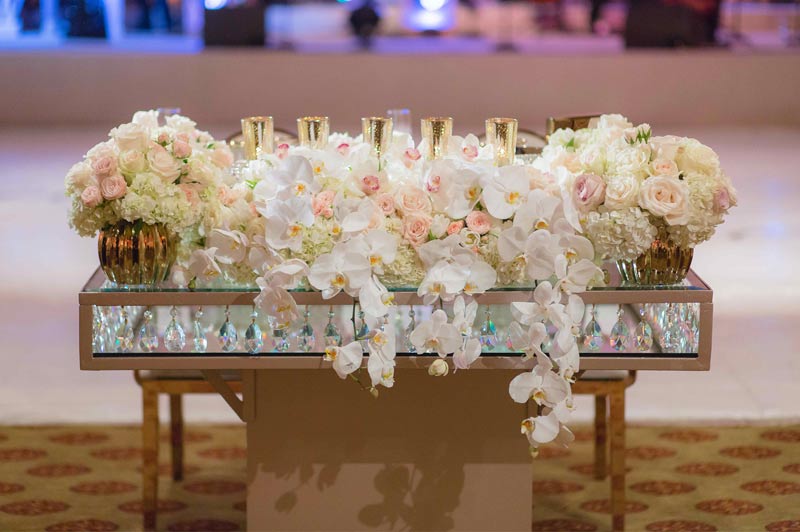 Fairy Lights and Candles:
Transform your sweetheart table into a magical oasis by incorporating soft fairy lights and flickering candles. Arrange strands of twinkling lights to create a warm and ethereal ambiance. Enhance the romantic atmosphere with an assortment of candles in different shapes and sizes, placed strategically around the table.
Lush Floral Arrangements:
Adorn your sweetheart table with lush floral arrangements that exude elegance and romance. Opt for delicate blooms such as roses, peonies, or ranunculus, and arrange them in beautiful vases or cascading garlands. Incorporate greenery like eucalyptus or ferns for added texture and a touch of natural beauty.
Luxurious Fabrics:
Create a sumptuous and romantic feel by draping luxurious fabrics on your sweetheart table. Consider using flowing chiffon, satin, or lace table runners or overlays. These fabrics not only add a soft and elegant touch but also create a visually stunning backdrop for your table.
Personalized Décor:
Infuse your sweetheart table with personalized elements that tell your unique love story. Display framed photos of cherished moments or milestones in your relationship. Incorporate personalized signage, such as a custom-made sign with your name or a romantic quote that holds special meaning for you.
Intimate Table Settings:
Pay attention to the details of your table settings to create an intimate and refined atmosphere. Choose delicate china, vintage-inspired flatware, and elegant glassware. Add a personal touch with customized place cards or personalized napkin rings.
Comfortable Seating:
Ensure that you and your partner are comfortable throughout the reception by selecting plush chairs or a cozy loveseat for your sweetheart table. Consider adding decorative cushions or soft throws for extra comfort and style.
---
Related article: Hosting Backyard Nuptials with a Cocktail-Style Wedding
Need to order wedding furniture? Welcome to contact!
Please follow our Instagram or Facebook to get more latest news.