Hosting Backyard Nuptials with a Cocktail-Style Wedding
Planning a backyard wedding allows couples to create a charming and intimate atmosphere that reflects their personal style. Embracing a cocktail-style reception adds a touch of sophistication and allows guests to mingle and savor delectable bites and drinks throughout the celebration. If you're considering hosting backyard nuptials with a cocktail-style wedding reception, here are some tips to ensure a memorable and delightful event.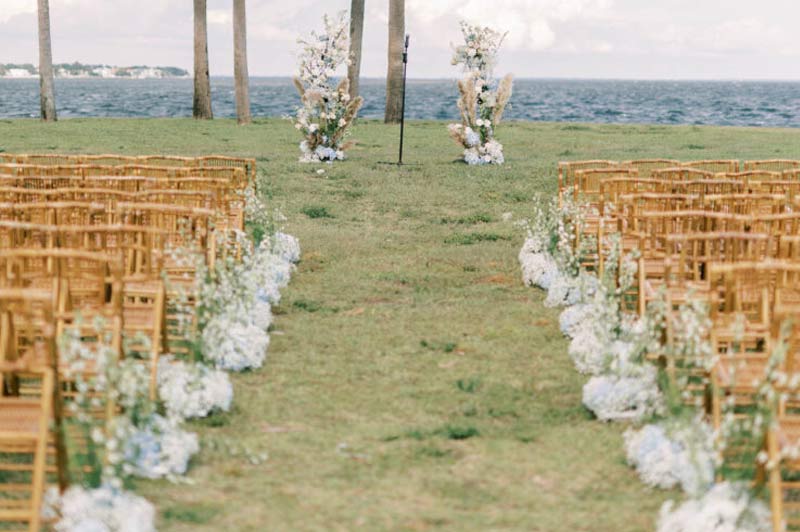 Venue Preparation:
Prepare your backyard venue to accommodate the wedding ceremony and reception. Clear any clutter or unnecessary items, ensuring a clean and spacious area for guests to enjoy. Consider renting additional seating, such as elegant chairs or comfortable lounge furniture, to create designated gathering spaces.
Creative Décor:
Enhance the natural beauty of your backyard with creative décor elements. Incorporate string lights or lanterns to create a magical ambiance as the evening progresses. Utilize colorful and lush floral arrangements that complement your wedding theme. Consider adding decorative touches like rustic signage, personalized banners, or charming centerpieces to add personality to the space.
Cocktail-Style Catering:
Opt for a cocktail-style reception that features a variety of delectable bite-sized dishes and refreshing beverages. Work with a professional caterer to curate a menu that includes a mix of hot and cold appetizers, gourmet sliders, sushi rolls, charcuterie boards, and other flavorful options. Offer vegetarian, vegan, and gluten-free choices to accommodate different dietary preferences.
Beverage Stations:
Set up stylish beverage stations throughout the venue to offer guests a variety of drink options. Include a well-stocked bar with professional bartenders who can craft signature cocktails and serve classic favorites. Incorporate a selection of wines, beers, non-alcoholic mocktails, and infused water stations for a refreshing and diverse beverage experience.
Lounge Areas:
Create cozy lounge areas where guests can relax and engage in conversation. Arrange comfortable seating options such as plush sofas, ottomans, and low tables. Add soft cushions, throw blankets, and ambient lighting to create a welcoming and intimate atmosphere.
Live Entertainment:
Enhance the celebratory mood with live entertainment that suits your wedding style. Consider hiring a talented acoustic musician, jazz band, or string quartet to provide a captivating and melodious backdrop. This adds an elegant touch and elevates the overall ambiance of your backyard nuptials.
Personalized Details:
Infuse personal touches throughout the event to make it truly unique and memorable. Incorporate personalized wedding favors, such as customized mini cocktail kits, succulent plants, or handcrafted soaps. Display photo collages or a timeline showcasing the couple's journey together, adding a sentimental touch to the celebration.
Weather Preparations:
Keep an eye on the weather forecast and make necessary arrangements to ensure the comfort of your guests. Rent tents or canopies to provide shade or protection in case of rain. Consider offering blankets or pashminas for cooler evenings, or provide fans and parasols for warmer days.
Enchanting And Memorable Wedding Celebration
By embracing the charm of a backyard venue and adopting a cocktail-style reception, you can create an enchanting and memorable wedding celebration. From venue preparation and creative décor to curated catering and beverage stations, prioritize personalized details and create an intimate atmosphere that allows guests to mingle and indulge in delectable bites and drinks. Let your backyard nuptials be a testament to your love and a delightful experience for all who attend.
---
Related article: Decorating For Your Business Party
Need to order wedding furniture? Welcome to contact!
Please follow our Instagram or Facebook to get more latest news.