Pick a wedding venue with a garden ceremony
Trading the confines of a building for lush spaces, couples are increasingly choosing to say their forever 'I do's in stunning outdoor garden ceremonies.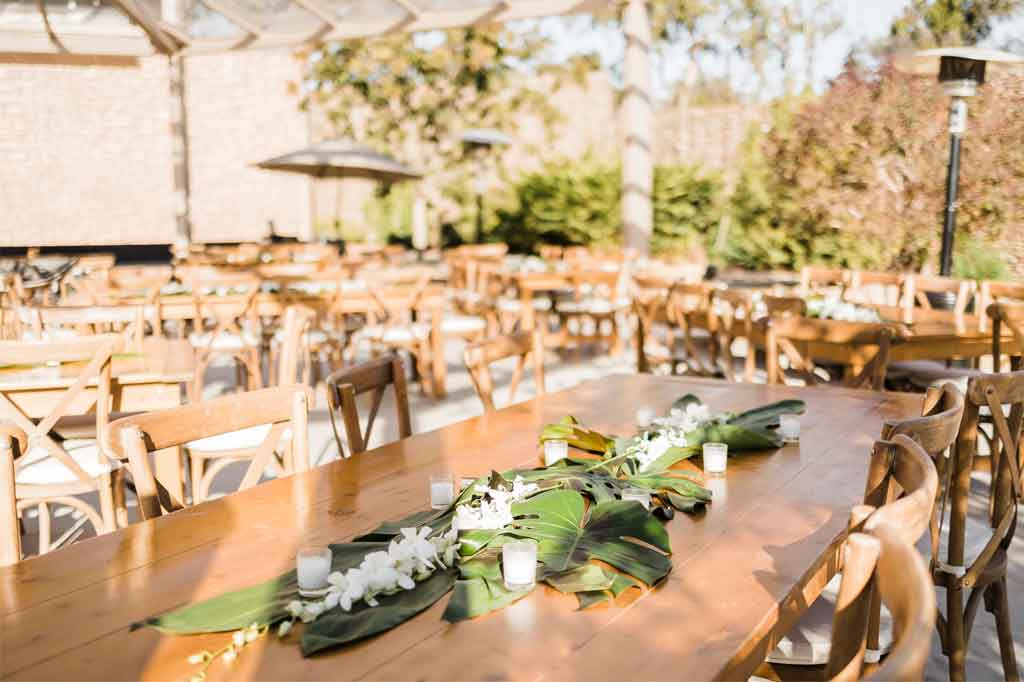 Gardens have long been a muse and source of creative and romantic inspiration for artists, poets, lovers and writers alike. The floral and natural embellishments found within a garden's rich landscape instinctively lend themselves to the creation of an elegant, opulent and bucolic atmosphere. It makes sense then, when making the most important public declaration to the love of your life, to forgo the traditional pews and confines of a building in favor of a garden wedding ceremony to say your forever 'I do's.'
The epitome of elegance, a wedding venue with garden ceremony options will allow couples to escape the urban jungle and retreat to a venue that has a secluded 'worlds-away-feeling'. Often located on large estates featuring abundant blossoms, rambling paths, verdant foliage, manicured lawns, and striking green spaces, a garden ceremony will afford couples several key advantages and benefits over an indoor ceremony.
Thinking beyond the limiting restraints of a building, couples who choose an outdoor garden ceremony can look forward to the following benefits:
A variety of ceremony location options to choose from
Stunning styling opportunities
Breathtaking photos both during their ceremony and into the evening
Celebrations that effortlessly flow from the ceremony into a garden party
Budget-friendly options
1. SO MUCH TO CHOOSE FROM – CEREMONY LOCATIONS
Spoilt for choice, ceremony locations at a garden wedding venue can be as numerous as they are diverse.
THE STATEMENT TREE
Utilize the unique backdrops your garden wedding venue provides by hosting your ceremony under a statement tree. Providing shade in the warmer months, and a focal point to center your ceremony around, an established tree will be the styling pièce de résistance of your wedding ceremony. Whether it be a towering Moreton Bay Fig or a soaring Himalayan Cedar Tree with trailing silvery branches, these natural wonders add a sense of grandeur and natural beauty to your celebrations.
Insider Tip: Check to see that your venue mows the lawns on the morning of your wedding day to ward off any stray leaves and sticks. You'll want to have the area looking pristine before the setting of the chairs and arbor.
THE UNDERCOVER/WET WEATHER OPTION
No bride wants to entertain the notion of rain or inclement weather at her wedding. Unfortunately, the reality is that even with the most considered planning the driest months of the year can still, on occasion, produce rain clouds and unseasonal conditions. It is therefore important that your outdoor garden celebration still go ahead unhindered, despite the weather, and that your venues 'wet weather' option is equally beautiful. Locations, such as a pavilion or chapel, capture the charming aesthetic of the adjacent outdoor gardens whilst offering protection from the elements.
Insider Tip: On your wedding morning if there's a possibility of rain, ask your venue to set both your preferred ceremony location and the 'wet weather' option. That way, closer to your ceremony time, you will easily be able to choose where will be best to host your ceremony.
THE INTIMATE OPTION
If lush, expanses of green lawn don't quite fit the styling brief for your ceremony opt for a more intimate or 'woodland' style ceremony location. Favored by rustic or boho-themed weddings these spaces capitalize on earthy tones, textures and the diverse neutral tones that a garden can provide. Sidestepping the traditional, couples can choose to festoon their arbors with feathers, and pampas grass or work with their florist to include blooms or flora that play on the distinctive features of the ceremony space and its flora.
Insider Tip: Ensure the seating arrangements complement your ceremony space, if the surface underfoot is a little uneven opt for a bench seat for great aesthetics and guest experience.
Summer garden florals: Agapanthus, bougainvillea, frangipani, gardenia, grevillea, jacaranda, roses, hydrangea, murraya, hibiscus, fuschia, geraniums
Autumn garden florals: Begonia, salvia, touching, daisies, gazania, rhododendron, sasanqua camellia
Winter garden florals: Daphne, Hardenbergia, polyanthus, snowdrop, winter rose, lavender, luculia and bergenia, trumpet vine
Spring garden florals: Bluebells, wisteria, azaleas, anemone, crab apple, daffodils, azaleas, bottlebrushes, clivia
3. PHOTOGRAPHY – AND WHY THE NATURAL LIGHT OF A GARDEN IS YOUR BEST FRIEND
The natural and softly diffused light enjoyed in a garden ceremony, juxtaposed with the gorgeous greenery, is a photographer's dream. With ceremonies typically held in the afternoon and no need for the fluorescent or manufactured light that indoor ceremonies require, your photographer will be looking to curate a run sheet that captures all the magic of the evening including the all important 'golden hour.' Again, research the gardens where you are hosting your ceremony. Bring to life the colors in your bridal party dresses or pops of color in your bouquet by capturing images alongside, or in front of, similarly colored blooms or foliage in the gardens.
With the ceremony being followed by a 'garden party' or 'cocktail hour' in the gardens, guests will be able to sip champagne and feast on canapes while you capture your wedding portraits. Without the added pressure of having to travel between multiple locations, you will be afforded the opportunity to have both a stunning wedding album and enjoy quality time with your guests.
Insider Tip: Be sure to print your vows out onto paper as opposed to reading them from a screen to avoid the blue light that is reflected.
4. GARDEN PARTY – SEAMLESSLY SEGWAY FROM CEREMONY TO CHAMPAGNE AND CANAPES
One of the undeniable benefits of hosting your special day at a garden wedding venue is being able to spend the time between the ceremony conclusion and the beginning of your reception lingering in the gardens. Hosting a garden party for 2 – 2.5 hours, between the ceremony conclusion and the beginning of reception at sunset, will allow ample time for photos and mingling with guests.
If choosing to have tray-served canapes guests can enjoy music, outdoor games (think croquet, giant chess or Jenga) and the opportunity to wander through the gardens and explore your venue. With a couple of hours to soak in the relaxing garden environment, guests can socialize beneath the shade of the trees, sit back, relax and toast their love.
For the locavores on your guest list, garden parties provide the opportunity to indulge in local produce with chefs curating menus tailored to suit the season. Tying the outdoor experience to the cuisine experience, the seasons can be used as a source of inspiration. The warmer months can see the inclusion of locally crafted ice-creams and sorbets served in the gardens while seasonal soups and mulled wines can be excellent winter options.
5. BUDGET – PRIORITISING YOUR SPENDING ON WHAT IS IMPORTANT TO YOU
Consider the choice of a garden wedding ceremony as the permission you need to have as little or as much styling as you wish on your wedding day. Garden locations provide effortlessly picture-perfect backdrops that can minimize the need for additional styling elements or decorations. Garden ceremonies also cut down the need for lighting hire and band hire. The natural beauty provided by the gardenscape means that you can choose to focus your floral budget on bouquets, your reception or just one central ceremony centerpiece. For the budget-conscious, wedding venues will often offer great discounts for off-peak periods such as Summer – a time of year when the gardens can be at their best. With jacarandas, agapanthus and jasmine being strong summer floral favorites, guests can enjoy vibrant color displays alongside later evenings spent celebrating in the shade of the gardens.
ADDITIONAL THINGS TO CONSIDER WHEN PLANNING YOUR GARDEN CEREMONY
For an elevated nod to traditional styling choose crisp white seating and arbors to contrast with the surrounding greenery.
For a more rustic look choose wooden seating or benches that blend with the natural surroundings.
Coordinate your wedding favors with the season and weather. For a garden ceremony in the cooler months consider personalized warm blankets or wraps, for warmer months, opt for floral-scented or flavored candles or treats.
Be sure to communicate clearly with your guests that your wedding will be taking place in a garden. This will give the ladies the opportunity to wear appropriate heels and for those who may need to take hayfever medication to come prepared.
Children will love a garden ceremony and wedding, provide games to play post-ceremony that require little to no supervision and will keep them easily entertained.
Garden ceremonies can provide countless opportunities to include your beloved pets in your wedding day celebrations.
Make the most of the space that your garden wedding venue provides by ensuring your venue has adequate seating available for the time spent during the garden party. Cane lounges, marble hi-bar tables and stools and bench seating are all great options.
Confirm with your venue first, but garden wedding venues will often have ample and free parking available for guests.
A romantic atmosphere, gorgeous greenery and florals, ample space and stunning photography are but a few of the benefits of choosing a wedding venue with a garden. The ability to customize the ceremony space affordably, without compromising on creating a stunning experience, makes garden wedding ceremonies a popular and breathtaking option.
---
Related article: Wedding decor trends to swoon over
Need to order wedding furniture? Welcome to contact!
Please follow our Instagram or Facebook to get more latest news.