Outdoor Wedding Themes
If you're getting married during the spring, summer, or fall, there's a good chance you're considering an outdoor wedding. Usually, Mother Nature does most of the work when it comes to the wedding decor (especially if your venue is in a scenic setting), but that's not to say you can't let your surroundings inspire your outdoor wedding theme or the style of your big day. In fact, the vibe of your outdoor space or wedding venue is the first place you should turn to when planning your wedding—the natural surroundings can inspire your wedding color scheme, attire, and other decorative elements of the day. Need some inspiration to help you narrow down your choices? We're big fans of these outdoor wedding ideas and themes.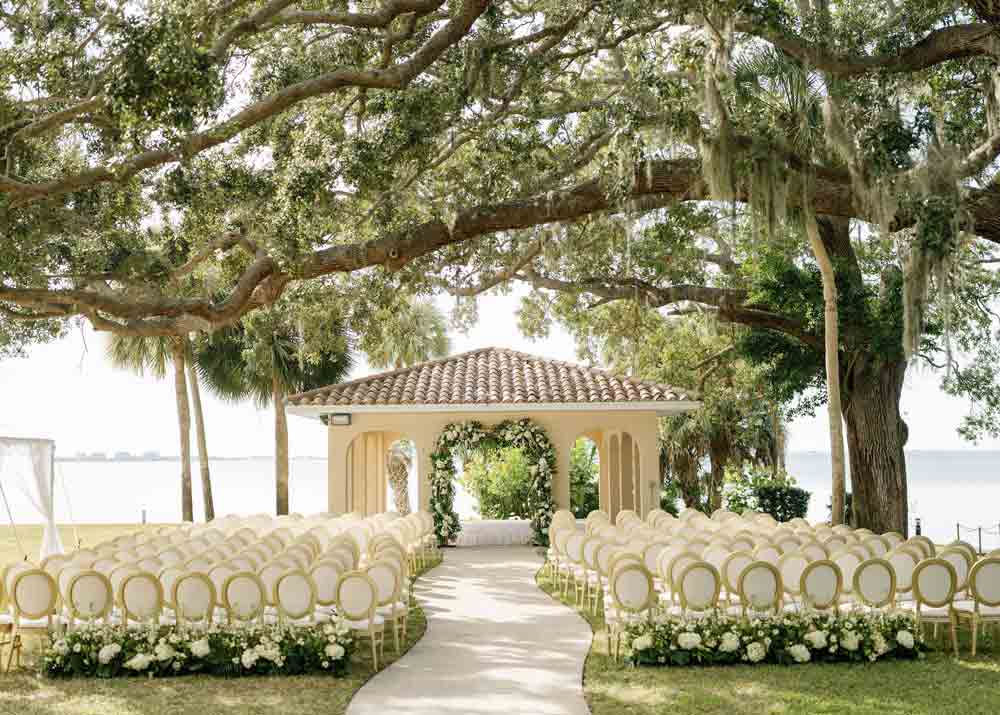 Desert Wedding Theme
Whether you're tying the knot in Zion National Park, Joshua Tree National Park, or anywhere else out west, the desert provides a stunning backdrop to your vows in and of itself. When it comes to a desert outdoor wedding theme, take from the locale's raw, untouched beauty when incorporating details, but keep it simple so you don't distract from the statement surroundings. This theme is popular for summer weddings and elopements, and it incorporates a bevy of boho accents.
Desert wedding theme colors
Use the desert landscape to inspire your color palette for this eclectic theme. Earthy colors, like taupe, terracotta, sage green, burgundy, and yellow (take this color palette as an example) will blend beautifully with your surroundings. Sunset-inspired colors such as dark purple, mauve, and blue are just a few other options to evoke an outdoorsy, western vibe.
Desert wedding theme decor
Pampas grass, succulents, longhorn accent pieces, and Moroccan poufs pay perfect homage to the rugged earth. Since this outdoor wedding theme is all about creating a homey, bohemian feel, you can also incorporate statement rental furniture pieces like rattan chairs, vintage kilim rugs, fringe or macramé accents, and mismatched brass items. When it comes to the wedding flowers, ask your florist to keep the wedding bouquets, centerpieces, and other floral arrangements loose and oversized. Greenery, dried flowers, and potted cacti are some of the most popular options for desert weddings and boho themes.
Chic and Classic Wedding Theme
Are you getting married at a formal estate with an extravagant courtyard or sprawling lawn? Take advantage of your wedding venue's European influences, letting them play to your outdoor ceremony or wedding reception. Opt for timeless, streamlined decor that reflects the elegance of the location.
Classic wedding theme colors
A neutral palette of whites and beige always complements the stonework of an estate, while classic centerpieces of greenery and white flowers mirror the green grasses and trees surrounding the venue. The resulting look is understated and refined. If you want to add an accent color, an understated pastel, such as blush or dusty blue, will bring dimension to your wedding color scheme without looking out of place. And if all else fails, you can never go wrong with a black and white palette.
Classic wedding theme decor
Fine linens, chandeliers, velvet rental furniture, and long banquet tables are just a few ways to create a regal, sophisticated atmosphere at a classic wedding venue. Bring the indoors out with a customized wedding bar, reception tent for dining al fresco, and a designated dance floor. Consider adding twinkling string lights along the ceiling inside the tent or throughout the space as the finishing touch.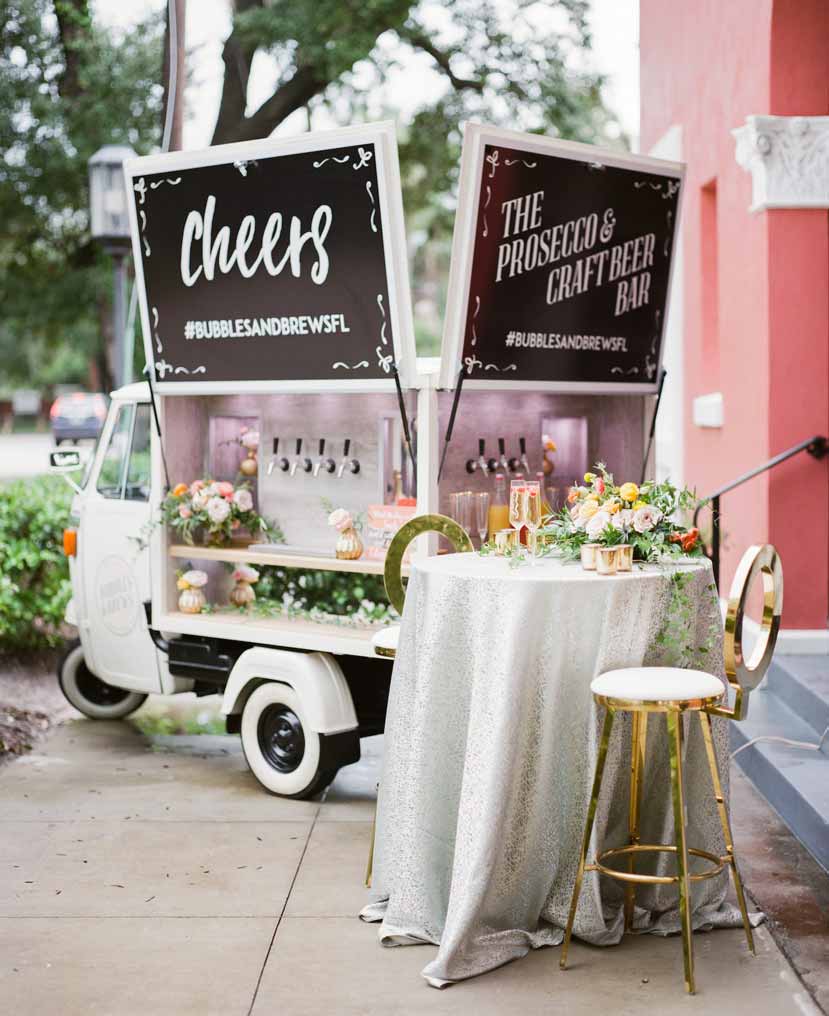 Modern Tropical Wedding Theme
If you're having a beach wedding and want to stay away from a nautical or seashell-inspired outdoor wedding theme, opt for a tropical vibe instead. With this wedding style, the goal is to think of bright colors, palm trees, banana leaf prints, flamingo motifs, and an overall Caribbean-inspired aesthetic.
Tropical wedding theme colors
Punchy, eye-catching colors are a natural fit for this fun wedding theme. A vibrant palette of fuchsia, turquoise, and green instantly sets the tone for a lively party, whether you're having a destination wedding on a tropical island or you're looking for ways to bring the beach to you. You can also pull inspiration from citrus fruits—think pineapple yellow, grapefruit pink, and nectarine orange—to create a cheerful, energetic vibe.
Tropical wedding theme decor
To avoid an overly beachy theme, skip (or limit to a minimum) details like seashells, anchors, and distressed wood signage. Instead, focus on using decoration ideas that will give your wedding a modern, trending look with a hint of glam—this includes acrylic accents, rattan furniture, metallic gold charger plates, and tall taper candles. Some of our favorite tropical flowers include proteas, Birds of Paradise, orchids, anthurium, and of course tropical greenery like monstera leaves and palms.
Rustic Vineyard Wedding Theme
For a fall wedding, getting married at a vineyard can be incredibly romantic, with rolling hills, seasonal foliage, and cozy wine cellars all at your disposal. Since vineyard scenery is breathtaking on its own, there's no need to overdo it elsewhere—keep the wedding ceremony and reception decor to a minimum to let your venue's bucolic beauty shine.
Rustic wedding theme colors
Rich jewel tones and wine-inspired colors will complement a rustic vineyard wedding venue beautifully. We'd recommend incorporating hues like burgundy, emerald green, navy blue, and purple into your decor for a gorgeous seasonal color palette. Adding one or two pastel accent colors, such as blush or butter yellow, will keep the overall color scheme feeling fresh and airy.
Rustic wedding theme decor
When it's time to choose your decor for a vineyard wedding, you can pull inspiration from your venue's pastoral setting. Use repurposed wine barrels as aisle markers or cocktail tables, incorporate fresh bunches of grapes into your reception centerpieces, and display your escort cards with old wine corks to play up the vineyard theme.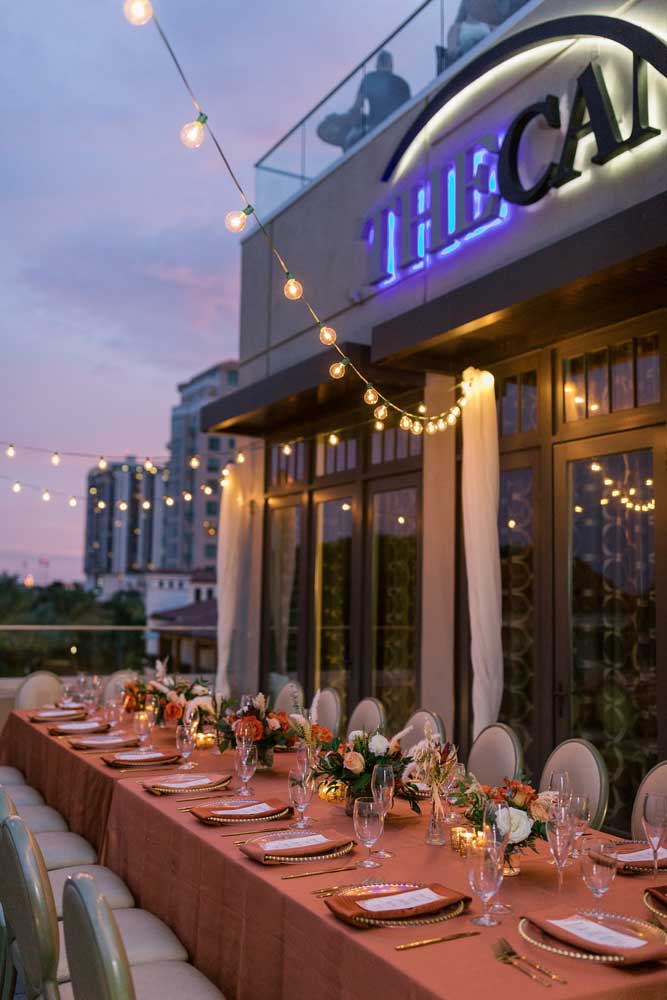 Whimsical Garden Wedding Theme
Nothing says springtime wedding like a pretty garden soirée. With this outdoor wedding theme, florals and greenery are on overdrive to create a fairytale-inspired event. Host the ultimate garden party by entertaining your wedding guests with lawn games, hiring a classic string quartet to perform during cocktail hour, and serving a floral-infused wedding cake for dessert (lavender and lemon is a delightful flavor combination).
Garden wedding theme colors
Pastels are the name of the name when it comes to spring weddings, and they always look chic in a garden setting. A garden-inspired color scheme of rosy pink, lilac purple, mint green, and French blue will set the tone for an elegant, ethereal wedding day. Since flowers are (obviously) a major element of garden wedding venues, consider mixing a floral print or two into your overall decor.
Garden wedding theme decor
When it comes to a garden wedding theme, there's no such thing as too many flowers. Drape crawling vines and blooms around a chuppah, adorn chairs with garlands of leaves and fill the ceremony aisle with petals to extend the beauty of the surrounding gardens into your decor. Aside from live flowers, chinoiserie, and toile prints are other ways to create a dreamy, botanical-filled setting.
Backyard Charm Wedding Theme
This outdoor wedding theme is perfect for a small backyard wedding or a casual summertime reception. Achieve a low-key, intimate feel by embracing a farmhouse vibe—think bare wooden tables, simple linens, and bistro string lights to set the mood after dark. Encourage mixing and mingling with charcuterie board appetizers, self-serve drink stations, and mason jar mugs, or roasting marshmallows over a cozy fire pit if it's chilly at night.
Backyard wedding theme colors
While a neutral color palette would work for this outdoor wedding theme, you can also go bold with your colors. Bright hues, like lemon yellow, hot pink, orange, and cobalt blue will give a nod to the fun, informal aesthetic of a backyard bash.
Backyard wedding theme decor
Farmhouse-inspired and country wedding decor is spot-on for a backyard wedding if you're looking to keep things relaxed. Decorative details like long banquet tables (for family-style seating), wooden signs, string lights, and candles will help you create an inviting atmosphere without a ton of effort. If you're getting married at home, keep in mind that you'll likely be responsible for sourcing basic amenities and decor items that a wedding venue would normally supply, such as light sources, tableware, seating, and even outdoor restrooms.
---
Related article: Ensuring Vendor Reliability
Need to order wedding furniture? Welcome to contact!
Please follow our Instagram or Facebook to get more latest news.