Have a Photo Booth at Weddings
In the world of weddings, photo booths have recently made their appearance on the scene, and there are no signs of photo booths slowing down any time soon! But you might be asking yourself the question, "Should I have a photo booth at my wedding?"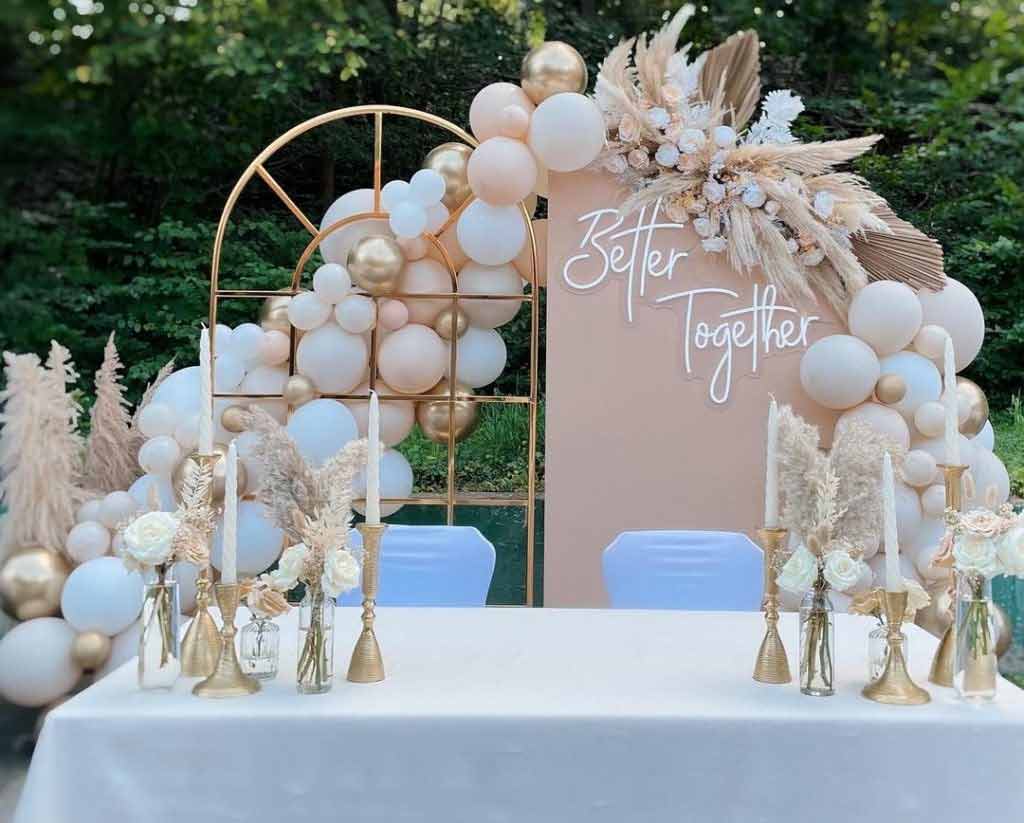 We are going to break down the top 5 reasons why yes, you absolutely should spring for that amazing fun photo booth at your wedding.
1) Fun Entertainment For Your Guests
Worried about your guests feeling awkward about mingling with one another after dinner, or worse, never leaving their table at all? Or, are your wedding guests a mix of ages from young to young at heart? Having a photo booth at your wedding reception is an awesome way to get everyone up from their assigned table to chat and mingle with one another! Your guests will find themselves at the photo booth station together as they pick out silly props, and share a laugh! If you are slightly unfamiliar with open-concept photo booths; they are small-sized units that are set up discreetly in an open space in the corner or back of your event. The unit is set up in front of your selected backdrop to make your guest's photo booth pictures perfection! There is typically a table full of props set up alongside the booth that guests can pick from to take with them into the photo booth as well.
2) Easy and Cost-Effective Favors
Every guest that enters your photo booth will leave with a fun favor, and you absolutely will not be stuck tying bows out of ribbon around small circles of tulle! Each guest at your wedding reception that braves the backdrop and silly props to show off their amazing moves for a boomerang shot will leave with a photo strip to commemorate the night! There is typically no limit on the number of times that a guest can enter the photo booth so family and friends can keep returning to the photo booth any number of times that they wish, with as many friends or family as they can fit in front of the backdrop! The templates for the print of your photo booth photos can even be customized with your wedding date or custom hashtag to commemorate your wedding day celebration.
3) Memories for Years to Come
The memory of your wedding day will be with you for years and years to come, there is no doubt about that! But what about a memory of you and Grandma in a photo booth with a giant blow-up shark? Or that time it was just you and your flower girl doing your best boomerang style 'dab' in the photo booth together? Your cheeks will hurt from laughing, but recalling those hysterical moments will make you smile forever! Another bonus 'memory maker' of having a photo booth at your wedding reception is a custom scrapbook option that can be provided by your photo booth company.
4) Additional Wedding Photos of Your Guests
chose for your big day, there's a chance that you might not end up with any photos of your wedding guests from during your reception. Having your wedding photographer grab photos of your guests (non-bridal party members) at your wedding reception is not something typically included in most wedding day photography coverage. But not to worry! If you find yourself wanting a little bit more, but not exactly looking for full formal photos done by your wedding photographer, you can get all of those candid moments with your lifelong friends & family right at your photo booth! It will also give you a chance to mingle with your guests without feeling like you have to go from 'table to table'!
5) Alternative Entertainment for Guests Who Don't Dance
Let's face it, not all of us attend weddings ready to cut a rug on the dance floor. And then there are guests who only brave the dance floor under the guise of 'liquid courage' and we all know how that ends! Providing a photo booth for your non-dancing wedding guests is an amazing way for them to break the ice with other guests, and have fun at your wedding without feeling left out. It's also a great form of entertainment! Stepping inside a photo booth is a surefire way to have your cheeks hurt from smiling so hard, or to be doubled over in deep belly laughs!
---
Related article: Have a Rehearsal Dinner
Need to order wedding furniture? Welcome to contact!
Please follow our Instagram or Facebook to get more latest news.