Choosing a Wedding Venue – The 8 Most Popular Options
Choosing your wedding venue is probably the most important decision you will make in the wedding planning process. It plays a huge role in the overall aesthetic of your day and it's the first thing people will think about when looking back.
There are a TON of venue options out there. To help you get started, I put together a list of the eight most common venue types.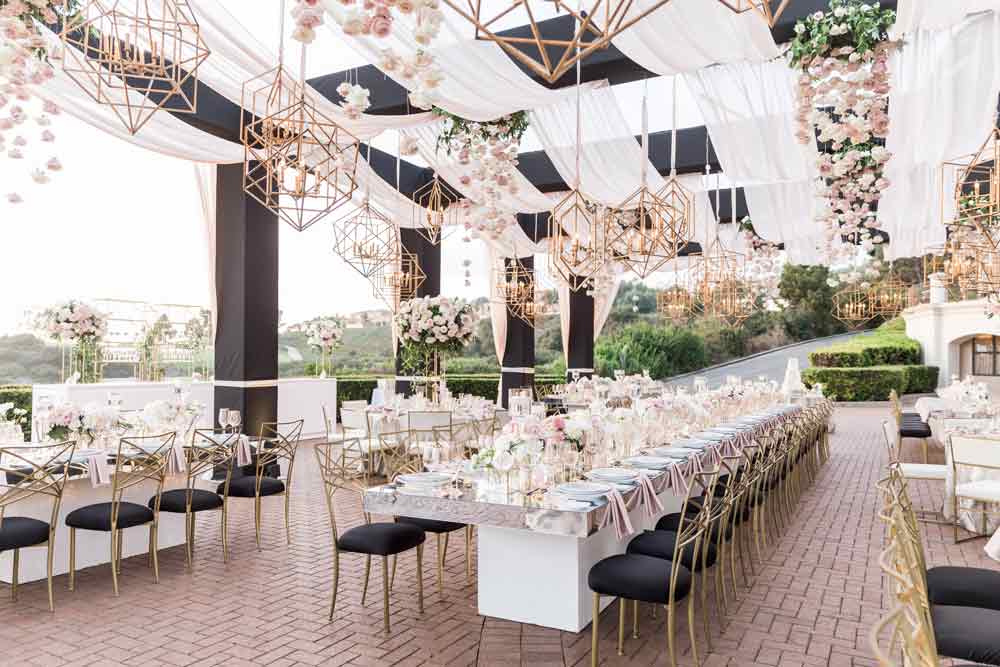 Hotel Wedding Venues
Hotels weddings are common for a reason: the ballrooms are generally able to accommodate a large number of people, it's easy to have the ceremony and reception at the same location, and any out-of-town guests can book rooms and stay the night. Hotel Venues are a win-win.
I personally love the idea of brides being able to get ready on location. It eliminates the need to travel and lug their dress around and if needed the bride can always go back to her room for a quick refresher or touch-up.
Country Club or Golf Club Wedding Venues
If you have a membership to a country or golf club or have the right connections (lucky you), this can be an absolutely beautiful location to have a wedding. Usually, there are many options for either an indoor or an outdoor wedding, and the catering can most likely be done by the country club staff. You really can't beat beautifully manicured lawns and gardens.
These types of venues are considered to be really exclusive and are a little more on the expensive side. They are usually only available to club members, so it's important to find out the specifics before setting your heart on one of these locations.
Barn Wedding Venues
If you are looking for a venue with a rustic feel, a barn is definitely the way to go! The wooden beams, high ceilings, and warm atmosphere are super popular at the moment. Many barns are decked out with chandeliers and space on the beams for hanging floral installations. The possibilities are literally endless with this type of venue.
Because of their popularity, many venues are purposely being constructed to look like a barn but have the full amenities of a regular venue. They are now climate controlled, offer built-in restrooms and even have multiple levels.
Mansion or Estate Wedding Venues
If you have a love for historic homes or stately mansions, this might be the option for you. There are so many opulent mansions available for rent as a wedding venue. Whether it's the prior home of a railroad tycoon or poet, you can bet your guests will be floored when then walk into one of these beauties.
Imagine the amazing ceremony you could have in the courtyard or by the fountain. If the weather permits, you can even have the cocktail hour outside before guests go into the dining hall for dinner.
Museum Wedding Venues
If you want a dramatic wedding, then consider booking a local museum as your venue. Museums are architecturally beautiful buildings and will not require as much décor as your standard venue. They can typically accommodate a larger guest list, and many times offer special packages for weddings and onsite events. We have even seen amazing weddings held at aquariums
Vineyard Wedding Venues
If you want a scenic, outdoor wedding, then a vineyard venue is what you need. These weddings tend to be rustic while also being super elegant. The rows of grapevines make for the most stunning photos. Just make sure you don't pick a date when the trees/vines are covered or out of season.
Not only is the scenery amazing at these types of venues but your wine-loving guests will be thrilled with the selection of wine parings usually offered with the meals.
Beach Wedding Venues
Beach wedding venues are perfect if you want an easygoing and casual day. Getting married on the sand with the sun setting behind you is probably one of the most romantic things I can think of. Once the ceremony/cocktail hour is over, guests usually are able to dine indoors with a direct water view.
However, not all beach wedding venues have to be casual. There are so many options out there for coastal towns that have beach-side resorts with amazing ballrooms overlooking the water.
Restaurant Wedding Venues
This type of venue is perfect for smaller guest lists. You can usually rent out the whole place and create a highly customized menu. Foodies will love this because of the culinary experience it offers. Also, being an inside venue, you will not have to factor weather into the equation.
At the end of the day, the right venue is the one that you are both happy with. It should reflect your style and most importantly it should be everything you dreamed of. And while choosing a wedding venue may seem like a challenge, you will find that it is actually one of the most fun aspects of planning your big day.
Related article: Have a Photo Booth at Weddings
Need to order wedding furniture? Welcome to contact!
Please follow our Instagram or Facebook to get more latest news.