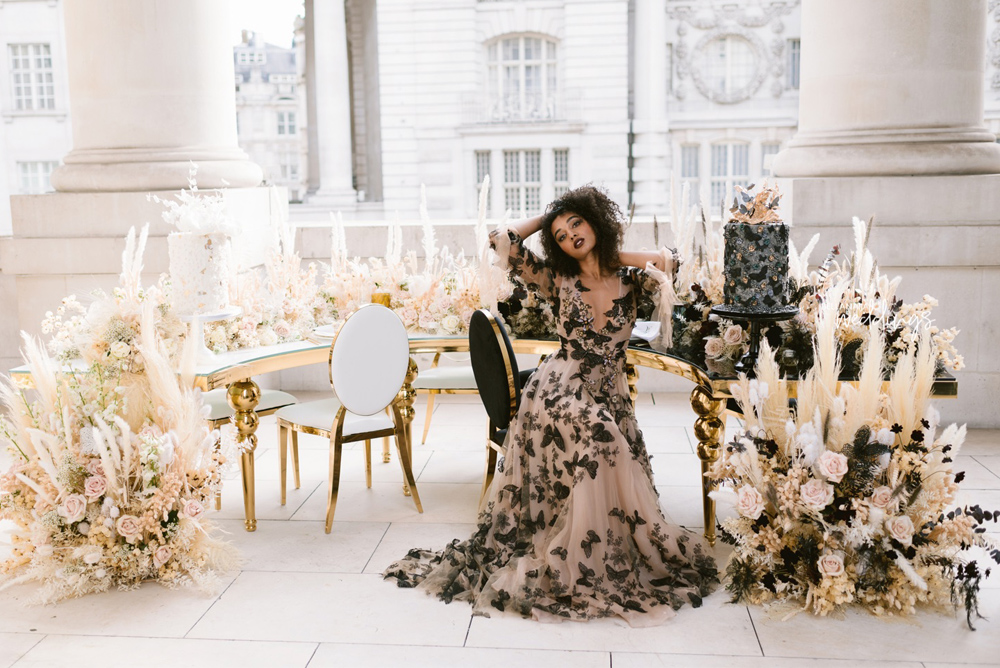 Las Vegas is a popular wedding spot, and for very good reason: iconic chapels, speedy marriage licenses, and out-of-this-world venues. Whether your heart is set on a minimony (with 10 people or less), a micro wedding (up to 50 guests) or you're planning an elopement, there's a Vegas ceremony with your name on it.
Thinking of getting married in Sin City? Here's what you need to know right now, according to the experts.
Legal Requirements
"One of the many reasons Las Vegas is an appealing destination to tie the knot is how easy it really is", says Reverend Arnold Garcia, a Vegas wedding officiant for the past decade and owner of Love Story Wedding Chapel. "With no waiting period, you can decide to get married the same day. Every legal ceremony begins with a marriage license issued from the Clark County Marriage License Bureau.
Currently, for your safety, the County Clerk is asking all couples who want to get married in Las Vegas to start by pre-registering for their marriage license on their website. From there, it's a quick trip to the bureau (located at 201 E Clark Ave, Las Vegas, NV 89101) and with that license in hand, you can legally marry anywhere with a licensed officiant," Reverend Garcia continues.
The Clark County Marriage License Bureau is open seven days a week from 8 am until midnight. To apply, each partner will require one valid form of identification (driver's license, passport, or birth certificate). If a birth certificate, the person would need a document that contains the name and photograph of the person or any document for which identification must be verified as a condition of receipt of the document. Your license will be prepared with your legal name exactly as it appears on your identification. You can get married immediately after receiving your license and it remains valid for one year.
COVID-19 Measures
The current maximum capacity for events in the state of Nevada is 50 people (including the officiant and all vendors). Kirsten Bulock, long-time Vegas wedding officiant and co-owner of #MarriedInVegas Studios, advises that "face masks are required at all times in public for everyone over the age of two as per CDC guidelines and mandates by Governor Sisolak." She adds that many places (including the marriage license office) are no longer accepting cash, so couples should ensure they have other payment methods available.
Vegas venues are following safety regulations such as non-invasive temperature checks upon entry, distanced tables, and limiting the size of groups that can be seated together. To track Nevada's regulations regarding public events, follow the Nevada Health Response page or local media like the Las Vegas Review-Journal.
How to Prep
Though many venues will accommodate you without a booking, it's advisable to make reservations for your wedding ceremony before you arrive in Vegas. "The more you plan ahead, the less stress you'll experience on your special day, particularly if you're planning to get married around a holiday or special event," says Bulock, who has conducted thousands of Vegas ceremonies. Prior research will help you track down dedicated planners like #MarriedinVegas Studios, which has all-inclusive, wacky, and wonderful packages including helicopter elopements over the Grand Canyon and minimonies at the 7 Magic Mountains.
Rodney Antonio Arnett, the Corporate and Social Event Curator at The Mob Museum, notes that hotel and transportation pricing is more expensive based on the conventions, concerts, or major events happening in Las Vegas. "You could save a good amount of money by moving your wedding date up or down a weekend and then you can use that money for your honeymoon."
On the topic of saving money, Arnett suggests that couples should ask for all of the fees upfront, especially with your hotel rooms. "Resort and parking fees can quickly increase the overall budget of the weekend for you and your guests." He also adds that booking your hotel accommodation close to your wedding location helps to alleviate stress from getting stuck in traffic on the busy strip.
Now, here are some of the most beautiful places to get married in Vegas.
A.Graceland Wedding Chapel 
"What's a wedding in Vegas without mentioning The King?" Jodi Harris is President of the Las Vegas Wedding Chamber of Commerce, founder of Sight & Sound Events, and the self-proclaimed CEO of fun in Vegas. She recommends tying the knot at Graceland Chapel, home of the very first Elvis-themed wedding. "The owner, Brendan Paul, is one of the top Elvis impersonators in the world and he's nailed the Elvis thing to a tee," she adds. The chapel itself is quaint and one of the most photographed chapels in Vegas.
B.
The Neon Boneyard
"You won't find anything like The Neon Boneyard anywhere else in the world," says Harris. This historical landmark houses iconic neon signs from the rat pack era and each tells a story about Vegas' glittering past. It's a perfect location for a wedding that's fun, nostalgic, and 100% Vegas.
C.
Chapel in the Clouds
Chapel in the Clouds at the Strat Hotel, Casino and SkyPod, is the only venue 800 feet above Las Vegas Valley. If you aren't afraid of heights, this is a stunning location for vows with views. "This is not your typical chapel," says Harris. "Every single couple I've ever worked with who had their wedding there was awestruck".
D.
Terraza Di Sogno at The Bellagio
At the Bellagio Resort and Casino, you can exchange vows at the Terraza Di Sogno (Terrace of Dreams), which offers expansive views of Bellagio's Lago di Como and the epic Fountains of Bellagio music and light show. An extra cherishable touch, couples can say 'I do' with their song of choice dancing in the fountains behind them. Bellagio offers both indoor chapels and outdoor locations and can arrange fabulous ceremonies on short notice.
Related article: Perfect Garden Ceremony Location
Need to order wedding furniture? Welcome to contact!
Please follow our Instagram or Facebook to get more latest news.