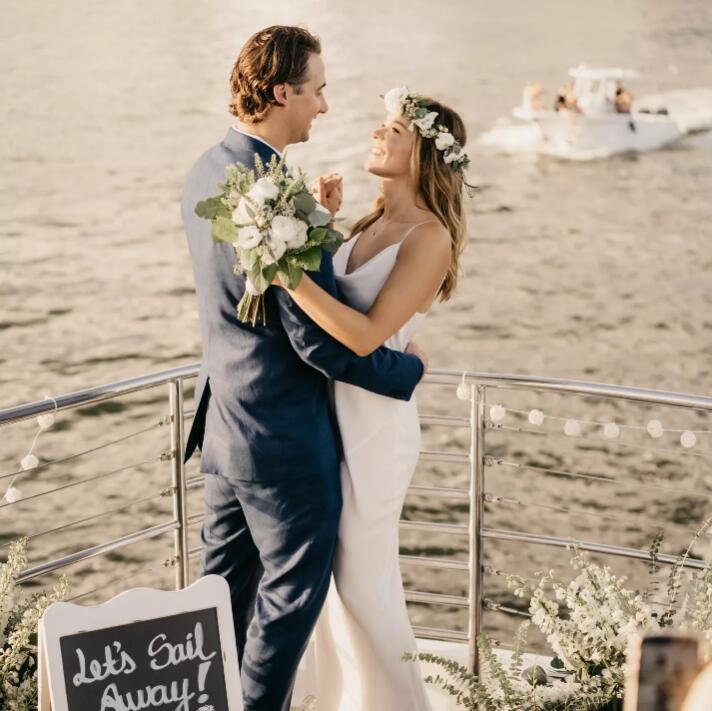 Yes, they're on a boat. Heather Milner and Joseph "Joe" Federico IV never imagined they'd get married on a yacht. While wedding planning during the pandemic, they couldn't quite find a venue that felt right. Many of the spaces they liked had temporarily closed or gone out of business, and others didn't have the correct vibe for their intimate gathering with 11 guests. That's when the couple's planner, Tatiana Angel of CCC Event Planning, suggested a boat. Angel had never done a wedding on one, but she'd thrown plenty of parties.
"Joe and I both love being on the water, and thought it was a dream come true if it would work," Heather says of opting for the unconventional venue.
From there, everything came together for the November 2020 nuptials. The couple led with a nautical theme, focused on the blue ocean and the Miami skyline, and added personal touches like Heather's favorite sparkling wine and live music from Joe's brother, who plays the guitar. In fact, the family took a central role in the day: Heather's grandfather served as the officiant and both sets of parents shared sweet words during the ceremony. By the end of the day, the entire party was dancing to Pitbull.
"There was an epic moment we'll never forget," Heather says of the day. "A boat driving by started blasting 'Marry You' by Bruno Mars, and all the people on their boat were singing to us. I asked Tatiana how much she paid them to do that because the timing felt like it was planned—it wasn't."
Read on for all the details of this intimate wedding on a boat, planned by Tatiana Angel of CCC Event Planning, and photographed by Adriana Rivera Photography.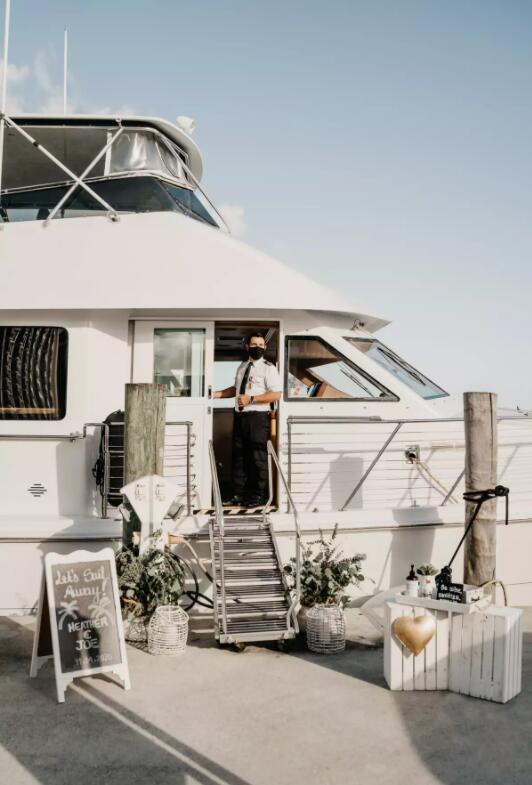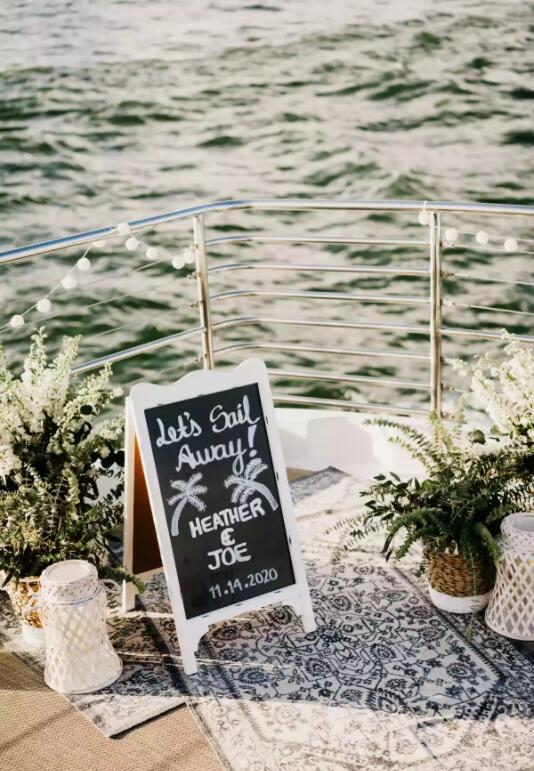 The couple's planner, Tatiana Angel, worked with a local charter company, Water Fantaseas, to secure the 80-foot Solstice yacht for the celebration, which included the ceremony, cocktails, passed hors d'oeuvres, and, of course, dancing!
30 Small Wedding Ideas for an Intimate Affair!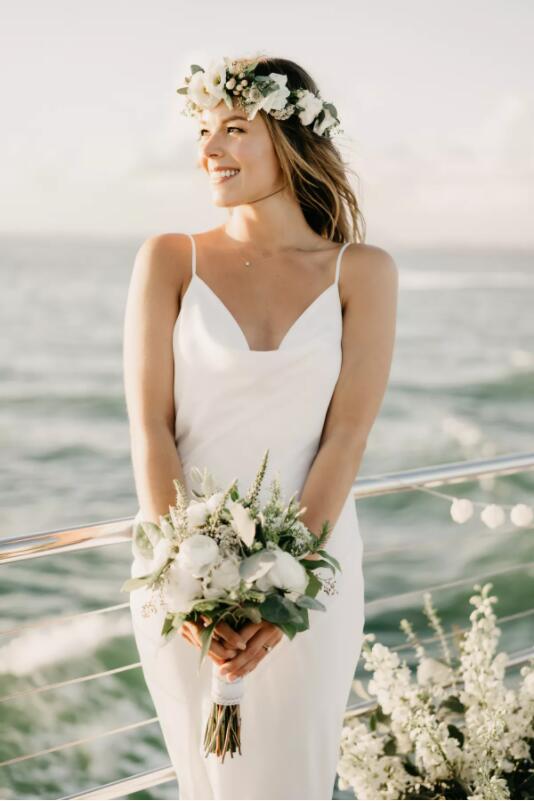 Heather decided to shop online for her wedding gown, given the pandemic, which worked out in her favor: she found this cowl-neck Shona Joy dress that she "fell in love" with and "felt like a bride" when she wore it. She added a flower crown that matched her bouquet, by Flowers by Totoy.
20 Elegant Slip Wedding Dresses for the Minimalist Bride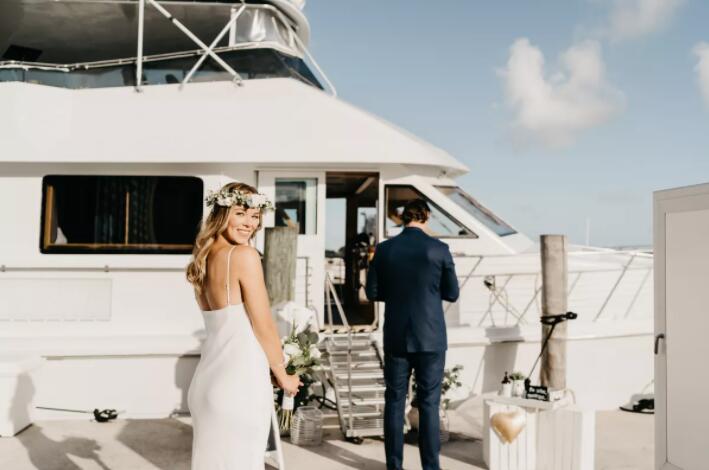 With all the guests watching from onboard, Heather and Joe had their first look on the dock just before stepping onto the yacht. "His reaction when he turned around was so sweet and genuine, Heather says. "It was so cool everyone got to watch the whole thing—so much excitement before we even left the dock."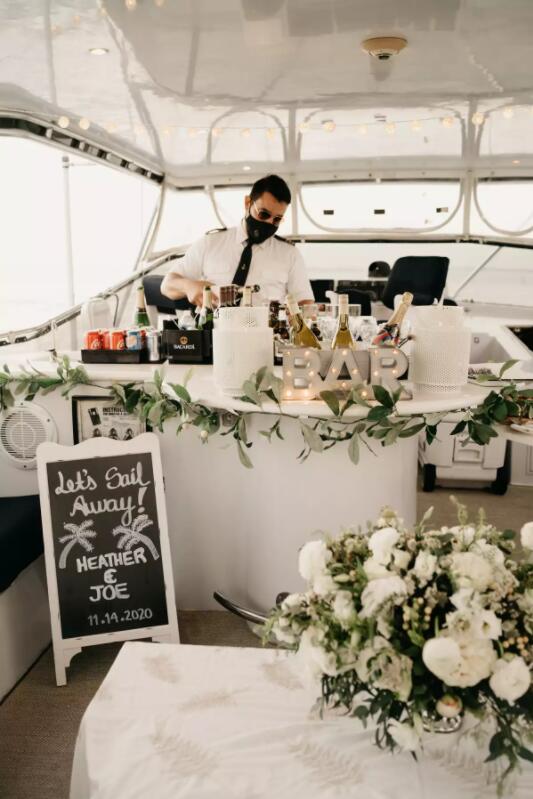 Onboard, guests were treated to sips that included the signature drink, Heather's go-to sparkling wine from Francois Montand.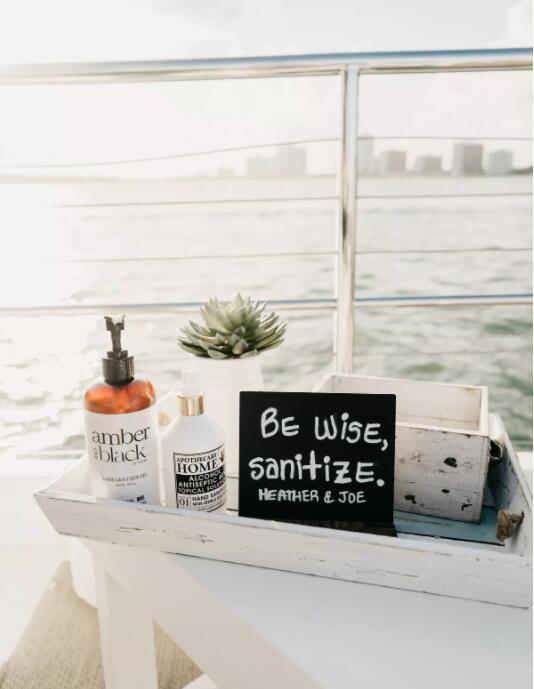 Of course, the couple stuck to safety protocols, including offering a sanitization station.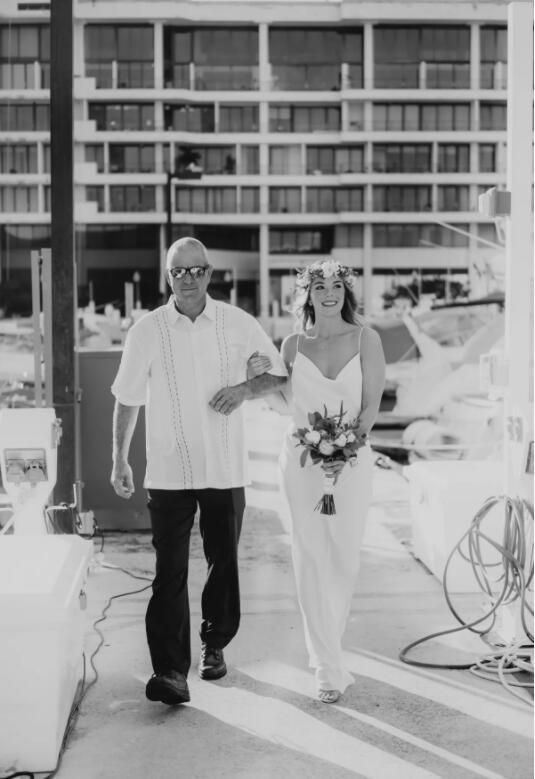 Heather's father escorted her down the boat's deck as Joe's brother played an acoustic cover of "Yours" by Russell Dickerson.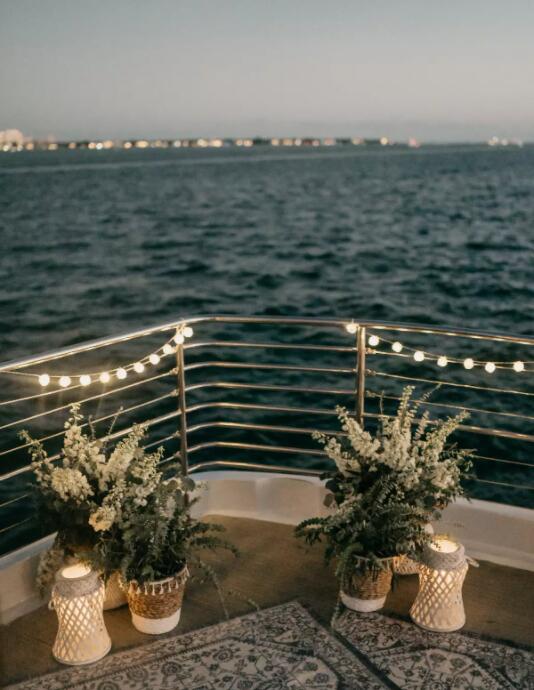 The ceremony took place on the boat's stern, with the groom's brother as the musician and Heather's grandfather as officiant. To ensure that everyone could hear the ceremony, the couple's planner again worked her magic. She got the okay from another client to anchor the yacht in a quiet spot amid their mangroves.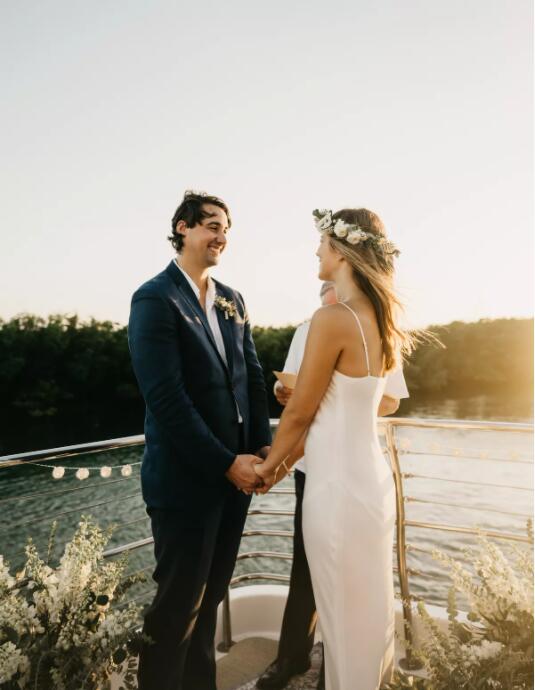 Time seemed to slow down for just those few moments. I'll never forget those most perfect minutes of my life.
Before the night's end—and after much dancing—Heather and Joe cut into a vanilla naked cake. "We felt like celebrities on the water," she says of the whole day.