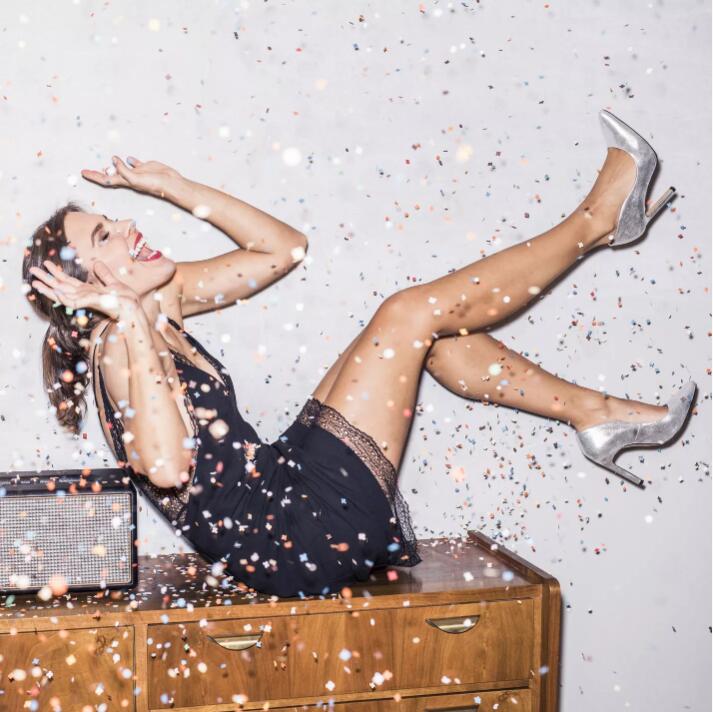 Virtual events have become the new norm as of late, and if your crew can't meet in person, help is at hand for throwing a fabulous virtual bachelorette party. A bachelorette going digital doesn't have to spell the end of fun. Think about how you'd like to enjoy yourself in real life and replicate it online.
While a virtual bachelorette probably isn't any bride's dream scenario, there are so many ways to sprinkle in little touches to show how well a bride is loved. Ahead, we've put together etiquette and planning tips for those planning to go fully digital for this bridal tradition.
Virtual Bachelorette Party Etiquette
Who throws a virtual bachelorette party?
Bachelorette parties are traditionally organized by the maid of honor and a virtual fete is no different. However, the MOH may delegate tasks between the bridesmaids including who plays the role of MC.
When do you throw a virtual bachelorette party?
Since there are no travel bookings to contend with here, you can probably plan a virtual event much closer to the wedding however, the day before the ceremony is a no-no if alcohol is involved. Anywhere between one week and four months before is suitable.
Where should you host a virtual bachelorette party?
Zoom is endlessly popular but there are a host of great alternatives. Facebook Messenger Rooms have immersive backgrounds that transport you to iconic spaces like a beautiful beach or a luxe apartment and actually move with you on the screen to make it feel like you're really there.
Who gets invited to a virtual bachelorette party?
Everyone your bride-to-be would want at an in-person event should be on the guest list. This usually includes the bridal party, a few close friends, and some female family members depending on the activities you'll be doing.
Should you send invitations?
Absolutely. This is a real party, after all. Invitations should be sent by post or email including the date, time, virtual location, the host's name, and a way to RSVP.
Steps to Planning a Virtual Bachelorette Party
Set up communication channels.
Create a group chat so everyone involved is aware of all developments. This takes the pressure off the organizer having to relay details to various people continuously. Then decide which video conferencing platform will best suit the type of celebration you're planning and make sure everyone invited has the link.
Spoil the bride beforehand.
Get the bride-to-be excited even before the party by dropping off or pre-mailing gifts to her house. This can include props like sashes, veils and crowns, pre-bachelorette self-care items like face masks, champagne, or gifts for her to open beforehand or together on the video call (if she'd like to). You can also leave presents unlabelled and ask your bride to guess who each gift is from.
Designate an MC.
Much like an in-person bachelorette, a virtual fete should have a host that ensures the event runs smoothly and creates an agenda. "Large video calls can feel hectic," says planner Sarah Carroll of Small Shindigs. "Having one person in charge is super helpful as they can make sure everyone gets a chance to speak and that the event will be smooth sailing." This can be the MOH or one of the bridesmaids that feels more comfortable speaking. Create an itinerary and send it out before the event so everyone knows how the event will flow.
Select a theme.
A theme can liven up your digital party. Pick one based on the bride's interests, be it a color, TV show, movie, or trend. The theme can inform your attire, catering, and props.
Get creative with decorations.
Order an outdoor balloon arch for her doorway. For inside the home, Panama-based event planner Julie Renson of BEYOA Events recommends enlisting the help of her partner or a local bridesmaid to decorate the room she'll be in for the call. Otherwise, send her a DIY decoration kit with fun instructions. "The kit can include funny pictures, banners, and the quintessential bride cup for her to sip from," Renson explains.
Travel without traveling.
Center your virtual party in a place you wish you could be celebrating together. Having everyone bar-hop around using the same backgrounds can give the illusion that you're all in the same place according to hospitality veteran Whitney Edwards of Tripleseat. "You can dress up for the occasion and tie some of the snacks and cocktails for the night to a destination," she says.
Cater to the bride's palate.
If there's a culinary theme or food-based activity, make sure your celebrant knows what she should prepare or better yet, have the items delivered to her. Another brilliant touch is to have all the guests wining and dining on the same thing. Cook or order identical nibbles like a cheese platter. Guests may also come together and invent a custom cocktail that you name after the bride.
Crowdsource a gift.
Have the bride's nearest and dearest record video messages that are then compiled into one heartfelt film which you all watch together during the party. A video like this is a priceless collective gift and an everlasting keepsake that will stay with her long after the bachelorette. Not to mention, it's a great centerpiece for the digital party. Perhaps you could turn her engagement photos into a beautiful painting that she can display at her wedding or present her with a custom hardbound cookbook with recipes, photos, and stories from selected friends and family.
Introduce activities and entertainment.
Activities will make sure your party isn't just an array of digital faces. Inject excitement into the remote party with a tarot reader, an online psychic, or duke it out with a remote lip sync battle. You'll get a complete video recording of your lip-syncing prowess which makes a great keepsake. Plan an epic game night and rely on tried and tested party games like Drink If and the Newlywed Game.