A Complete Guide to Shadow Boxing Your Wedding Dress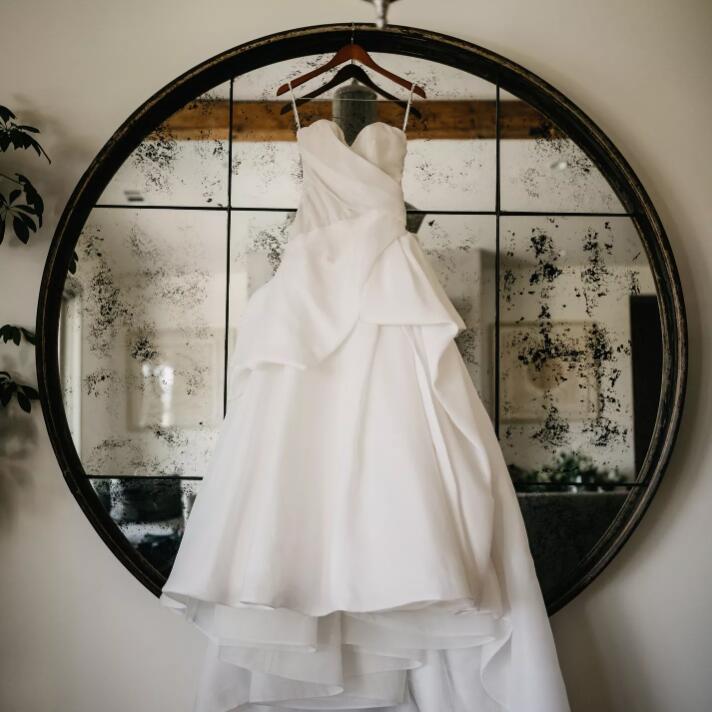 Even the most cautious of brides can end up with a hodgepodge of unsightly stains on their wedding dress by the end of the night (truly, we've seen it all!). And despite the likely fact that you won't be wearing your gown again, we understand why you'd want your dress to remain in pristine condition for years to come—and also serve as a commemorative keepsake that you can display in your home.
Enter a shadow box: The solution to preserving and displaying your wedding dress, in order to ensure it looks just as perfect as the day you wore it down the aisle. Whether you choose a box that showcases the bodice of the gown or opt for a full-length frame to view the entire dress, this preservation method is something every bride should consider.
What is Shadow Boxing?
Shadow boxing is a form of gown preservation "when your gown is cleaned, pressed, and beautifully displayed in a sealed memory box," says Lindsay Dragone, senior accessories buyer for David's Bridal. By choosing this method, she explains, you're protecting your dress from yellowing and exposure to air elements like dust and moisture.
"After walking down the aisle, celebrating with guests, and dancing the night away, your dress might not be as spotless as it was when you first brought it home. Gown preservation allows you to restore and maintain your gown's timeless beauty for years to come." Additionally, many brides will include a few accessories (like a tiara, veil, earrings, etc.) alongside the gown to capture the essence of their wedding day look.
How To Shadow Box a Dress
In general, before a gown is placed in a box, it's typically cleaned, treated with an anti-yellowing and a stain removal treatment, steam finished, and wrapped in acid-free tissue. There are also two popular options when it comes to shadow boxing a dress: Visiting a bespoke framing shop, or using a mail-in kit.
For those who'd prefer to skip a visit to a framing shop, several retailers, like David's Bridal, offer kits that cover the entire process. "The kit comes with everything you need to mail your dress for preservation," Dragone says. "We thoroughly clean your gown and ship it directly back to you carefully steamed and displayed in an heirloom-worthy box. Simple as that. [It] can all be done from the comfort of your own home." This style of shadow boxing displays the bodice of the gown, but there are also companies that offer full-length framing for a bolder display moment.
If you'd like to opt for the bespoke route, consider researching your local frame shops to see if they offer this service. It's also common for dry cleaners to provide shadow boxing for wedding dresses.
Is Shadow Boxing for Everyone?
Dragone recommends that every bride preserve their gown. "By doing so, you preserve not only your special memories, but also your investment and peace of mind knowing your gown is cleaned and repaired," she says. "Think about all the wear and tear your dress experiences on your big day (makeup, hairspray, champagne spills, deodorant, perfume, grass, and mud on your train) all of which can lead to stains and yellowing if not addressed shortly after your wedding day."
It's important to remember that shadow boxing is a matter of personal preference, but it can be a unique way to cherish your wedding day forever. "It is also a great option if you ever want to pass down your gown to family members," says Dragone.
Shadow Boxing Tips
For those considering shadow boxing, the below tips are helpful to remember throughout the process.
Do your research. Be sure to research the most convenient shadow boxing methods for you and your style of dress. You'll also want to ensure you purchase a box that you'll love forever.
Set a budget. If you want to show the full length of your dress, there are framing services that can do this—just expect to pay a significantly higher price tag. However, if you don't want to spend a lot, be sure to choose retailers and vendors that provide kits at an affordable price.
Store your box in an appropriate area. As with any delicate work of art, be sure to display your wedding dress in an area of the house that doesn't get a lot of direct sunlight, and an area that's a cool, dry environment. You can also look into UV glass for extra protection.
Related article: The Ultimate Guide to Planning a Fabulous Virtual Bachelorette Party
Need to order wedding furniture? Welcome to contact!
Please follow our Instagram or Facebook to get more latest news.