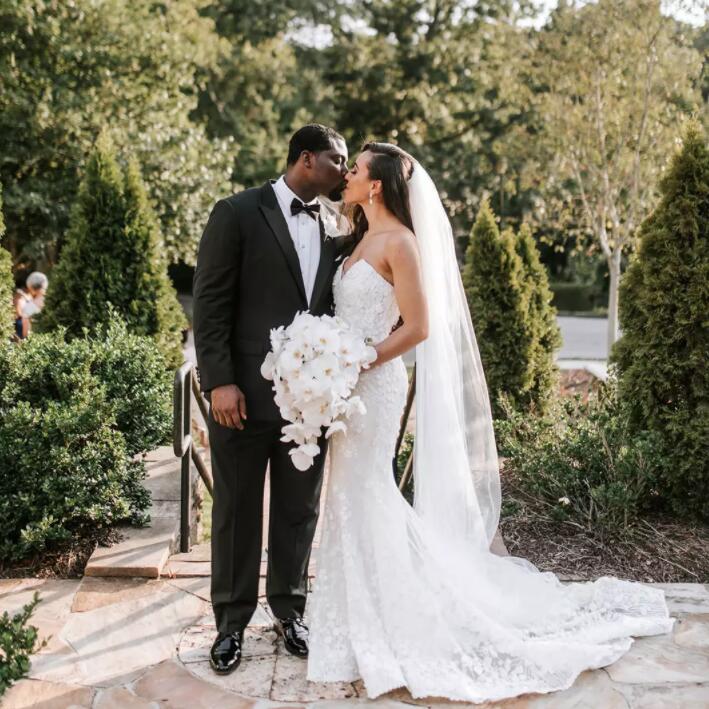 Pichon Duplan, a management consultant, couldn't keep his eyes off of Marcelle Nashief, a process engineer, when he first met her at a mutual friend's party in 2015. He got her number, asked her on a date, then two years later, popped the question where they lived in Boston.
In the summer of 2019, the now St. Louis-based pair threw a destination celebration in Atlanta that included sweet nods to their life and family. The day was full of roses and orchids, the favorite flowers of their mothers and the couple featured a wine box ceremony to honor their love of red wine (and the fact Pichon was named after a famed Bordeaux chateau). Though they planned to wed in the outdoor amphitheater on the property, summer rain moved the ceremony indoors to just as beautiful of a space: the grand staircase made for quite the entrance for Marcelle, even if she was afraid to fall in her five-inch Jimmy Choo heels.
"What our guests remember most about my day are the little things I didn't think they would notice or appreciate, like the flip flops, the wine box ceremony, the tribute to my deceased parents, the small details of the décor," Marcelle says. "It doesn't have to be grand to be memorable, just authentic and genuine."
Read on for all the details of Marcelle and Pichon's wedding day, planned by Pop + Fizz Atlanta and photographed by Ashlyn Cathey Photography.