Perfect Garden Ceremony Location
If you are in the process of deciding your wedding venue, you know there are many options. A simple function hall, an elaborate castle, and every kind of venue in between beckons to you and makes you think about how to make the day memorable. While many settle on a church as a ceremony location, here are some reasons why holding your ceremony in a garden makes for a perfect ceremony moment.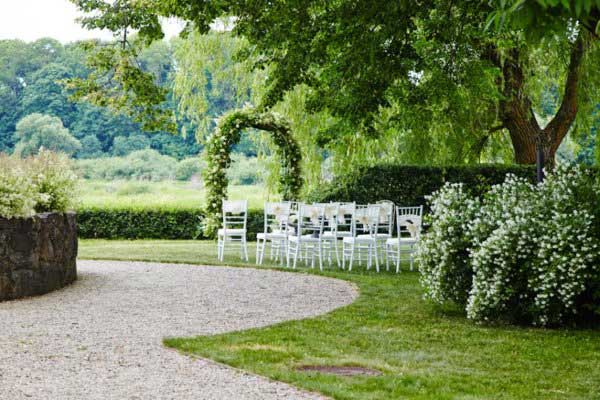 Take Advantage of Beautiful Weather
When you choose to have a spring, summer, or autumn wedding, one of the nicest options is to have the ceremony out-of-doors. As long as your ceremony won't be so long that the guests will be sweating, you can enjoy the sunshine and get the best that the seasons have to offer at the same time. This is doubly true in a garden, since you get the benefit of the beautiful weather as well as the landscaped and gardened touches of a lovely space, and you get the full bloom of the garden because of the great weather.
Renting a Space in a Garden Is Affordable
Gardens typically have at least a few requests for weddings. But because of the extensive size of many botanical gardens, they can accommodate a wedding group without a lot of extra infrastructure. This translates to reasonable rates for a wedding, especially if your main needs are a set of chairs and a quiet space away from other visitors to the garden.
Fit as Many Chairs as You Need, Be It a Small or Large Wedding
When renting a venue inside a building, the limitations on guests are often strict due to fire code and the venue's inherent limitations. However, choosing a garden means that you are more likely to be able to customize the size of your wedding: an intimate ceremony of only a few close family members can be just as special in a garden as an expansive wedding of 400 guests. Within almost any garden, you can find a location that feels like it was designed for exactly the size of wedding you are looking to have.
No Need for Elaborate Flowers: They Come Included!
Many women dream of the specific, meaningful flowers that they want present for their wedding, but wouldn't it be better to have those flowers growing all around your guests and your bridal party? A garden setting allows you to lower the cut flowers you need for your the ceremony and focus on getting a location near all of your favorites. Fewer flowers must be purchased, and the flowers you see will be in full bloom. Do you specifically love roses, daisies, petunias, or wisteria? Find a spot in the garden where your favorite flowers will be in full view for the guests, and you'll be able to smell the fragrances as you say "I do!"
The Pictures Will Be Downright Magical
One of the best reasons to have a ceremony in a garden is because the pictures tend to turn out lovely. Bohemian-style wedding dresses really shine when you walk down a grassy aisle or meet under a vine-covered arch. Ask your photographer ahead of time what the prettiest hour for the light will be and work around that for your wedding photos; a public garden also means you can scope out spots ahead of time for the perfect angles and locations. Plan to feature the greenery in your pictures, since a stunning backdrop will only add to the memories.
Gardens Often Have Walkways That Work for Your "Aisle"
Creating an aisle can be as simple as arranging the needed chairs around a brick path. Or as special as lining a particular winding walkway with chairs so that all can see the approaching bride. Even a bright green lawn beside some garden beds can provide a vibrant aisle between sets of chairs for the bride's stunning entrance.
Gazebos Makes a Great Location If You Need Rain Cover
Many gardens feature a gazebo, often a large open-air patio with a roof, that overlooks a pond or a particular part of the garden itself. One great way to ensure you won't worry about rain is to rent the gazebo as a rain location, or discuss whether choosing this garden includes the possibility of an indoor ceremony in an ornamental greenhouse or welcome center if need be. Gardens tend to feature at least a few buildings, so explore your options. But a rainy day could become incredibly romantic as a wedding day if your guests get to see it from inside the gazebo.
Given these tips, you can see why a garden makes a romantic, beautiful, and altogether delightful wedding ceremony location. Consider what gardens are available near your desired wedding area and see whether or not the spaces available work for your particular wedding needs.
Related article: 2022 Wedding Reception Trends
Need to order wedding furniture? Welcome to contact!
Please follow our Instagram or Facebook to get more latest news.