2022 Wedding Reception Trends
As 2022 ticks by, you may find yourself wondering what the biggest wedding reception trends are as of late. After all, along with long-held wedding traditions, there are so many things that come and go in terms of popularity with weddings. To make your reception not only amazing but one that's up with the times, you may want to tap into some of these trends.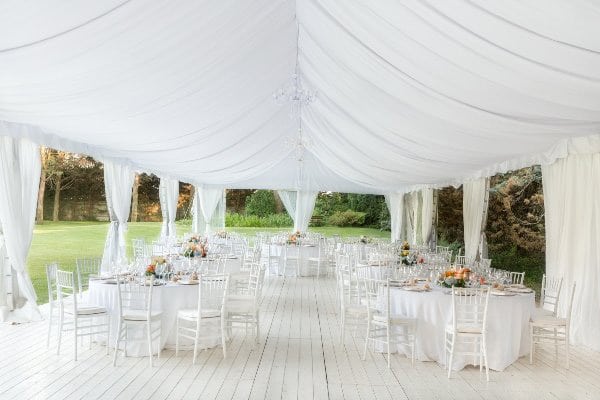 Big Parties
Since we spent quite some time unable to gather in large groups thanks to COVID-19 lockdowns, big parties have their place these days. Celebrations with all of your family and friends where you party all night are totally in, so take this as your sign to go crazy if that's what you're aiming for with your own wedding reception!
Elaborate Cocktails
Forget a standard glass of champagne or mixed drink and make way for elaborate cocktails! These are a fun way to do something different at your reception that guests can enjoy. So feel free to pick your favorite elixirs and make something that everyone will want to recreate from their home bar long after your wedding day passes!
Reception Surprises
Couples these days are looking for ways to take their guests by surprise during their reception. Usually, this is done with out-of-the-box entertainment options such as dancers, celebrity impersonators, or comedians. Really any sort of entertainer will make a mark on your event, so feel free to get creative with it!
Colorful Decor
Bright and bold decor is all the rage at wedding receptions in 2022. Using bright splashes of colors via linens and flowers is all systems go. This is a very fun way to design your wedding reception and will definitely catch the eye of guests from the moment they walk into a room.
Themed Receptions
Going along with the trend of big parties, adding a theme to these events is more popular now than ever. Circus themes, masquerades, rodeos, or even campfire themes are all popular. This is an especially fun trend because it leaves so much room for personalization and creativity. Really make it your own!
Open Air Tents
This trend is undoubtedly sparked by the need to social distance and have more "room" in a crowd. But it seems to be sticking around! Open air tents have a traditional tented roof, but are open on the sides to allow for more air and ventilation.
Wallpaper Accents
This is a really unique trend, but it's present for 2022 wedding receptions nonetheless! Wallpaper has its place in homes these days, just as it does at weddings. Creating a wallpapered accent wall is an amazing spot for a photo op. So many couples are installing them into their reception for just that. It's pretty cool, actually!
Hanging Florals
This trend has popped up quite a lot, but it's really catching the attention of couples this year. Hanging florals are a great way to add beauty to your reception. And they're another way you can get creative with elements like color and even theming. Plus, it adds a definite wow factor to have flowers hanging from the ceiling when your guests walk into your event.
Family Style Meals
Another way that people are evolving their receptions past all of the recent COVID-19 restrictions is by offering family style dining. Here, each table will be served large meals to share, just like you would at your kitchen table! What a fun way to bring people together.
Twinkle Lights
To add an heir of romance to your reception space, consider jumping on the bandwagon for this trend. Twinkle lights are huge as far as decor goes for this year's wedding receptions.
These trends are all worth exploring as you plan your own event. Even if you're looking to keep most aspects of your wedding traditional, it could be fun to add one of these elements to your special day.