Decorating a Pergola for a Wedding
No matter what style or theme you have planned for your dream wedding, there's a chance that you will be saying your vows under a pergola or arch. If you're struggling to come up with the perfect wedding pergola decor for your special day, take a look at this list of nine tips on how to decorate a pergola for your wedding.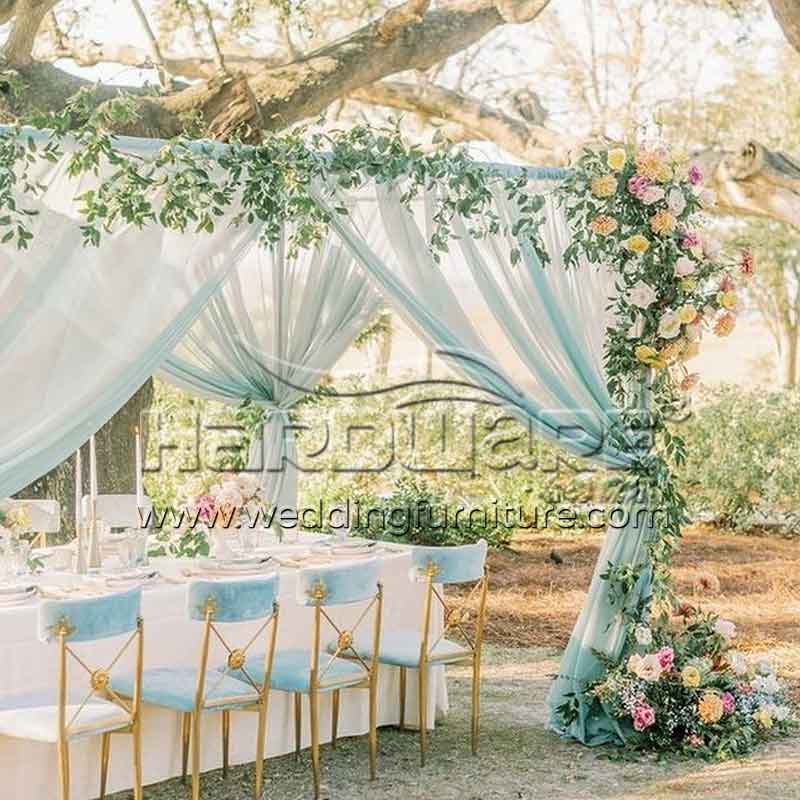 Flowers
Easily one of the most traditional approaches to wedding pergola decor, you can't go wrong with flowers.
Flowers on your wedding arch tie into the flowers for your centerpieces, bouquets, and boutonnieres so beautifully. You can't be too matchy-matchy with floral decor.
Faux flowers are also an excellent option for decorating your pergola. They'll be far enough away and up high enough, that your guests won't even know they're not real. Using faux flowers will make sure they hold up throughout the ceremony without water.
Nobody wants sad flowers on their wedding day!
Leaves
Leaves are a beautiful choice to decorate your pergola for autumn weddings. Eucalyptus has been incredibly popular on the wedding scene lately and works well on arches and even in bouquets!
If you choose to use real eucalyptus, you'll even benefit from the fantastic smell they have. It may also help calm your nerves and butterflies during your vows.
Combine leaves and flowers for a wholly personalized arch for your wedding day.
Branches
Branches can look absolutely stunning on pergolas for your ceremony.
Tree branches are a great alternative to flowers for winter or early spring weddings, especially. Creating large bundles that attach to the legs of the pergola looks terrific!
Recruit your friends and family to gather branches one Saturday afternoon, and you'll have affordable and unique wedding pergola decor.
Fabric
Another classic choice for wedding pergola decor is fabric.
Fabric can be draped along the top of structures and down the support beams if you choose to go for the drapey look, satin, voile, chiffon, charmeuse, and gossamer work well. For a rustic or farmhouse wedding, burlap is a no-brainer.
To avoid any mishaps on your special day, it's best to select a flame-retardant fabric. (Just in case!)
Fabric works well for any style of wedding and any venue!
Balloons
If you find yourself wanting something a little less traditional for your wedding pergola decor, try adding some balloons! They will look especially fun if you and your honey love a bright color scheme, but a classic monochromatic ivory scheme would look incredible too.
You can mix mediums by draping some fabric with the balloons for a stunning look.
If you're still not convinced balloons can work on your wedding day pergola, consider how affordable they are! If you're already splurging on other areas of your wedding, consider choosing a less expensive option with balloons.
Carry the balloon theme over into a backdrop for your guests to take some killer Instagram photos or have some scattered on the dance floor. Your guests will love to try and keep them up in the air as they dance.
If you choose to include balloons on your special day, your guests will definitely remember.
String Lights
String lights are a must to decorate your pergola if you plan on having your ceremony at dusk or nighttime.
String lights are gorgeous and whimsical, even without fabric or flowers. Your photographer can get some unbelievable photos with these as your backdrop.
Wrap string lights around the legs of the pergola or drape them along the front. You can even drape them along the inside of the structure.
To create a gorgeous backdrop, string the lights in between the two legs at the back of the pergola. Wrap them along each pole as you go along.
Many string or fairy-style lights can be battery-operated, so there's no need for a power source nearby.
Hanging Lanterns
Hanging lanterns are the perfect wedding day pergola decor if you plan on having your ceremony closer to dusk.
Imagine the gorgeous backdrop these hanging lanterns create as you walk back down the aisle with your spouse. The soft mood lighting provided by the lanterns will be stunning hanging from your pergola or arch.
With so many styles of lanterns to choose from, you'll have no trouble finding wooden or paper lanterns for your wedding day!
Ribbon
Ribbon is an excellent idea for wedding pergola decor if the area behind your arch isn't particularly pretty, or not something you want for the background of your pictures.
A great way to use ribbon to decorate your pergola is by cutting long pieces and attaching them to a string so you can create a kind of curtain with them that you can string between the back two legs of the structure.
Use as little or as much ribbon as you like!
A similar effect can be created by cutting and using long strips of fabric too, but ribbons are by far the easiest option as there is much less cutting involved.
With so many colors and styles of ribbon to choose from, you can create your perfect background to say your "I do's."
Custom Signs
A wedding symbolizes the coming together of two people, and often, two families. A great way to show two becoming one is with a sign showing off your new surname.
Other romantic sayings will look stunning on a sign, too, so get creative! "Together forever," and "best day ever" are some sayings to get your creative juices flowing.
The best part about using custom signs as wedding pergola decor is that they're reusable as decor in your home! "Happily ever after" or your last name will look just as amazing in your living room as it did at your wedding.
Your special day
Just remember: It's your and your partner's special day. There are no rules when it comes to wedding pergola decor or wedding decor in general.
Use any of these pergola decorating ideas as you like, and feel free to choose and combine more than one to create your unique pergola for your wedding day.
Hopefully, this list of pergola decoration ideas inspired you to create the wedding day pergola of your dreams!
---
Related article: How I Became A Designer
Need to order wedding furniture? Welcome to contact!
Please follow our Instagram or Facebook to get more latest news.