What Couples Want From a Wedding Venue
For the average couple, the wedding venue accounts for about half of the budget. Because the hunt for a venue begins approximately a year prior to the big event, couples may not have much more than a budget and wedding date in mind. Earn more wedding bookings when you position your location as an expert and provide helpful resources throughout the planning journey.
To do this, you must know what couples want from a wedding venue, and, more importantly, how to provide it.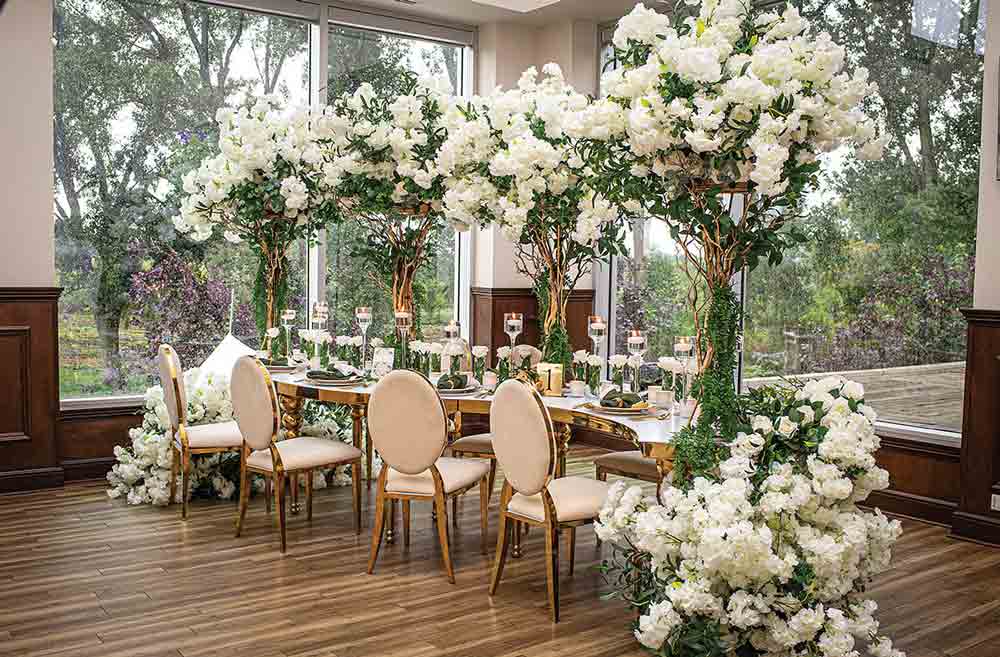 What are the most popular types of wedding venues?
Weddings are tailor-made to the couples' interests. Non-traditional venues are edging out the old standbys, but the standards haven't lost their appeal. Some of the most popular venue options include:
Hotel venues: Ballroom, banquet hall, events facility, terrace, balcony
Rustic venues: Events Barn, outbuilding, farmhouse, tent
Waterfront venues: Beach, boat, dock, lake house, beach House
Houses of worship: Church, chapel, synagogue, mosque, temple
Country club: Garden, golf course, patio, pond
Historic venues: Landmark property, museum, mansion
Natural venues: Garden, vineyard, park, forest
Destination venues: Villa, resort, castle
Modern venues: Gallery, aquarium, warehouse, loft, brewery, distillery
While couples may not have their theme, menu, or vendors figured out during their venue search, they'll have narrowed down the list of venue types — or at least know what they don't want — and likely have a few ideas for style. Seeing your venue firsthand may be the deciding factor: Once they can picture their wedding, other details may fall into place.
Discover 11 things couples want from a wedding venue:
1. Couples want to stay within budget.
Color schemes and dress choices may not be set in stone at this point, but the budget is often non-negotiable. Be up-front about budgeting, disclose added costs, and let the couple know what they get with a contract. Surprises are great for proposals, but unwelcome when it comes to venue cost.
The ease and potential savings of an all-inclusive venue may win over budget-conscious couples. DIYers may opt for an à la carte venue that allows them to amp up the personal touches. There are others who fall somewhere in between. Be open to adjusting packages to suit couples: Personalized touches and custom-crafted contracts can win over couples who are looking for something outside of common venue agreements.
2. Couples want all the facts up front.
Couples look for details on venue limitations and restrictions early in the process. Knowing that a venue will suit their needs increases comfort with signing a contract. When giving a site tour, point out bathrooms, highlight included areas, let the couple explore the space, and praise unique features — but don't leave out the important facts.
If the venue has a solid event cutoff time, couples who intend to party into the wee hours of the morning need to know. Sharing restrictions ahead of time prevents disappointment when the caterer on the couple's must-have list isn't on your venue's preferred vendor list. Prospective clients may look elsewhere if their needs aren't met, but it also opens up the dialogue for ways the venue can adjust, even if it's not part of the usual contract. Find ways to source dusty rose chair covers in lieu of the usual white or black, or offer a shuttle service to balance the couple's hesitation over a lack of on-site parking.
Straightforward contracts give careful planners the information they're looking for. Don't bury the details. The goal is not to lock a couple into a contract but to be the perfect place for them to celebrate. Disclose deposit, cancellation, and refund conditions, and explain the policies so couples are comfortable with signing a contract.
3. Couples want resources to make the planning process easier.
Provide resources for the wedding planning process so couples know where to look when it's time to choose a venue. Offering tools, inspiration, and access to information about the venue or industry can forge relationships with planners and couples alike.
Build a base of loyal followers with an active social media presence that highlights real weddings, inside peeks, and events successes.
Maintain a blog with planning tips, checklists, and prep tools for planners and couples to use.
Connect with local photographers for reciprocal shout-outs across social media and blog posts — planning couples can get an idea of what real weddings look like at your venue and find photographers to capture their day.
Create event layouts and 3D diagrams for couples to explore so they can get a feel for how their event would work in your venue.
4. Couples want honesty in communication.
Couples want to know that the location they booked will be the same on their wedding day, without unexpected changes. Planned upgrades, remodels, or landscaping changes should be shared with the couple so they don't fall in love with a water feature or stained glass window that's slated for removal.
Couples look for honest hosts: Communicate any venue limitations clearly. Be specific about what you can accommodate so there are no surprises during setup. Share details about electricity, lighting, sound systems, or setup procedures required for events. Couples or planners may ask:
Is there a footprint limit for outdoor tents?

Will the outdoor electric setup accommodate the caterer's refrigeration and stoves, and will there be enough space for prep?

Is the event space private, or will there be other events at the venue or guests walking through the space?

Is the venue accessible to all attendees? What adjustments can be made?

What is the capacity for the ceremony? Cocktail hour? Reception? Dance floor?

Who flips the room, and how long will it take? Where do guests go during the flip?
5. Couples want to make an entrance.
Transportation options and parking access can be a deciding factor for couples. Do you offer a shuttle service or does your venue have a convenient metro stop? Do you provide a unique transportation option — a hayride to the barn, a chauffeured vintage car to small gatherings, or a gondola to a mountaintop chalet? Shout it out in your wedding venue marketing materials and on venue tours. Connect with local limousine companies, busing charters, trolley services, and private shuttle companies to create transportation package proposals, or simply to have recommendations in mind should the couple ask.
6. Couples want wedding venue site tours to paint a picture.
Whether the couple comes with a list of wants or looks to the events coordinator on staff for advice, win bookings with site tours that feel special. Wedding planning is a time when people want to feel pampered and taken care of. Site tours are an excellent time for a special treat — a little champagne is a classy addition to evening tours, chocolates, and petite cakes satisfy the sweet tooth, and bruschetta made with tomatoes and herbs fresh from the inn's garden shows off your venue's catering expertise.
Play up gardens and event spaces, but don't leave out non-traditional backdrops. Couples planning an intimate gathering may prefer to say their vows around the cracking firepit with only a handful of attendees, an adventurous couple may be drawn to the rocky mountaintop or the vineyard may be favored over a rose garden.
Consider the seasons and make sure you're pitching the best view for the timing. Even if they make multiple visits throughout the seasons, couples count on you to know your venue. Provide backup plans for inclement weather, valet options in case of a downpour, and show that you've got the ability to meet challenges that arise during the process.
Showcase favorite locations for portraits so couples can start dreaming about their must-have poses list. This allows the couple to consider added photography costs: Lighting, multiple photographers, and extra setup time — if you're ready with photography ideas, the couple will have a head start on these considerations. Use photography as a draw for couples who want the most stunning portraits:
Offer to snap some photos of the couple as they tour the venue so they can show it off in their planning journal or on Instagram.
Coordinate with the couple to add time for engagement portraits, rehearsal dinner photography, or a day-after photoshoot.
Include staged photos of backdrop and portrait locations on your website so couples and photographers can prepare for success.
Couples often seek an emotional attachment in a wedding venue. Many weddings take place where the couple meets, at the site of the first date, or where a proposal happens.
If a proposal happens at your venue, it may bring the couple to you when it's time to plan their wedding. Coordinate with a jeweler to create a proposal package for your venue: A discounted stay, free champagne and dessert with dinner, and a bouquet of roses — if couples begin making memories at your venue, they'll come back for weddings and to celebrate anniversaries.
7. Couples want fantastic references and rave reviews.
Couples want to be sure you have their greatest desires at heart. Whether they want a venue that can honor their zero-waste wedding request or that has a solid backup plan in case of late-season snow, references from your most steadfast supporters can ease their concerns.
Word of mouth and solid online reviews help a couple feel at ease and narrow down the venues on their list. Vendor relationships are a positive mark for couples, too: If the vendors they want to work with know and love your venue, you'll earn extra points. Forge relationships with photographers, caterers, wedding planners, DJs, and florists and enjoy the advantages of word-of-mouth marketing. Consider more than testimonials: Provide plenty of information and make it easy for couples to reach out for a site visit or submit an RFP.
8. Couples want options for easy transportation.
Provide an unforgettable shuttle between the ceremony and reception locations. Show couples you can set the mood with horse-drawn carriages, golf carts, rowboats, or a party bus. But, don't leave the transportation to the wedding day alone. Offer an airport shuttle service or sightseeing tours in the contract or provide free come-and-go parking on-site or parking garage passes for the entire wedding weekend.
9. Couples want guests to gush about the experience.
Celebrating with friends and family is one of the main goals of any wedding, and much of the heavy lifting falls on the shoulders of the on-site coordinator, catering, and venue staff. Show the couple what kind of impression their day will leave with packages built to dazzle. The food, music, and scenery play a role, but there are plenty of ways to wow the guests.
Take care of the couple's family and friends by offering plenty of space for extended-stay guests to explore, relax, and play. Be prepared with hotel and inn recommendations if your venue doesn't include lodging.
Offer early check-in, late check-out, valet parking perks, and discounts on extra nights to give guests the full experience while they're in the area.
Allow the use of a private lounge for attendees to mingle through the wedding weekend. Allocate a private cabana for relaxation. Designate a balcony for meals, coffee, or nightcaps.
Offer up a coveted tee time for the golfers or extended spa hours for the guests who would like pampering. Treat the adventurous attendees to surfing lessons or a free trip through the zipline course.
Curate a menu of meal options for guests to enjoy while they're in town for the wedding. Offer complimentary breakfasts to start mornings right or supply picnic baskets for guests who want to explore before the main event.
10. Couples want unbeatable extra perks.
Deals on the honeymoon suite, private spa treatments, reward points toward a honeymoon package, or free brunch and mimosas for the wedding party. There are plenty of ways to treat the wedding couple like royalty.
Provide free lunch and beverages for meetings with the on-site planner, no strings attached.
Set couples up with the music buff on staff to design the perfect custom playlist.
Turn the cake tasting into a cake-decorating class for the couple and their closest friends.
Add a wedding extra to sweeten the deal: Coordinate the photo booth with props, or truck in pinball machines to help the groom surprise the arcade-loving bride.
Budget-minded couples may be looking for other options:
Reward the couple for pre-wedding events held at the venue. Add extras to the wedding package or let couples redeem their rewards as an overall discount.
Include the option to host the rehearsal dinner on-site to get a head start on the celebratory mood.
Create minimalist wedding packages tailored to tiny gatherings.
Provide a knowledgeable site coordinator or on-site event planner to make the day run smoothly — even for couples with a designated wedding planner.
Treating the couple like the stars of the show can win business — and send newlyweds home singing your praises.
11. Couples want to be able to picture their wedding at your venue.
A couple may hesitate when it comes to pulling off the Art Deco wedding bash they've been dreaming about if they can't see what your space looks like all decked out. They're looking to your expert staff to give them an inside look at the venue.
Use photo-realistic 3D event diagramming software to impress couples. Personalized event layout plans and custom virtual tours show what their day can be. Including photos on the website — both from marketing efforts and sourced from real couples who have exchanged vows at your venue — gives them an inside look.
Staged spaces — rather than dark, empty rooms — can set the scene, and not just for photos, either. Fresh flowers on a fully-set table, catering staff passing plates of appetizers, and bar staff standing ready to serve up a cocktail can transform the space from plain to full of potential.
An open house lets a couple get a look at your space and see your events chops in action. Host a wedding expo, vendor showcase, or meal and wine-tasting event to get interested couples in the door and show them why you're the perfect fit.
12. The perfect wedding venue.
Choosing the perfect wedding venue is a pivotal decision for couples planning their big day. Today, couples seek more than just a beautiful location; they desire a space that offers both aesthetic charm and functional versatility. In addition to picturesque settings and top-notch services, wedding furniture plays a significant role in creating the atmosphere couples envision for their celebration.
The Importance of Wedding Furniture:
Wedding furniture, from elegant seating arrangements to stylish table settings, forms the canvas on which couples paint their dream wedding. Trends show that modern couples prioritize comfortable and aesthetically pleasing seating for their guests. Chiavari chairs, banquettes, or even innovative seating options like lounge furniture are increasingly sought after. These choices not only add sophistication to the venue but also enhance the overall guest experience.
Moreover, flexibility is a key consideration. Couples are drawn to venues that offer adaptable spaces where they can seamlessly transition from a romantic ceremony to a lively reception. The ability to customize layouts and furniture arrangements to match their vision is a crucial factor in venue selection.
What Couples Want From a Wedding Venue
Give couples what they want from a wedding venue!
A day of pampering, glamorous staircases, rustic beams, a sweeping field, a giant dance floor, and a towering cake — each couple wants something different from their wedding venue. The common thread is this: Couples want to feel comfortable that the venue they choose can provide them with the memories they're dreaming of. Honesty, communication, and offering plenty of perks are the keys to becoming a winning venue for weddings. Create incredible wedding packages and design custom contracts for clients who know exactly what they're looking for.
---
Related article: Decorating a Pergola for a Wedding
Need to order wedding furniture? Welcome to contact!
Please follow our Instagram or Facebook to get more latest news.