Captivating Champagne Wall Inspiration
When it comes to adding an element of glamour and sophistication to your wedding, a champagne wall is the perfect choice. This unique and eye-catching feature not only serves as a stunning backdrop but also offers a delightful way to serve champagne to your guests. From elegant designs to creative displays, get inspired to create a memorable and stylish champagne experience for your guests.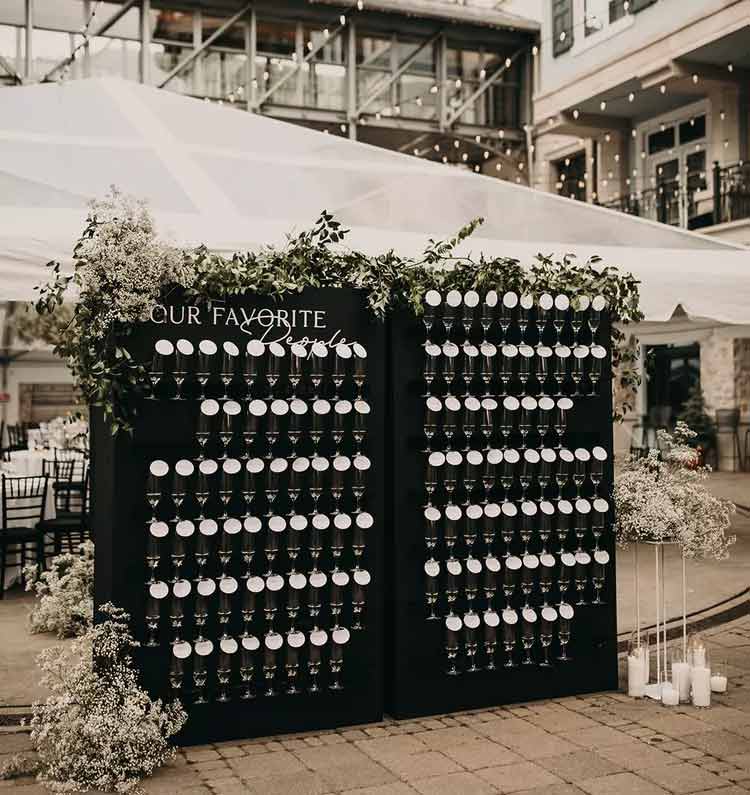 Luxurious Designs:
Explore luxurious champagne wall designs that exude elegance and opulence. Discover options featuring sleek acrylic panels, intricate floral arrangements, and cascading champagne glasses, all of which will add a touch of grandeur to your wedding reception.
Floral Fusions:
Discover how floral elements can enhance the beauty of your champagne wall. From lush greenery and delicate blooms to dramatic floral installations, learn how to incorporate flowers into your champagne wall design to create a romantic and enchanting ambiance.
Creative Displays:
Get inspired by creative champagne wall displays that go beyond the traditional. Explore unique ideas such as champagne towers, floating champagne shelves, and interactive installations, adding an element of surprise and excitement to your wedding celebration.
Personalization:
Learn how to personalize your champagne wall to make it truly reflective of your wedding style. From custom signage and monograms to incorporating your wedding color palette, infuse your unique personality into the champagne wall design to create a one-of-a-kind experience for your guests.
Enhancing the Experience:
Discover ways to enhance the champagne wall experience for your guests. From offering a selection of champagne varieties to providing personalized drink charms or custom cocktail recipes, ensure that your guests have a memorable and enjoyable time while indulging in bubbly delights.
Beyond Champagne:
Explore the versatility of champagne walls by considering alternative beverage options. Learn how to showcase other sparkling wines, signature cocktails, or non-alcoholic beverages to accommodate the preferences of all your guests and create a diverse and inclusive experience.
The Focal Point:
A champagne wall is a captivating and glamorous addition to any wedding celebration. With luxurious designs, floral fusions, creative displays, personalization, enhancing the experience, and considering alternative beverage options, you can create a memorable and stylish champagne experience for your guests. Let these inspiring ideas guide you in designing a champagne wall that becomes the focal point of your wedding reception, leaving a lasting impression on your guests and adding a touch of elegance to your special day. Cheers to a celebration filled with bubbles and joy!
---
Related article: Upgrades Stylish Furniture to Elevate Your Wedding
Need to order wedding furniture? Welcome to contact!
Please follow our Instagram or Facebook to get more latest news.