Stunning Color Palette Ideas for July Weddings
July weddings offer the perfect opportunity to embrace vibrant and captivating color palettes that reflect the spirit of summertime celebrations. From bold and energetic hues to soft and romantic shades, the choices are endless.
Classic Red, White, and Blue:
Embrace the patriotic spirit of July with a classic red, white, and blue color palette. Pair deep navy blue with vibrant red accents and crisp white details to create a timeless and elegant aesthetic. This color combination is not only perfect for Independence Day celebrations but also adds a sense of sophistication to your wedding.
Tropical Paradise:
Capture the essence of a tropical paradise with a vibrant and lively color palette. Incorporate shades of turquoise, coral, and sunny yellow to create a vibrant and joyful atmosphere. These tropical colors evoke a sense of fun and relaxation, making them ideal for outdoor or beach weddings.
Citrus Burst:
Embrace the refreshing and citrusy vibe of summer with a vibrant citrus color palette. Combine zesty shades of orange, lemon yellow, and lime green for a lively and invigorating ambiance. This vibrant palette infuses energy and excitement into your wedding decor, perfect for daytime or garden weddings.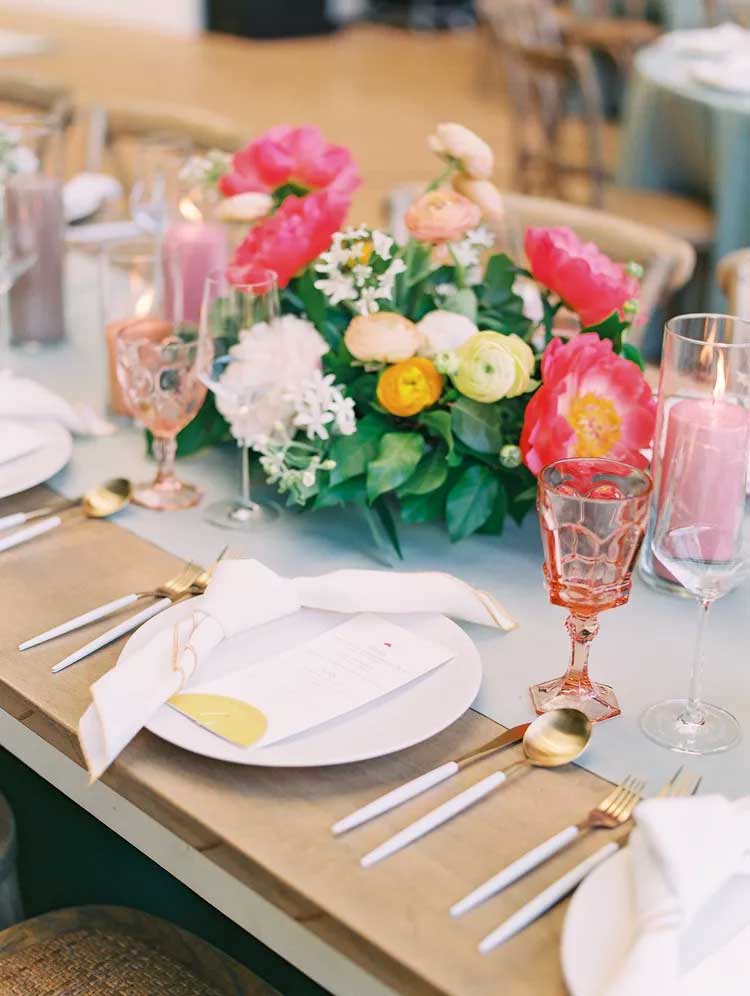 Soft Pastels:
Create a romantic and ethereal ambiance with a soft pastel color palette. Delicate shades of blush pink, lavender, mint green, and baby blue evoke a sense of tranquility and romance. These gentle hues add a touch of elegance and whimsy to your wedding, ideal for a romantic outdoor ceremony or garden reception.
Berry Tones:
Embrace the richness of summer berries with a color palette inspired by shades of raspberry, blackberry, and blueberry. Incorporate deep burgundy, vibrant purples, and dusty mauves to create a luxurious and sophisticated atmosphere. This palette adds depth and drama to your wedding decor, perfect for evening celebrations.
Sunshine Yellow:
Radiate joy and positivity with a sunshine yellow color palette. Incorporate vibrant yellow tones, from lemon yellow to golden sunflower, to infuse your wedding with warmth and happiness. This cheerful palette is perfect for outdoor or rustic weddings and adds a vibrant pop of color to your overall decor.
Create a visually enchanting wedding:
Choosing the right color palette for your July wedding sets the tone for a memorable celebration. Whether you prefer classic red, white, and blue, a tropical paradise theme, a citrus burst of vibrant hues, soft pastels for a romantic ambiance, rich berry tones for elegance, or a sunshine yellow palette for a joyful atmosphere, these stunning color palette ideas will inspire you to create a visually enchanting wedding. Remember to infuse your personal style and preferences into the color scheme, creating a celebration that reflects your unique love story and captivates your guests' hearts.
---
Related article: Captivating Champagne Wall Inspiration
Need to order wedding furniture? Welcome to contact!
Please follow our Instagram or Facebook to get more latest news.