Barbie Wedding Inspiration
A Whimsical Pink Affair for Brides with a Love for Pink
For brides who adore the allure of pink and dream of a whimsical wedding day, a Barbie-inspired wedding dress can be the perfect choice. Embracing the charm of the iconic Barbie doll, this wedding inspiration brings together the magic of pink hues, elegant details, and a touch of playfulness.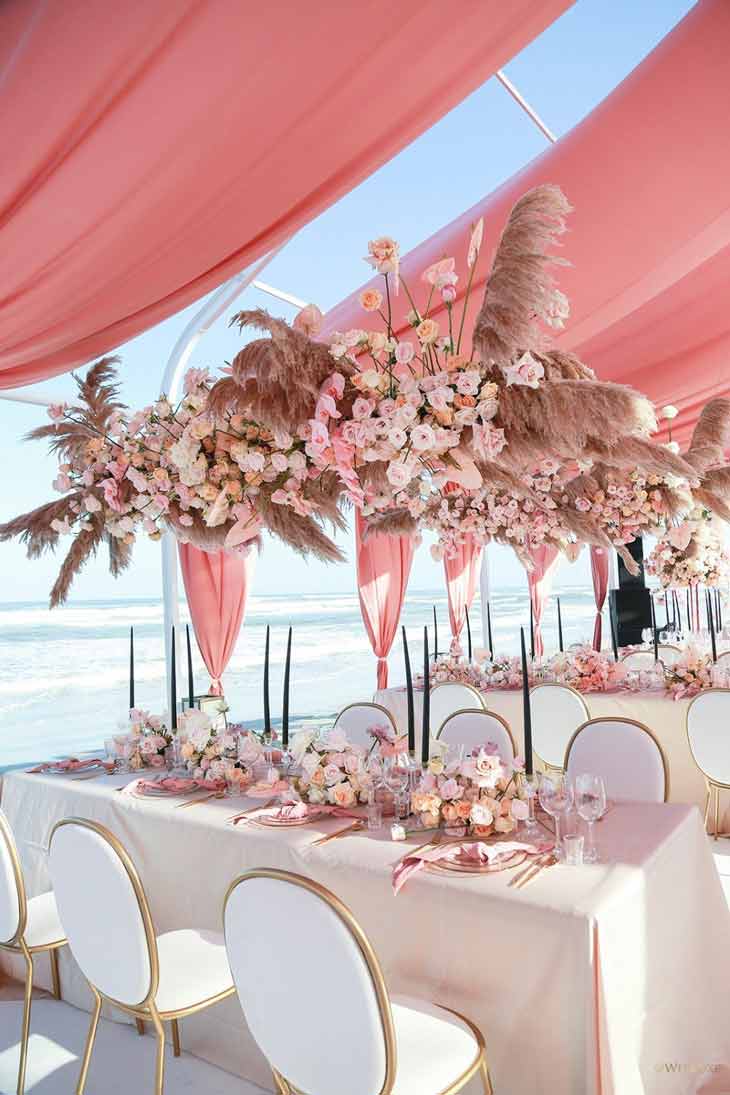 Embracing the Barbie Aesthetic
Barbie has been a beloved symbol of glamour and style for generations, and channeling her iconic aesthetic into a wedding dress is a delightful choice. Opt for a wedding gown that features soft pink hues, intricate embellishments, and a touch of sparkle, evoking the essence of Barbie's elegance and femininity.

Romantic Pink Decor
Transform your wedding venue into a pink wonderland with romantic pink decor. Adorn the ceremony space with lush pink floral arrangements, delicate pink petals down the aisle, and pink drapery for a dreamy ambiance. Reception tables can feature pink linens, pink glassware, and pink floral centerpieces, creating a magical and cohesive pink palette.
Barbie-inspired Bridal Attire
Beyond the wedding dress, brides can infuse Barbie-inspired elements into their bridal attire. Consider wearing pink-hued accessories, such as a pink veil or pink shoes, for a subtle nod to the Barbie theme. Enhance the look with a bouquet of pink flowers, showcasing roses, peonies, or hydrangeas, reminiscent of Barbie's favorite blooms.
Playful Photo Booth Fun
Bring out the playfulness of a Barbie-inspired wedding with a photo booth adorned with Barbie-themed props. Guests can enjoy dressing up with Barbie-style sunglasses, tiaras, and faux diamond necklaces, capturing fun and lighthearted moments that add to the joyous celebration.
Pink Delights on the Dessert Table
The dessert table can be a sweet showcase of Barbie-inspired treats. Delight guests with pink-hued macarons, cupcakes adorned with edible pearls, and a multi-tiered wedding cake featuring soft pink frosting and intricate detailing. A candy bar with a variety of pink candies adds a playful touch that guests of all ages will enjoy.
Barbie-inspired Favors
Thank your guests with Barbie-inspired favors that complement the theme. Consider gifting pink-hued treats, such as pink champagne gummies or pink cotton candy. Customized Barbie-themed trinkets, such as keychains or compact mirrors, make for memorable keepsakes.
Barbie Wedding
A Barbie-inspired wedding is a dream come true for brides with a love for pink and a desire for a whimsical celebration. Embracing the magic of pink hues, elegant details, and playful touches, this wedding inspiration transports brides and guests into a fairytale-like world. For brides who envision a wedding day filled with all things pink, a Barbie-inspired wedding is the ultimate expression of style and femininity, celebrating love in a whimsical and enchanting way.
---
Related article: Timing Mistakes During Wedding Planning
Need to order wedding furniture? Welcome to contact!
Please follow our Instagram or Facebook to get more latest news.