Barbie-inspired Wedding Furniture
A Playful and Chic Affair
As the Barbie-themed trend continues to captivate hearts worldwide, brides and event planners are seeking innovative ways to infuse the enchanting spirit of Barbie into every aspect of their weddings, including the choice of furniture. From whimsical chairs and tables to vibrant color schemes, Barbie-inspired wedding furniture brings a playful and chic touch to the celebration.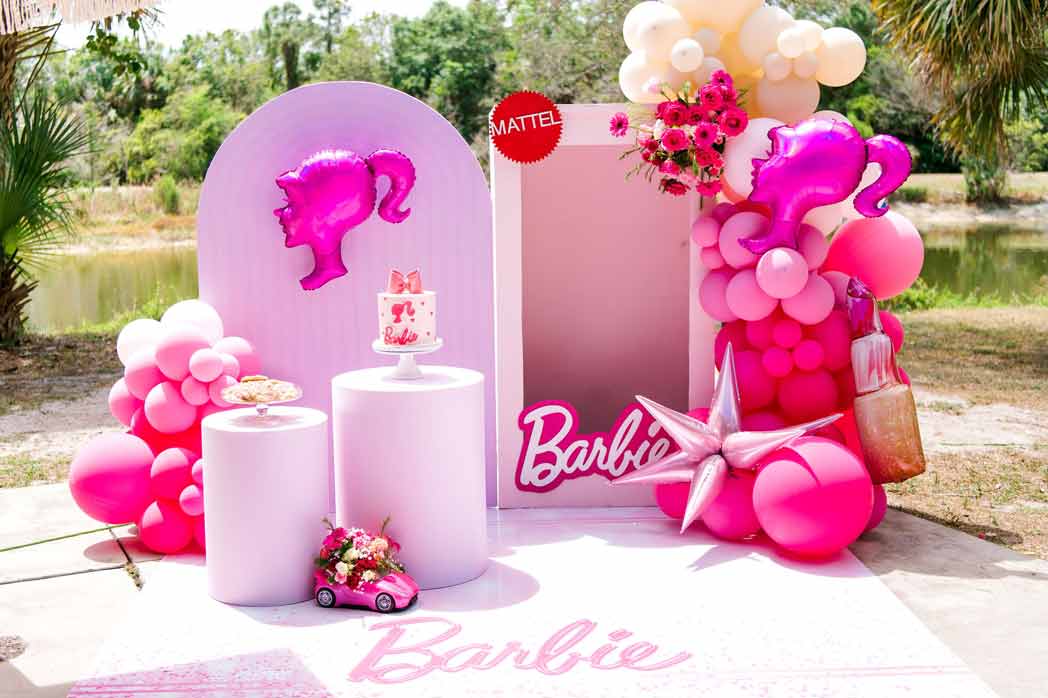 Embracing Barbie's Signature Hues
Barbie is renowned for her iconic pink color, and what better way to celebrate her spirit than by infusing pink hues into the wedding furniture? Opt for blush-toned chairs and table linens, setting the stage for a romantic and feminine ambiance. Combining pink with complementary colors like white, gold, or silver creates a chic and sophisticated look that perfectly complements the Barbie theme.
Playful and Whimsical Chair Designs
Barbie-inspired weddings call for furniture that exudes playfulness and charm. Consider whimsical chair designs with curved lines, intricate details, and soft cushioning to provide both style and comfort for guests. Chiavari chairs in pink or pastel colors are a popular choice, adding an elegant touch to the overall decor.
Statement Tables and Tableware
Barbie's world is full of glamour and elegance, and the wedding reception tables should reflect that spirit. Opt for statement tables with mirrored or acrylic surfaces that add a touch of modern chicness. Complement these tables with opulent tableware, such as gold-rimmed plates, elegant glassware, and vibrant floral centerpieces.
Barbie-themed Backdrops
Create a picture-perfect setting with Barbie-themed backdrops that serve as focal points for photos and guest interactions. A Barbie-inspired flower wall, featuring pink blooms and lush greenery, adds a touch of romance to the event. For a touch of nostalgia, incorporate Barbie-themed props like oversized high heels or a life-size Barbie silhouette.
Barbie-inspired Lounge Areas
To encourage mingling and relaxation, create cozy lounge areas inspired by Barbie's chic lifestyle. Plush pink sofas, ottomans, and throw pillows adorned with Barbie-themed patterns invite guests to unwind and enjoy the celebration. Adding metallic accents and reflective surfaces to the lounge area amplifies the glamor and whimsy of the Barbie theme.
Customized Barbie-themed Seating Charts
Personalize the wedding experience with a customized Barbie-themed seating chart. Utilize Barbie dolls or silhouette cutouts with guest names and table assignments for a unique touch. This interactive and creative element adds to the overall wedding decor while delighting guests with a nod to the beloved doll.
Barbie trend
Barbie-inspired wedding furniture transforms the wedding venue into a magical and playful wonderland, celebrating love with a chic and vibrant spirit. Whether it's Barbie-themed backdrops, lounge areas, or customized seating charts, each element serves to make the celebration unforgettable. As the Barbie trend continues to captivate hearts, embracing Barbie-inspired furniture elevates the wedding decor, creating a dreamy and whimsical experience that leaves a lasting impression on the couple and their guests.
---
Related article: Barbie Wedding Inspiration
Need to order wedding furniture? Welcome to contact!
Please follow our Instagram or Facebook to get more latest news.