Timing Mistakes During Wedding Planning
Wedding planning is an exhilarating journey filled with excitement and anticipation. However, amidst the joyous process, some brides may inadvertently make timing mistakes that can lead to unnecessary stress and challenges.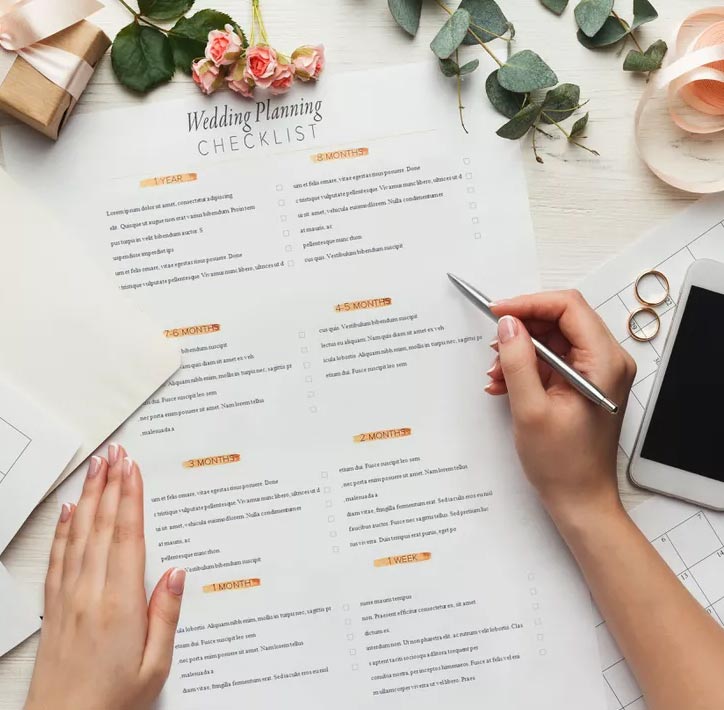 Setting Unrealistic Timelines:
One of the most common timing mistakes is setting unrealistic timelines for wedding tasks. Brides may underestimate the time required for various aspects of planning, such as booking vendors, sending out invitations, and finalizing details. To avoid this, create a detailed wedding planning timeline with specific deadlines for each task, allowing for ample time to address unexpected delays or changes.
Delaying Vendor Booking:
Delaying the booking of wedding vendors is another timing mistake to avoid. In-demand photographers, florists, and caterers may have limited availability, especially during peak wedding seasons. Start reaching out to vendors early in the planning process to secure your preferred choices and avoid disappointment.
Procrastinating on RSVP Follow-Ups:
Waiting too long to follow up on RSVPs can lead to unnecessary stress and challenges in finalizing seating arrangements and catering numbers. Make it a priority to follow up with guests who haven't responded by the designated date to ensure an accurate headcount for your special day.
Rushing Dress Selection:
Choosing the perfect wedding dress is a momentous decision, and rushing the selection process can lead to regrets. Start shopping for your wedding gown well in advance to allow time for alterations and fittings. This ensures that you find the dress that makes you feel truly radiant on your wedding day.
Leaving DIY Projects for the Last Minute:
DIY projects can add a personal and meaningful touch to your wedding. However, leaving these projects for the last minute can become overwhelming and time-consuming. Begin DIY projects early in the planning process and enlist the help of friends and family to ensure they are completed with ease.
Neglecting the Time Zone Factor:
When sending out wedding invitations and planning events with out-of-town guests, consider the time zone factor. Provide clear information on the wedding schedule, including time zone conversions if necessary, to avoid any confusion or scheduling conflicts.
Underestimating Day-of Preparation Time:
On the wedding day, hair, makeup, and getting ready for the bridal party can take longer than anticipated. To avoid feeling rushed, build in extra time for day-of preparation and allow for a relaxed and enjoyable getting-ready experience.
Plan Thoughtfully And Efficiently
Avoiding common timing mistakes during wedding planning is essential for a stress-free and memorable journey to your big day. Set realistic timelines, book vendors early, follow up on RSVPs promptly, and avoid rushing key decisions. Taking the time to plan thoughtfully and efficiently will ensure a smooth and enjoyable wedding preparation process, allowing you to fully savor every moment leading up to your special day.
---
Related article: Planning a Minimalist Wedding
Need to order wedding furniture? Welcome to contact!
Please follow our Instagram or Facebook to get more latest news.