All-White Wedding with Timeless Elegance
In this article, we will explore the enchanting world of all-white weddings and provide inspiration for creating a timeless and elegant celebration. An all-white wedding theme exudes sophistication and purity, offering a blank canvas for creativity and showcasing the beauty of simplicity. From decor to attire, we will guide you through the elements that make an all-white wedding truly enchanting.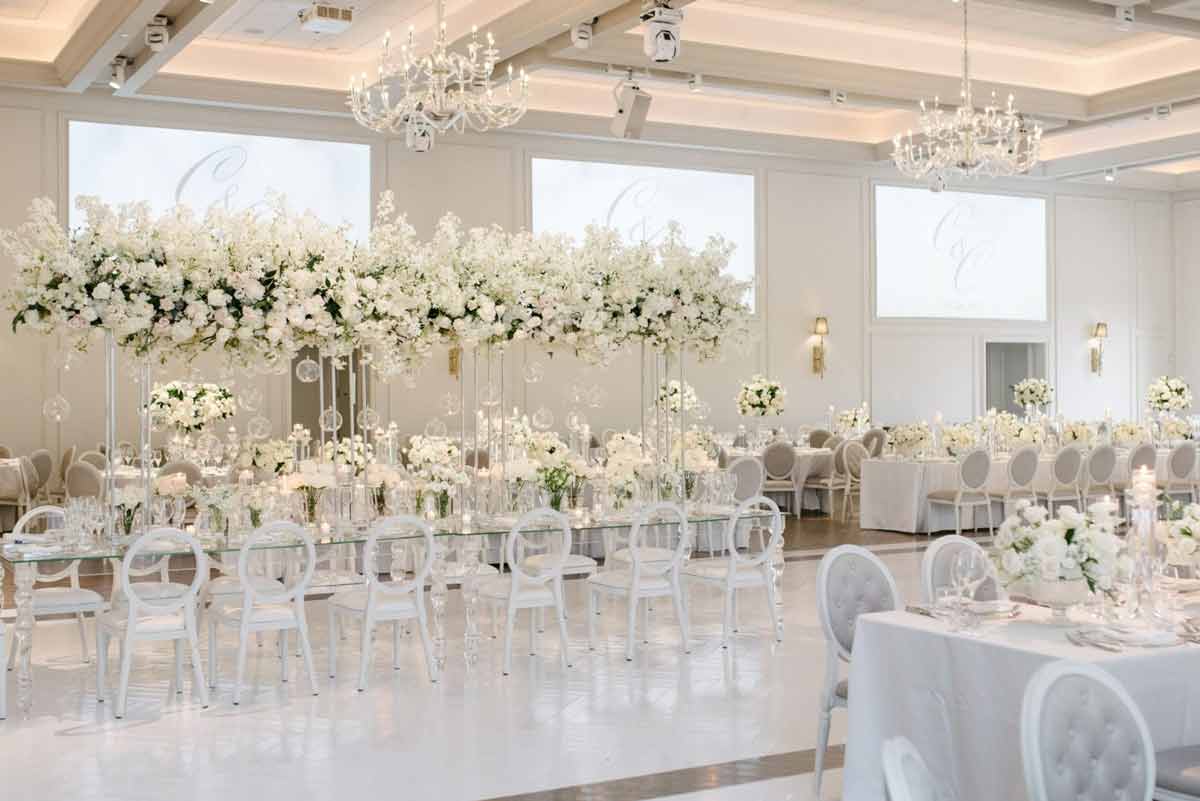 Ethereal Ceremony Decor:
Set the tone for your all-white wedding with ethereal ceremony decor. Create an enchanting atmosphere by adorning the ceremony space with billowing white draperies, delicate floral arrangements, and lush greenery. Incorporate white candles and lanterns for a soft, romantic glow. The combination of these elements will evoke a sense of serenity and elegance as you exchange vows.
Timeless White Attire:
Embrace the all-white theme with timeless attire choices. Opt for a classic white wedding gown that exudes grace and sophistication. For the groom and bridal party, choose white suits or dresses that complement the overall aesthetic. Incorporate white accessories, such as veils, gloves, and shoes, to complete the elegant ensemble. The timeless allure of white attire will create a cohesive and striking visual impact.
Dreamy Reception Decor:
Transform your reception space into a dreamy all-white haven. Use white table linens, elegant china, and sparkling glassware to create a refined and luxurious tablescape. Enhance the ambiance with white floral centerpieces, candles, and fairy lights for a romantic and ethereal atmosphere. Incorporate white draperies, chandeliers, and elegant seating to complete the enchanting look.
Whimsical White Dessert Display:
Impress your guests with a whimsical white dessert display. Create an enticing array of white cakes, cupcakes, and pastries, decorated with delicate white flowers, edible pearls, or intricate lace designs. Incorporate a variety of textures, such as buttercream, fondant, and meringue, to add visual interest. A stunning white dessert display will be a delectable centerpiece and a sweet indulgence for your guests.
Sentimental White Favors:
Thank your guests with sentimental white favors that reflect the beauty of your all-white wedding. Consider personalized white candles, mini white flower bouquets, or delicate white porcelain trinkets. Attach a heartfelt note or a small tag with your names and wedding date to add a personal touch. These white favors will serve as cherished mementos of your special day.
Conclusion:
Crafting an all-white wedding with timeless elegance involves creating ethereal ceremony decor, opting for timeless white attire, designing dreamy reception decor, showcasing a whimsical white dessert display, and offering sentimental white favors. By embracing the purity and simplicity of an all-white palette, you can create a truly enchanting celebration that exudes sophistication and leaves a lasting impression on your guests. Let the beauty of white inspire your wedding and create a day filled with timeless elegance.
---
Related article: The Ideal Cake Stands for Your Special Occasions
Need to order wedding furniture? Welcome to contact!
Please follow our Instagram or Facebook to get more latest news.