8 Timeless Wedding Trends (You Won't Regret)
The last thing you want is to look back on the happiest day of your life and wrinkle your nose at the chevron-print table runner. But how does one plan a wedding that is trendy while still being timeless?
These eight trends will help you plan a wedding that's wow-worthy today without any regrets 15 years down the line.
Go Gold
Gold will never go out of style. No matter the season, the color-scheme or the budget, this metallic will be matrimony-ready.
Whether it be gilded gowns or glittering candelabras, incorporating gold accents will up the ante for any event. And if there's any one event deserving of an "upped ante," it's your wedding.
Lovely in Lace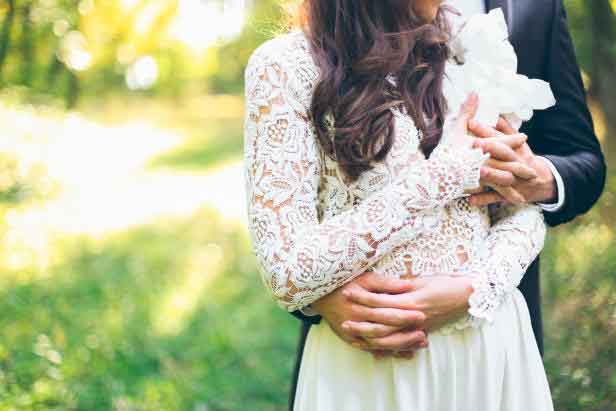 The wedding dress. For some women, this is the single-most important garment they will ever wear. (No pressure or anything!) A gown that won't lead to embarrassment 40 years later? Long sleeves and white lace, ladies.

Surprisingly, this timeless and traditional dress started off as a trend led by Queen Victoria in 19th century. The lace-sleeves look has evolved many times since its original debut, some variations less sophisticated than others. (Looking at you, '80s.)

Delicate, lace sleeves paired with understated details prevail, gifting brides with elegant gowns that they can be proud of for years to come.
Bubbly on Ice
Signature cocktails are considered the new norm at receptions. That said, will you look back on the pricy-yet-totally-worth-it copper mule mugs and think, "were they really worth it, though?"
My solution? The classic, OG of celebratory sips everywhere—champagne. Keep the tradition going and the bubbly flowing for a life with no regrets. Because one is far less likely to regret classic coupes or festive, flirty flutes than one might regret, say, a metallic mug.
Cake
Weddings are all about pushing the envelope, and the dessert table is no exception. I've seen walls of donuts, towers of cupcakes and smorgasbords of old-fashioned, homemade pies.
Trust me when I tell you, no one appreciates a curated smorgasbord of sweets more than myself. But what's a wedding without cake? A wedding cake is both classic and versatile. It allows couples to play with trends while still keeping some tradition intact.
Twinkle Lights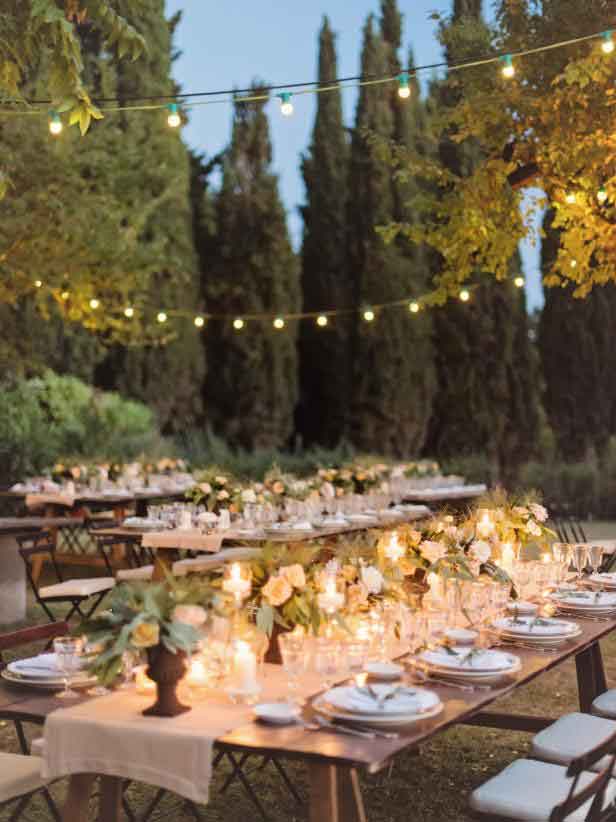 Illuminate your alfresco affair with string lights. They offer a charming simplicity to nighttime receptions and add an extra dose of magic to the most magical moments of your life.
Flowers + Foliage
Opulent floral arrangements and lush, leafy greenery will always be a good idea. While you might (read: totally will) look back on Mason jar votives, burlap table runners or distressed lanterns with regret, the same cannot be said for bountiful blooms.
This is almost a no-brainer, right? Calligraphy is elegant, artful and an absolute must-have for that timeless look. Use calligraphy for your save-the-dates, invitations, menus and smaller signs throughout your reception. Not sure if a professional calligrapher will fit in your budget? Use our super-easy faux calligraphy tutorial to fool all your guests. It's easier than you think!
Glittering Goodbyes
Make your great escape one to remember. Sparkler send-offs are staples for stylish exits these days, and I don't see that changing any time soon. They're classy, captivating and create a glittering backdrop for one last photo of the night.
Related article: Choose the best stacking banquet chair
Need to order wedding furniture? Welcome to contact!
Please follow our Instagram or Facebook to get more latest news.