Choose the best stacking banquet chair
It is difficult to determine type of best stacking banquet chairs you should buy. Style, strength, comfort, and cost are all important factors in choosing stacking banquet chairs.
Banquet chairs have always been a popular choice for large gatherings such as weddings, award ceremonies, speeches, and conferences, but they are also increasingly used in schools, sports clubs, and local buildings, or just as additional seats in restaurants and bars during peak hours.
According to the purpose of the chair, the following factors need to be considered when selecting a suitable stacking chair.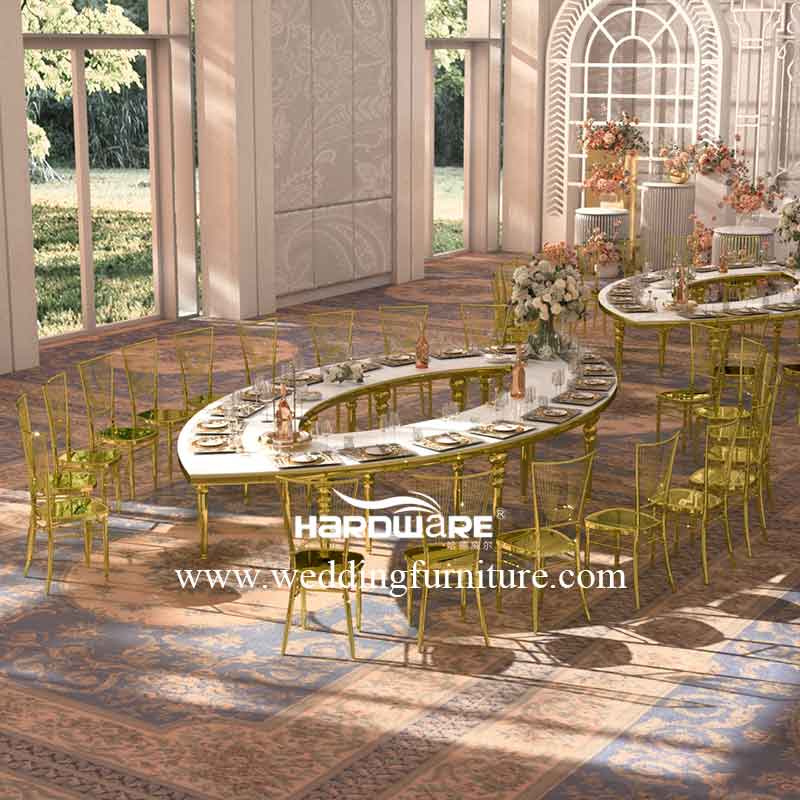 The best stacking banquet chair styles
There are all kinds of stacking chairs in different styles on the market, so how do you know where to start? Shape, size, material, and color need to be coordinated with the space they use. Banquet chairs are available in a wide range of shapes and sizes.
Economical standard stacking banquet chairs usually consist of simple frame shapes and smaller sizes to maximize space and easy storage – ideal for work spaces with limited budgets!
Wedding Furniture steel stacking chair is a good example of an economical chair because it is a durable chair with compact size, stacking capacity, and frame design, which can be picked up for easy movement and storage.
There are various frame colors and a variety of fabrics to choose from.
If you need high-quality banquet chairs within the budget, Wedding Furniture chairs are very suitable! The simple and compact design is very suitable for spaces that require a large number of people to sit, especially when space is tight. These stacked chairs are truly versatile and are ideal for banquet venues, classrooms, canteens, halls, sports fields, or social clubs!
Alternatively, you may need stacking banquet chairs with slightly bigger sizes and a more elegant design, especially when they are used for weddings, meetings, or other occasions that require a more refined appearance. Choosing an aluminum or wooden frame also contributes to the overall appearance because it adds interest and detail to the chair.
The color of the frame and fabric is also an important factor because the chair should match the interior decoration and accessories to ensure the continuity and coordination of your site. Stacking banquet chairs are available in a variety of powder-coated colors, so it should be easy to find something to match your interior.
For interior decoration, please order fabric samples first and try them on-site before ordering, so that you can ensure that the colors work together to produce the desired effect.
Stacking banquet chair Strength
Due to the large number of people participating in these activities or occasions and the high frequency of use of such chairs, their design must be able to withstand heavy use, sometimes even excessive use. When choosing the perfect banquet chair, strength and durability are crucial.
Looking for SGS tested chairs – a world-leading furniture technology center to test the furniture to ensure that they meet global strength and stability contract standards. The sturdy metal frame is an excellent choice to ensure that the chair is strong, durable, and can survive in a busy contract environment. The steel and aluminum frames provided by Wedding furniture are manufactured to the highest standards and have been tested by SGS.
The stacking banquet chair storage capacity
Banquet chairs should be lightweight to facilitate mobility and versatility, especially in places where requirements and layout may change frequently. These types of chairs usually need to be stored when not in use, so the manufactured legs can be stacked with each other, so the built-in stacking rod helps to protect the chair and prolong its service life.
Unfortunately, you can't completely get rid of the long-term wear and tear that will occur over a long period of time due to the continuous stacking of chairs. However, chairs that do not provide stacking rods may cause the seat cushion to deform and wear over time.
You should be able to stack banquet chairs up to 10-15 for easy storage, please confirm with your supplier whether they can supply it. Most suppliers will also provide trolleys for chairs to make chair transportation pressure-free and more efficient.
Stacking banquet chair comfortable seat
When it comes to banquet seats and the types of occasions for which they are suitable, guests usually sit in seats most of the day/night, and the success of the event depends largely on the comfort provided by the chairs. Obviously, it is very important to choose a chair that is both beautiful and comfortable.
Check all the foams and fabrics used in the chairs for contractual purposes. They must comply with all CAL117 and BS 5852 certificated. Reliable suppliers should be able to provide certificates to prove this. If they can't, you may need to look elsewhere before buying stacking banquet chairs.
In Wedding furniture, we use the highest quality modified foam filling in all chairs of the China factories to ensure the lasting quality of the next few years and years.
If possible, please try the chair yourself before purchase. Sit for a moment and try to measure your guest/customer's comfort. Reputable companies should provide showrooms or sample services so that you can try out chairs before ordering in bulk.
Stacking banquet chair cost
As long as you know what you're looking for and plan to avoid costly mistakes, buying a chair doesn't have to be a stressful experience. Metal banquet chairs are the most regularly used chairs because they are durable and cost-effective.
If the budget is important, consider using steel chairs because they are the cheapest choice. Steel chairs are expected to be value for money but do not compromise on quality. No matter how high the price looks, they must be durable. If they are to be used in a commercial environment, the supplier should be able to provide SGS certification.
At Wedding furniture, we are proud of unparalleled price and high-quality products
If you want a luxury finished stacking banquet chair, you may need to spending a little more money and choosing aluminum frame chairs. Usually available in gold or silver, they add a touch of elegance and also provide a slightly lighter alternative than steel, which is ideal for situations where you need to move regularly and you don't intend to use a chair cart to help you.
Finally, considering buying banquet chairs is a long-term investment. They are assets that, if properly handled and maintained, will last for years or even years. Provide multifunctional seats suitable for all occasions.
The best tacking banquet chairs can be used for various purposes and activities. High stacking capacity means you don't have to worry about limited storage space. In the long run, buying them will save you the cost of recruitment from expensive catering and rental companies.
Related article: The 3 options upholstery material for banquet chair interior
Need to order wedding furniture? Welcome to contact!
Please follow our Instagram or Facebook to get more latest news.