8 Magical Ways to Drape a Room for a Wedding
A beautiful wedding can make you feel like you've just walked right into a fairytale, complete with flowing fabrics, sparkling lights, and joy. Learning how to drape a room for a wedding can help you create this look and affect yourself, and it doesn't have to break the bank, either.
But how do you drape a wedding ceiling? How do you drape a whole room without issues? We'll answer these questions and more below.
8 Ways to Use Wedding Drapery
Below are some of our favorite ways to use wedding drapery regardless of where you're planning your event, what your design plans may be, or what your budget looks like.
The great thing about draping a room for a wedding is that it's all up to you – how much you buy and how you use it don't have to conflict with creating a stunning setup for your next wedding ceremony or wedding reception.
1. All-White Fabric Draping
Transform your wedding venue into something classically beautiful and sophisticated with all-white fabric; bonus points if you play with things like texture and opacity when you make your selection.
There are all sorts of ways to make use of your all-white fabric. Try draping panels at each doorway in your venue and tying them back into curtains – you can even line a long hallway with these sorts of displays and give your guests the illusion of traveling through a wonderland of light.
2. Step Into a Storybook With Fairy Lights
Speaking of light, if you're looking to create some drama and magic at your next wedding reception, consider combining your ceiling drapes with lights.
Alternate between lines of drapery and fairy lights across your ceiling to create a display that mimics the night sky. Or, opt for larger, rounder lights and sheer panels for a more modern look.
3. Romantic Sheer Ceiling Drape Panels
Using sheer ceiling drape panels to drape your ceiling, walls, entrances, or exits allows you to create a soft, romantic look that can either complement other design features or stand on its own.
This is an especially great option if you're working with a large space with tall ceilings; try draping your fabric overhead to bring life to the empty space above.
4. Bring In Some Greenery
Take advantage of the beauty and grace that the outdoors have to offer regardless of your venue by bringing in greenery: that means plants, vines, ivy, etc.
Consider weaving some greenery garland through your drapery displays for a romantic vibe, lining support beams or posts with lush ivy, or even just adding some accent pieces to curtained drapery or your tables.
5. Beauty From Ceiling to Floor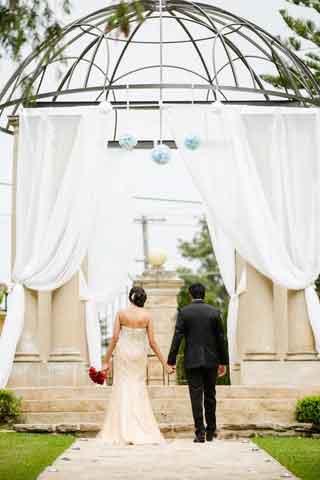 Draping a room for a wedding isn't limited to just the ceiling; wall draping ideas can also be useful, particularly if the space you'll be using doesn't lend itself well to things hanging from above.
Hanging your drapery at the very top of your wall, as close to the ceiling as possible, and allowing it to hang to the floor is one option, but so too is collecting the hanging fabric and styling it as a curtain, pinning it to the side, etc.
You can approach the question of how to drape a wall with fabric by adding drapery to the corners of your walls (using a similar method), or even by using your drapery across the entire wall as a backdrop by utilizing Pipe & Drape hardware.
6. Add Elegance to a Tent or Gazebo
If you have access to something like a gazebo, which typically has bare posts and may be situated over a table, dance floor, etc., adding drapery fabric over top can make a huge difference.
Try draping your structure with some sheer, flowy fabric and adding accents like greenery or florals to create a display fit for a romance novel.
7. Keep Things Fresh With Florals
Flowers and weddings go together hand-in-hand, so it should come as no surprise that adding floral elements to your drapery display can take your wedding reception to the next level.
One of the best things about flowers is the sheer number of them!
Depending on the overall look you're attempting to create, the season the wedding occurs, the type of venue being used, etc., you may find that it's possible to think outside the box and find floral displays that are unique and fresh.
Great options to try out include roses, peonies, gardenias, baby's breath, tulips, and hydrangeas, but don't be afraid to try something new!
You can utilize flowers by adding them to the center of bunched-and-tied drapery displays, by adding floral garland to your ceiling or wall drapery, etc.
8. Add Some Color
Though gentle hues like white, cream, and lavender might be the most common when it comes to drapery fabric, there's no need to avoid more vibrant or lively color options.
In fact, using colorful drapery might be one of the best ways to accentuate and complement your other wedding decorations.
Create a bold, yet elegant look with deep reds, purples, or blues, or opt for something a little lighter with pinks, greens, and even gold.
---
Related article: 8 Timeless Wedding Trends
Need to order wedding furniture? Welcome to contact!
Please follow our Instagram or Facebook to get more latest news.