Wedding Trends
Congratulations on your engagement! Now the fun begins. Whether you are the type of bride/groom who has dreamt of their wedding day their whole life, or you just started thinking of it, trends are always at the top of people's minds when planning their wedding.
Trends come and go, but a wedding lasts forever. We have had many couples over the years who have come to us with a vision in mind and decide that what they have thought of is how it will be day of. Others come to us and let our imagination run wild to determine exactly what style of wedding the couple would like.
No matter how we go about planning your dream wedding and making your vision come to life, trends assist us in the design process for your big day.
We have seen many different trends for weddings over the past decade we have been in the industry. Some overlap over years, some come and go quickly, and some are timeless classics.
Here are the top 10 trends for 2022 weddings!
Green Vibes
Micro Weddings
Inclusive Menus
Wedding Jewellery over Traditional
Colour Scheme
Lighting
Edible Flowers
Table Arrangements/ Mixed seating
Statement Décor
Charity Check
Let's dive into some of these trends for more detail.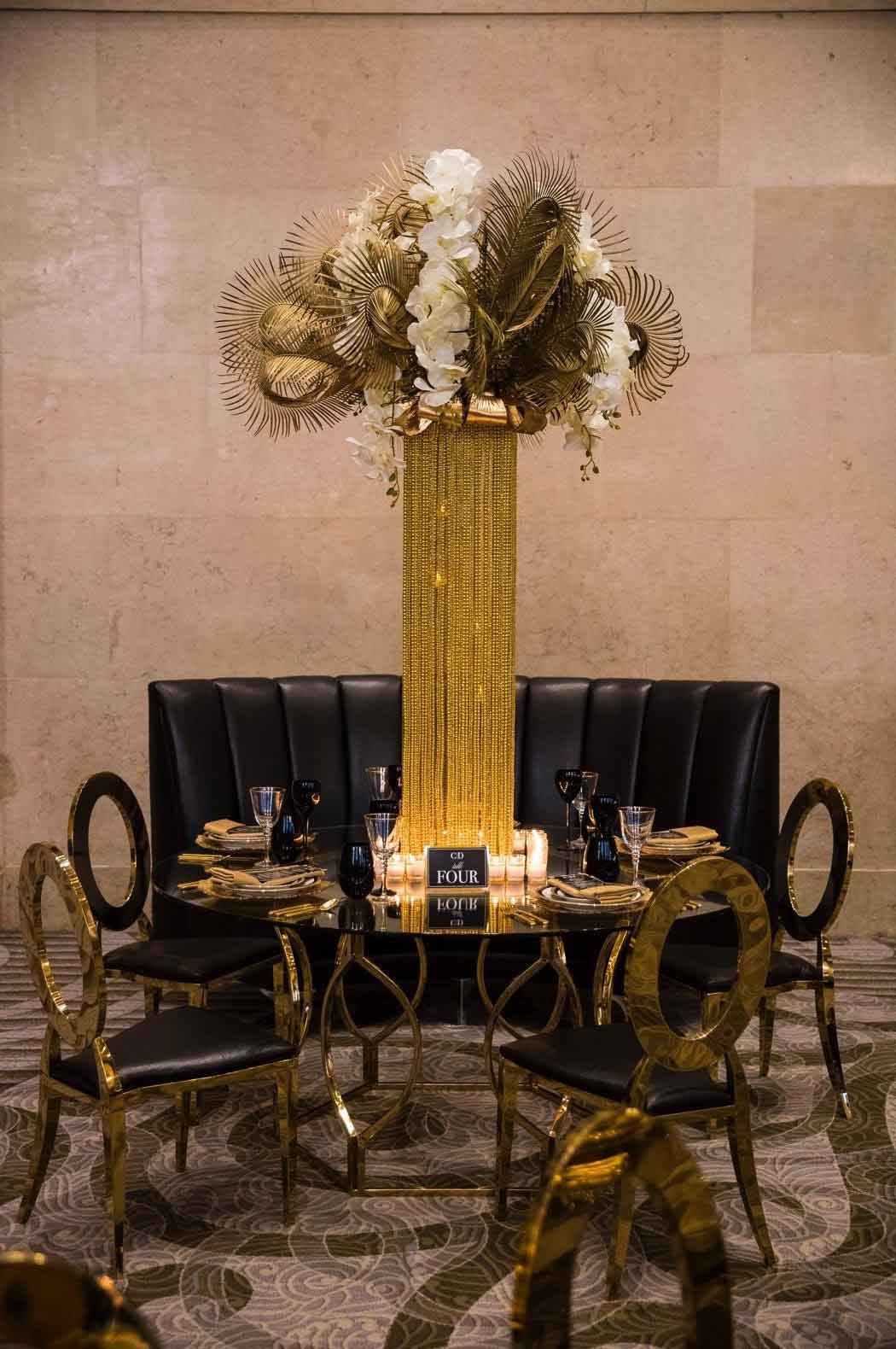 Micro Weddings
Even before the unfortunate event of COVID-19, we have seen a shift in weddings this year from large guest lists to small intimate gatherings.
Micro Weddings are becoming more and more on trend. Although the guest list may be smaller, the overall aesthetic and ambience stay the course.
These smaller gathering weddings are creating a hot trend. A 40-person wedding can allow for the couple to actually see and spend time with all their guests at the wedding. It allows for a more intimate feel of the couple being in the forefront, rather than a larger scale guest list, which can create added stress for the couple if they are not able to greet and mingle with all their guests.
Inclusive Menus
We all know there is a reason there is a place on the RSVP card for dietary restrictions. This is especially true in today's world. Whether it is a nut allergy, vegetarianism, gluten free, the list goes on.
Rather than make the standard menu with the option of a gluten free vegetarian meal, take the time to sit with the chef from your venue to discuss all options to create a more inclusive menu for your guests. The chef at the venue is an amazing ally to have. Part of the reason you chose this venue is because you have either tasted their menus before or have heard about the amazing food that is created by that chef. When planning your menu for your wedding, sit with your chef, venue coordinator and planner to come up with an inclusive menu for your guests. Create something out of the box and unique to wow your guests and add an extra layer of wow to your wedding.
Wedding Jewelry over Traditional:
Traditions are important. There are old traditions we hold on to and there are new traditions we create. Weddings are the time when the word "tradition" is thrown around a lot. It might be your parents who want you to have the same traditions they had in their wedding; it might be your religion that you follow the traditions of. Whatever the case may be for your version of tradition, why not play around with your jewelry to either showcase the tradition you love, or the new ones you want to create.
Wedding jewelry use to be simple. We would borrow a piece from our mother or mother-in-law and that would be the added touch. Earrings, bracelets and perhaps a necklace. Jewelry was to be simple as to not take focus from the bride and her dress.
Nowadays, brides want to be seen. Not just in their dress but with all the added glitz and glamour they can have.
A big trend in today's weddings are jewelry. We have seen big statement necklaces, bracelets, added rings and most importantly the newest addition of tiaras. Tiaras use to be only worn by Royalty. We would glue ourselves to our TVs or magazines to see the latest Royal Wedding and see the shinning diamond and jewelled tiaras adorned on Princess' heads. Now the old saying that all girls are princess' reign true. More and more brides are adding tiaras, hair accessories and stacking on the bracelets. The dress, as simple or over the top as the bride wants, jewelry is taking a front seat to showcasing the true style of the bride.
Table Arrangements/Mixed Seating
Long gone are the days of round tables of 10, rectangular tables of 10. Now couples are mixing things up. Whether it is the type of table used or mixing the styles of tables, the old ways are moving out and making space for new and exciting ways to mix and mingle guests.
There was a time when we knew there was the bride side and the groom side. As weddings are about inclusivity and blending families together, more and more couples are looking to mix guests at the tables.
Mixed seating is also becoming a big trend. Uniformity was a large factor for weddings. Streamlined looks were all the rage. Don't get me wrong, they still are for many weddings. However, the idea of mixing up the styles of chairs to create a unique look is something we are very on board with.
This is not to say you should have a free-for-all when it comes to designing the look of your wedding reception with chairs and tables. There still needs to be a clean streamlined look. For example, of colour use, if you are using Chivari chair, you could use clear, pink and smoke, alternating each row.
There are so many ways we can update the look of your reception with tables and chairs. This is why you have a design team! Make your wedding unique to you in every little way.
Charity Check:
More and more couples are getting married later on in life. With that reason, a lot of couples may already live together or have lived alone up until their wedding. Which means you probably already have a lot of things that you would normally register for for your wedding.
With all that is going on in today's world, weddings allow for families and friends to gather to celebrate love and happiness. We are seeing more couples who find that the wedding itself and the guests that come to be gift enough. Therefore, we are seeing a big shift in monetary gifts moving to charity. Whether you have personally been affected, or know someone who has been through hardship, couples are researching which charity means most to them and rather than making a registry for items couples may or may not need, instead they are asking guests to  donate to the charity of the couples choice.
We are loving this new shift as we see our couples and their families and friends beyond happy on the wedding day, and the couples are now finding ways to share the love beyond themselves.
Related article: Why judging weddings needs to stop!
Need to order wedding furniture? Welcome to contact!
Please follow our Instagram or Facebook to get more latest news.