Unique wedding ceremony ideas
Here are 15 unique wedding ceremony ideas we've curated for you!
You've carefully chosen the wedding outfit of your dreams that is perfectly suited to you; your personalised wedding invitations have been ordered and are on the way, and you're currently selecting the unique touches to adorn your wedding cake. It seems only fitting that since you've put a substantial amount of planning into making your wedding custom suited to you, your ceremony should be no different!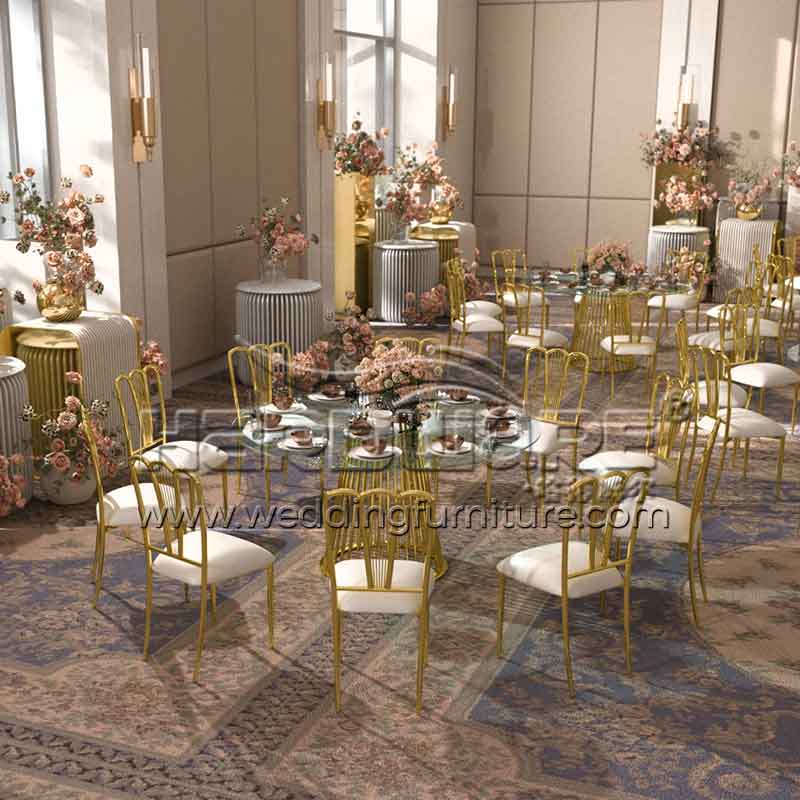 Here are 15 unique wedding ceremony ideas we've curated for you; you might like to incorporate one, or more, into your wedding ceremony or it might spark your creativity to come up with a unique idea of your own.
1. WALK THE AISLE TOGETHER
Traditionally, the Groom nervously awaits the arrival of his fiancée at the altar as they make their procession down the aisle with their wedding attendants. If you want to flip tradition on its head and surprise your guests with a unique idea, you and your beloved can join each other and walk the processional together as a couple.
The benefit of walking down the aisle hand in hand is that it relieves the pressure of seeing each other for the first time in front of all your guests. It can be overwhelming to walk down the aisle with all eyes fixed on you, sharing this moment together can aid in making you feel more relaxed and enjoy the moment in full – together. Your guests can see both of you together for the processional and aren't confused about who they should be looking at. What about the 'first look' photos? These can be done with your photographer or videographer in a secluded location before the ceremony. At Gabbinbar Homestead, we recommend a great spot for these photos to take place is in the magnificent Ballroom, the exquisite Conservatory or the lush seasonal gardens.
2. MULTIPLE PEOPLE WALKING YOU DOWN THE AISLE
The more the merrier! If you're having trouble deciding who you want to walk you down the aisle, or you simply want to defy wedding tradition, you can have two, three or even five different people do the job! You could choose to all walk down together or you can walk separate sections of the aisle with each different loved one. At Gabbinbar Homestead, the walk from the top of the Homestead to your favourite ceremony location meanders through the lush heritage gardens which gives you ample time to enjoy a section of the walk with the people sharing the honour of accompanying you for the processional.
3. NO AISLE AT ALL
Imagine the surprise to your guests as they arrive for your wedding ceremony and the aisle is missing! This is how you've planned it all along – no sides, no separation, just rows of your favourite people seated together to share in your marriage. You could consider arriving in front of your seated guests and surprising them even, or walk down one side of the congregation whilst your eyes are locked on your soon-to-be husband or wife. This idea is fun, it's modern and it might be just the thing you were looking for to set your ceremony apart.
4. MAKE A GRAND ENTRANCE
This idea is for the fashion-forward bride and is sure to set your ceremony apart! A modern alternative to the traditional veil is a statement-making, wedding outfit addition; a bridal cape. If you want to make a bold entrance into your ceremony, consider adding a long-hemmed cape to your wedding outfit instead of a veil. For an even more striking entrance, ask a member of your bridal party to remove your cape at the top of the aisle at the Gabbinbar Homestead Pavilion. There are many options to explore when it comes to bridal capes. Capes can also be used for an extra layer of warmth during a romantic winter wedding at Gabbinbar Homestead.
5. SPARKULARS FOR A SPECTACULAR KISS
It's a special moment to remember, your first kiss as a newly married couple! Why not celebrate with a bang and have sparkulars erupt in twinkling delight behind your magical kiss? GM Event Group is a vendor that can create a custom display for you at Gabbinbar Homestead. Sparkulars can be close proximity, require minimal setup and can be significantly more cost-effective than regular fireworks. It will certainly make for an unforgettable photo for your photographer to snap!
6. CHAIRS SET IN MEMORY OF LOVED ONES PASSED
Do you have a loved one who you would like to remember at your ceremony, who although they can't be with you in person, will be with you in your hearts as you say 'I do'? A wonderful and endearing way to treasure a family member or friend is to set aside a seat for them amongst your ceremony chairs. You can place an item of theirs such as a hat or jacket on the chair. This will hold a special place for your loved one and gives guests a chance to take a moment to reflect on their wonderful life.
7. INCORPORATE YOUR PETS
At Gabbinbar Homestead, we absolutely LOVE when pets are incorporated into a wedding and get the opportunity to share in a couple's special day with them. If you have a dog, cat, horse or even a bird that is a special part of your life, why not consider having them with you as you tie the knot? Whether they make an appearance in the processional or just stay with close family and friends, it can be a wonderful way to make sure the whole crew is involved. Before or after the ceremony you can get some memorable photos together with your pet/s and then choose to either have a pet minder take them for a mini-retreat or ask a friend to look after them for the evening. At Gabbinbar Homestead, our wedding planning team can suggest some wonderful pet minder service providers, we also provide a dinner delight for your dog if you have a fur baby staying on into the evening.
8. STANDING TO SIGN
If you don't want to crush your freshly steamed wedding outfit when you go to sit at the signing table to sign your wedding documents, the good news is you don't have to! Ask your wedding venue if they have a taller table you can utilise for the signing of the register or bring your own. This avoids crinkling of your wedding outfit or trying to fit behind a table if your dress is quite bulky. It could also make for a more flattering angle in your wedding photos if this is something you are concerned about. See the next idea if you'd rather not sign the register at all!
9. NO SIGNING AT THE CEREMONY
Don't want to sign the wedding documents? No problem! Well…you do have to sign them at some point if you want to be legally married, however; you don't have to do it in the middle of your ceremony. If you prefer not to have your guests wait for you to sign the marriage certificate midway through the ceremony and you'd rather kiss and celebrate, the singing of the register can be done after your ceremony in a quiet spot away from your guests. It can mean a quicker and smoother ceremony and can be the perfect option for the right couple. Your wedding celebrant would love to talk to you about the best way to make this happen. At Gabbinbar Homestead, we love the idea of signing your wedding documents under the chandelier in the Old School House.
10. SPECIAL RING DELIVERY
Traditionally, the best man will have the rings safe and secure in his pocket ready to hand over during the exchange of rings. If you would like to add your own unique flair, there are many ways to receive the rings as a 'special delivery'. Have your page boy or flower girl deliver these on a ring pillow or consider an owl ring bearer – hoot! Gabbinbar Homestead has a contact for a company that offers a handler to tie the ring gently around the foot of an owl, and during the ceremony, the owl will soar in amongst your guest and land on another prepared guest at the altar for the delivery of the rings. This option is tailored for bird lovers and will amaze your guests, giving them a unique ceremony experience.
11. ALTERNATE CONFETTI
Confetti looks amazing in photos and is a great addition to your ceremony festivities. It is rare to find a venue that will allow paper or plastic confetti. Not only is it very messy, it can also be harmful to the environment. Eco-friendly confetti can also pose issues as it can leave marks and cause slip hazards on hard surfaces. Not to worry, there is a solution – natural confetti. This includes fresh rose petals which your florist should be able to provide for you, fresh leaves or wildflower petals for something more delicate. If you have some time up your sleeve before the wedding day, you can get a heart-shaped hole punch to cut out your own confetti from fresh leaves.
12. SAVE PAPER BY USING SIGNAGE
If you've ever seen a ceremony space post-wedding when there has been an individually printed order of service for each guest, then you'll know it's an environmentalist's worst nightmare! Most guests leave behind the order of services you've spent money on printing. So, if you're looking at saving money, and more importantly saving the trees, this is the perfect time to let your signage shine. Whether you've hired a stationery designer or you're printing your own, you can incorporate some different signs to eliminate the need for printed orders of services.
13. HAVE A DRINK
It's never too early to celebrate, especially on a warm summer's day at Gabbinbar Homestead. What better way to party, than to share in a drink and sip away with your nearest and dearest as you join together in marriage? Make sure to check in with your wedding venue to see if they have the option to provide beverages for your ceremony and discuss with them the best way to make this happen. This idea certainly makes for a more relaxed atmosphere for a 'laidback' couple.
14. CEREMONY AT DUSK
The sun is setting, and the golden hour glow is illuminating the horizon. Imagine exchanging rings at dusk and revelling in this beautiful time of day! Styling for a dusk ceremony can be so much fun, as additional candles and lighting really 'pop' against the dimly lit skies. Having your ceremony at dusk also means you will have to decide how you would like to utilise the rest of your day prior to the ceremony. Perhaps you might like to have a garden party in the early afternoon and capture your bridal party portraits while the sun is still bright; your guests can wander into your candlelit ceremony before you join in marriage.
15. PERSONALISED ALTAR
This is a great idea if you would like to really customise your wedding ceremony and add an element to the altar that is unmistakable 'you'. If you have a favourite rug in your house, you can choose to incorporate it and take your place in the middle to share your vows. If your style is more rustic, you could do the same but with a cowskin rug. At Gabbinbar Homestead we have had a Chuppah (Jewish ceremony Canopy), a Mandap (Hindu or Jain ceremony structure) and floral decorated altars; our wedding planning team just adore all shapes and sizes of ceremony decorations that are unique to you.
"My favourite part of a wedding is the ceremony; seeing two people in love, getting married which is what it is all about"
Your family and friends will look back fondly on your ceremony for years to come and enjoy reliving the memories of your specially tailored day through the photographs captured at your wedding. Remember to say true to yourself and let your love shine at your unique wedding ceremony.
---
Related article: Incredible alternatives to wedding flowers
Need to order wedding furniture? Welcome to contact!
Please follow our Instagram or Facebook to get more latest news.