Tiffany Chairs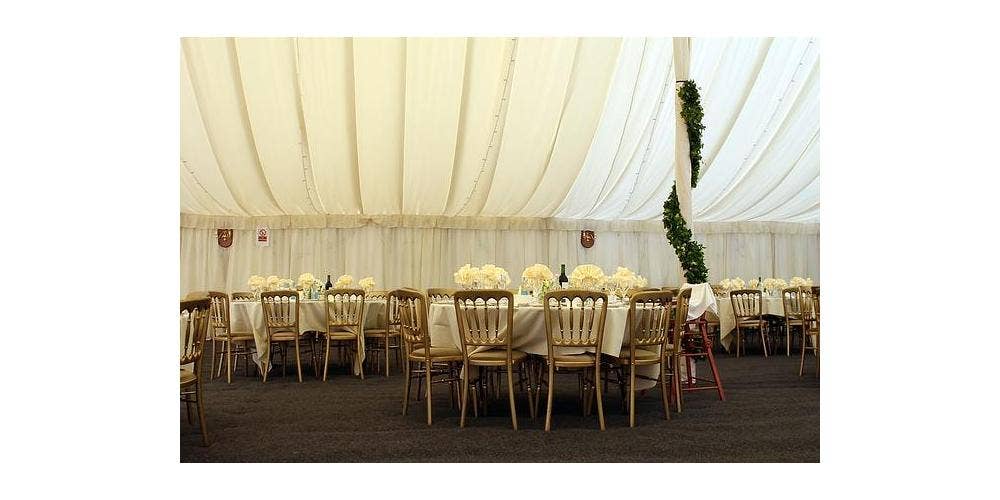 Tiffany Chairs-With a sleek design, Tiffany Chairs remain one of the most popular chairs for all kinds of formal events like weddings, public gatherings, and other festive occasions.
These popular chairs found their origin back in 1807 when Italian designer Giuseppe Gaetano made them for some official event at that time. Previously these chairs were known as Chiavari Chairs because of the design's origin and because the designer was from Chiavari. Later Latin America and Mexico coined a new term hence now these chairs are popularly known as Tiffany Chairs.
What are Tiffany Chairs?
The Tiffany Chairs were recognized for their dainty and minimalist design. They feature a small chair frame paired up with designed spindles, no armrests, and a soft cushion seat that tapers in the seat's back. Despite being extremely lightweight, the chairs are extremely sturdy and do not lose their balance easily. Recently, white chairs for weddings were trending a lot and white tiffany chairs are one of those chairs that are perfect for such events. These clear wedding chairs are extremely versatile in design and so elegant, that they make every event look beautiful.
To most people who don't know what are tiffany chairs, the answer is very simple indeed. These are the most popular formal chairs that have a timeless design and classic aesthetic to them. When it comes to the debate of tiffany chairs vs chiavari chairs, there's hardly any difference to tell as both chairs belong to the same category. These chairs have different names but similar styles and designs.
In Canada, the United Kingdom, and America, these chairs are mostly known as Chiavari Chairs. However, in countries like Spain, Mexico, Colombia, Thailand, Australia, and some other countries, these chairs are popularly known as Tiffany Chairs.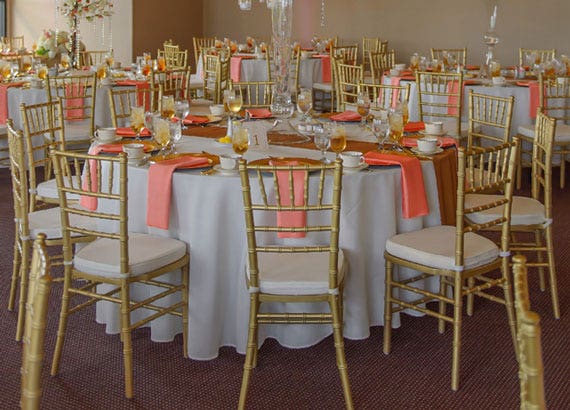 Why Are Tiffany Chairs So Popular?
Tiffany Chairs continue to remain in trend mostly. Because of the versatility they have to offer in terms of design, style as well as comfort. The chairs are light in weight hence easy to transport, carry and arrange. From formal events like official business meetings, inauguration ceremonies, and religious gatherings to festive events like weddings, birthdays, and parties- tiffany chairs are always the first choice.
The chairs are designed in such a way that they can handle the stress laid upon them. They can be arranged, colored, and decorated in multiple ways according to the different themes decided for an occasion.
Popular Colour Choices for Tiffany Chairs
Although these wedding chairs are originally made from high-quality timber, they are usually painted with some subtle colors to give them a more fine finish. In recent times with customized wedding themes trending a lot, tiffany chairs have been painted to follow those particular themes.

Gold
Tiffany Chairs are most popular in three colours namely Gold, Mahogany and Champagne. Tiffany Gold Chair is perfect for a classic contemporary wedding. Gold is one of the most popular colour choices for weddings along with some other subtle colour shades like peach, pink or any other pastel colour. For its timeless look, the tiffany gold chair still remains a popular choice.
White
No wedding is complete without the colour white. Whether that is the bride's beautiful wedding gown, groom's tux, or even the lovely white lilies. To complement the perfect white wedding theme, white tiffany chairs are the best choice. White tiffany chairs are the definition of beauty and elegance. Hence, most European buy tiffany chairs wholesale for their weddings to celebrate their happiness in the most mesmerizing way.
Champagne
Another hot favourite colour for tiffany chairs is Champagne. Despite being a new colour choice, it is still quite popular. Champagne coloured tiffany chairs have a sophisticated metallic look to them which is a reflection of modernity. If you're confused about what to choose between gold or silver tiffany chairs, champagne colour is the ideal choice for you. Champagne is a more aesthetic take on the classic gold colour.
Silver
Moreover, plain silver tiffany chairs are also trending now. Silver tiffany chairs offer the perfect balance between a glamorous yet simple theme which is why people pair them up with pastel shades of blue, purple, and peach to make their event look more classy.
Mahogany
Last by surely not least is the Mahogany colour which is by far one of the classic colours. This wooden tone is perfect for formal gatherings other than weddings as not everyone loves to opt for bold colours like gold and silver. The semi-shine polish over the mahogany colour is the ideal fusion of the deep chocolate brown and hues of dark red. The glossy finish of these tiffany chairs elevates their entire look.
Related article: All About Ghost Chairs
Need to order wedding furniture? Welcome to contact!
Please follow our Instagram or Facebook to get more latest news.