The Best Cake Stand for Your Wedding Cake
If you've decided to serve a cake at your wedding, one of those tiny-yet-crucial details is deciding what type of display it will sit on. After all, your wedding cake has the potential to be one of the most statement-making elements of your reception!
Setting up your cake display table requires a bit of thought, as you consider the type of table or structure that will serve as the base. In addition, it's important to think ahead and consider the type of cake stand or plate your wedding day sweet will sit on.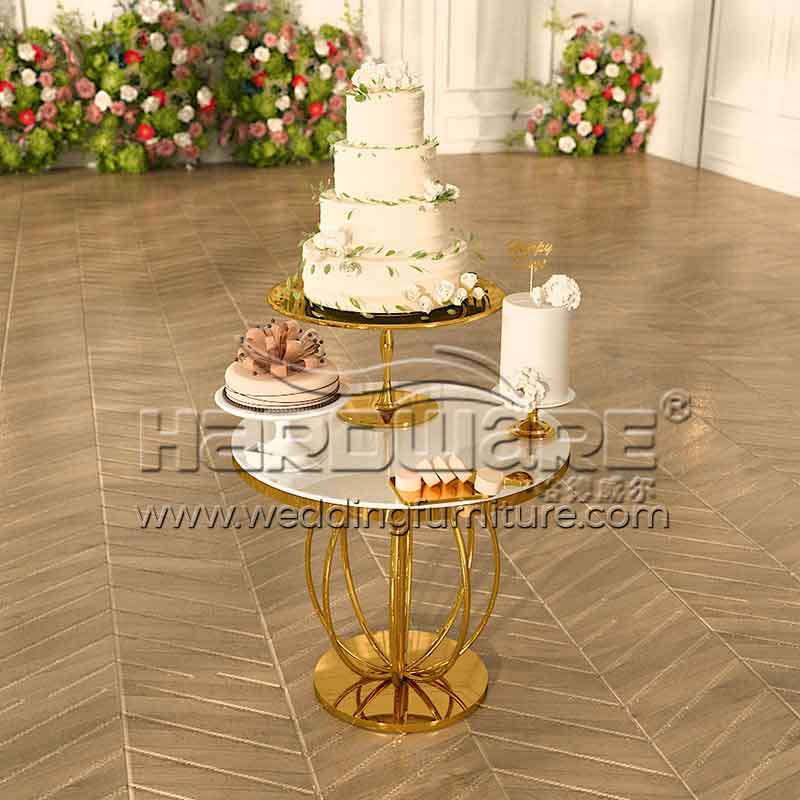 To learn more about choosing the best stand for your wedding cake, we turned to two wedding cake pros. Below, find helpful tips and tricks to find the best cake stand to hold your wedding cake and match your overall aesthetic.
Select the Right Size
The most important step in choosing the right cake stand is to consider your wedding cake size first. It's important to never use a stand that is too small in diameter. You always want to utilize a cake stand that's larger in diameter than your cake. For example, if the cake drum or board at the base of your wedding cake is 10 inches, you'll want a cake stand that's 10 inches or 12 inches to be sure there's plenty of room. The last thing you want to do is to choose a cake stand that's too small.
Having your cake overhang on the stand will cause it to be unsteady.
It's important to consider the weight of the cake stand as well. Make sure your cake stand has some weight to it. Wedding cakes are heavy, so you want to make sure the stand will hold the weight of the cake and is not flimsy.
Consider Shape and Material
Once you've confirmed the perfect cake stand size with your baker, think about shape and aesthetics. How will the cake stand look when it's paired with your cake? And how will it look in your venue and match your overall wedding design? The most common cake stand shape is a pedestal cake stand. They will give your cake elevation and are also clean and classic in design. Solid colors such as black, white, clear, metallic, or wood are all great options.
If you don't wish to add even more height to your display, especially if you have a four-tier or five-tiered cake, consider a cake plate instead. Traditional silver and gold plateaus are beautiful and timeless as well.
Keep other cake table design elements in mind as you choose your cake stand shape and material. If you're planning to deck out the table in florals or include textiles or candles, you may want a simpler cake stand.
Think Outside the Box
If you want to go with a more unique choice, don't be afraid to explore that option! Using a clear floating pillar or even hanging your cake from the ceiling are all achievable options. Just be sure to check with your cake baker to make sure the concept will work, while keeping your cake secure. You want your stand to make your cake stand out or for it to be a 'frame' for your cake. Make sure the stand fits the vibe of your wedding.
Where to Find Wedding Cake Stands
Once you've decided on the perfect aesthetic, size, material, and color, it's time to source your cake stand! Luckily, there are plenty of options for where to look. Most bakeries will have a selection of stands to rent, but you can also find some unique things on places like Google. We have also had clients use heirloom cake stands that have been passed down in their family for years, so don't forget to check with grandma to see if she has something special to use!
Ultimately, it's all about working with your baker and finding the best fit to securely and beautifully display a stunning cake on your wedding day.
Related article: Who Sits at the Head Table During the Wedding Reception?
Need to order wedding furniture? Welcome to contact!
Please follow our Instagram or Facebook to get more latest news.