Stunning Stairway Decor Ideas for Your Wedding
Welcome to a world of enchanting stairway decor ideas that will add a touch of elegance and romance to your wedding venue. In this article, we explore beautiful ways to decorate the stairway at your wedding, creating a captivating entrance and a memorable backdrop for your special day.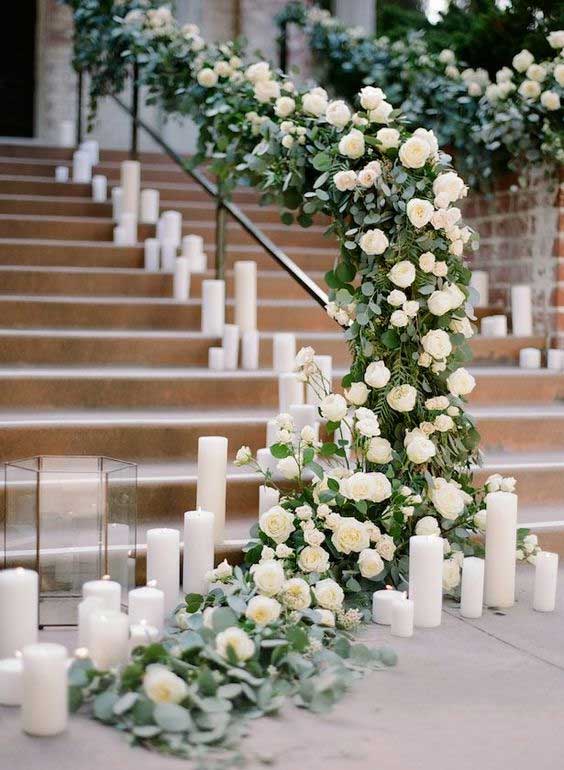 Floral Garland Elegance
Drape the stairway railings with lush floral garlands. Use a mix of fresh blooms, greenery, and trailing vines to create a stunning botanical display that guides guests to the ceremony or reception area.
Twinkling Lights
Infuse a touch of magic with twinkling lights. Hang fairy lights along the staircase, creating a warm and inviting ambiance that is especially enchanting for evening weddings.
Grand Balustrade Arrangements
Transform the stairway balustrades into grand floral arrangements. Tall, overflowing centerpieces at intervals along the railing create a sense of opulence and drama.
Petal-Covered Stairs
Make a grand entrance by covering the entire stairway with flower petals. Choose petals that match your wedding color scheme or opt for a classic white for a timeless look.
Vintage Charm
Add vintage charm with antique candle sconces or lanterns placed strategically on the stairway. The soft, flickering candlelight creates a romantic and nostalgic atmosphere.
Draped Fabric
Enhance the stairway's elegance with draped fabric. Use sheer or satin fabric in your wedding colors to create a luxurious and dreamy effect as it cascades down the stairs.
Picture-Perfect Frames
Turn the stairway into a gallery of memories with framed photos of the couple. Include snapshots from your journey together, creating a visual timeline of your love story.
Greenery and Monograms
Combine the beauty of greenery with personalization by adding monogrammed elements. Hang large floral wreaths with your initials or names, creating a striking focal point.
Ribbon Streamers
Add a playful and whimsical touch with ribbon streamers. Choose ribbons in your wedding colors and let them cascade down the stairway, creating movement and joy.
Rustic Wooden Accents
For a rustic wedding, adorn the stairway with wooden elements. Use wooden crates, barrels, or lanterns to create a warm and inviting atmosphere.
Crystal Elegance
Elevate the glamour with crystal accents. Hang crystal garlands or chandeliers above the stairway, catching and reflecting the light for a dazzling effect.
Seasonal Blooms
Embrace the season with seasonal floral decor. Use blooms that are in season to decorate the stairway, adding a natural and seasonal touch to your wedding.
The stairway at your wedding venue presents a wonderful opportunity to set the tone and create a memorable entrance for you and your guests. Whether you choose to adorn it with lush florals, twinkling lights, vintage elements, or personal touches, these stunning stairway decor ideas will add a touch of magic and romance to your special day.
---
Related article: Elevate Your Wedding Bar with 13 Creative Ideas
Need to order wedding furniture? Welcome to contact!
Please follow our Instagram or Facebook to get more latest news.