Panton Dining Chair by Wedding Furniture
Introducing the epitome of refined elegance, Panton Dining Chair by Wedding Furniture. In this article, we delve into the exquisite features and luxurious charm of the Panton Dining Chair, a masterpiece that transcends mere seating and transforms any event into a regal affair.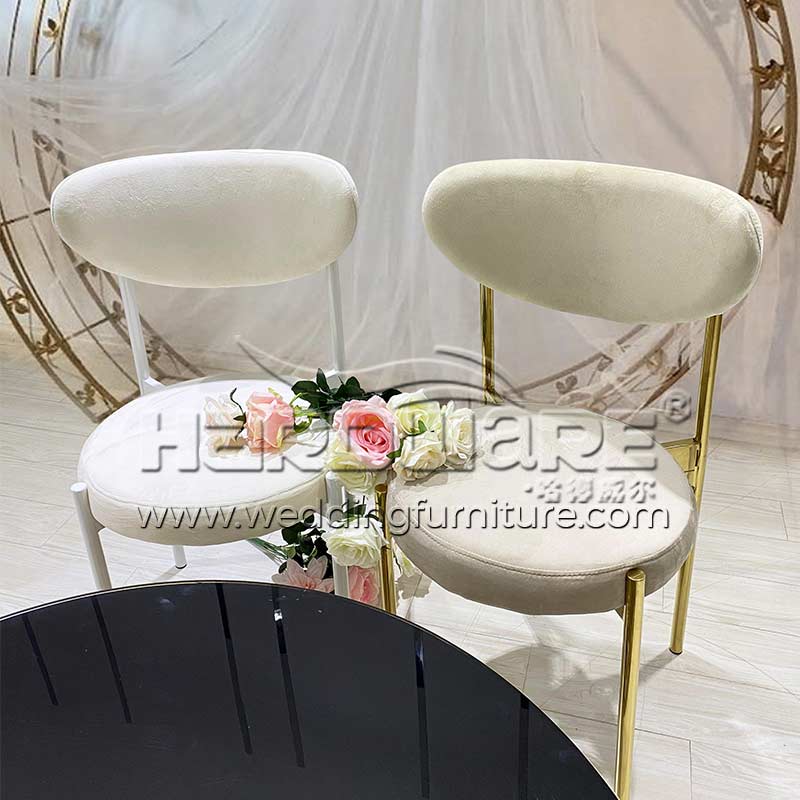 Distinctive Design
Panton Dining Chair boasts a distinctive design that captures attention from every angle. Its sleek, gold-finished frame exudes opulence, while the simple patterned backrest adds a touch of sophistication, making it a visual marvel that sets the tone for an upscale event.
Opulent Comfort
While the Panton Dining Chair is a sight to behold, it also prioritizes guest comfort. The plush cushioning and ergonomic design ensure that your guests can indulge in luxurious seating while relishing every moment of your event.
Versatile Elegance
The Panton Dining Chair effortlessly complements a range of event themes and decor styles. Whether your event is a grand gala, a chic cocktail soirée, or an intimate dinner, this chair seamlessly integrates into the ambiance, elevating it to new heights of sophistication.
Captivating Photogenic Appeal
Beyond its comfort and design, the Panton Dining Chair serves as a stunning backdrop for capturing cherished moments. Its regal appearance lends itself to captivating photographs, allowing your guests to immortalize their experience in frames of opulent beauty.
Craftsmanship and Quality
Crafted with meticulous attention to detail, Panton Dining Chair reflects Wedding Furniture's commitment to unparalleled quality. The chair's robust construction ensures durability, while its refined finish showcases the brand's dedication to flawless craftsmanship.
Customization Possibilities
Personalize the Panton Dining Chair to align with your event's aesthetic vision. Its timeless gold hue harmonizes seamlessly with various color schemes, allowing you to curate an ambiance that resonates with your unique style.
Panton Dining Chair
Panton Dining Chair by Wedding Furniture stands as a testament to opulence and refined luxury. With its distinctive design, opulent comfort, and versatile elegance, this chair encapsulates the essence of regal events. Elevate your occasion with the Panton Dining Chair, an embodiment of beauty, comfort, and craftsmanship that ensures your guests experience an event that is nothing short of extraordinary.
---
Related article: Wedding Bench For Bride And Groom
Need to order wedding furniture? Welcome to contact!
Please follow our Instagram or Facebook to get more latest news.