Outdoor Wedding Aisle Decor Ideas
Outdoor weddings are romantic and ethereal, and your outdoor wedding aisle decor should be too! We love the use of florals, greenery, and rustic boho decor details to highlight your outdoor wedding aisle. There's nothing quite like using nature to complement the great outdoors.
And because outdoor weddings tend to take place in less restricted spaces, you have a lot more freedom with the length and shape of your aisle, along with the scale of the decor you use (hello, extra large florals…SWOON).
Our favorite outdoor wedding aisle decor ideas manage to perfect the balancing act of both blending in with the natural surroundings of the venue while also being show-stoppingly stunning.
1. Enchanting Woodland Wildflower Outdoor Wedding Aisle Decor Ideas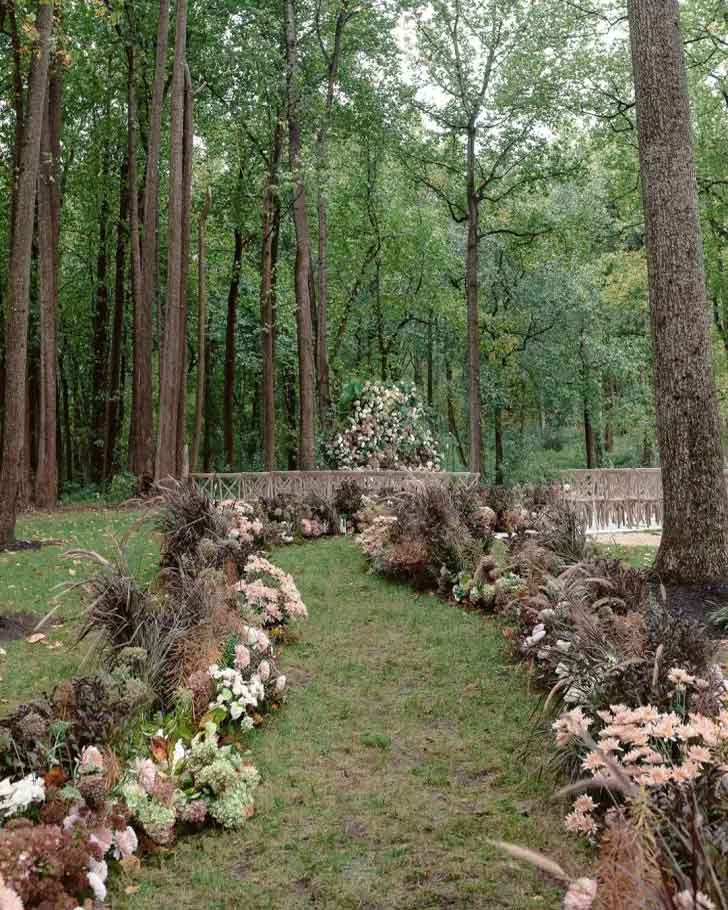 It's a wedding aesthetic that never goes out of style. We're suckers for an enchanted forest woodland vibe, and this one has us seriously swooning.
The best outdoor wedding aisle decor ideas are the ones that feel like a natural fit in their environment, and those stunning neutral toned florals arranged on a curving pathway to the altar do exactly that.
Paired with those rustic wooden chairs? Hello forest princess vibes. We're pretty sure this aisle came straight out of a fairytale.
Take the enchanting vibes to the next level by giving your guests these dried blooms to toss during your recessional. Talk about a fairytale ending.
2. Cute + Colorful Guest Umbrella Outdoor Wedding Aisle Decor Idea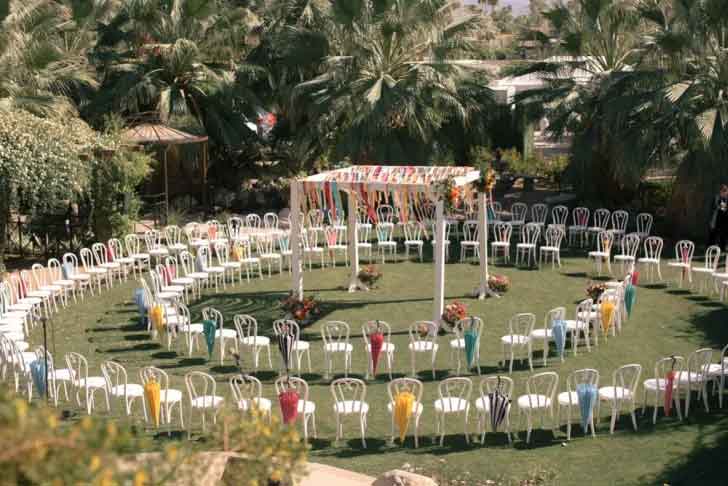 This is kind of a two-for-one outdoor wedding aisle decor idea. First off, that circular seating setup?! So unique.
But the thing we really love is the colorful umbrella decor. What cuter way to add a pop of color to your wedding aisle than to put lovely little colorful umbrellas on the backs of the chairs. Practical AND pretty. Safe to say we're in love.
And an added bonus? Your guests will totally thank you for saving them from looking sunburned in all those wedding photos!
3. Arrangements of Colorful Plants + Greenery Alongside Your Outdoor Wedding Aisle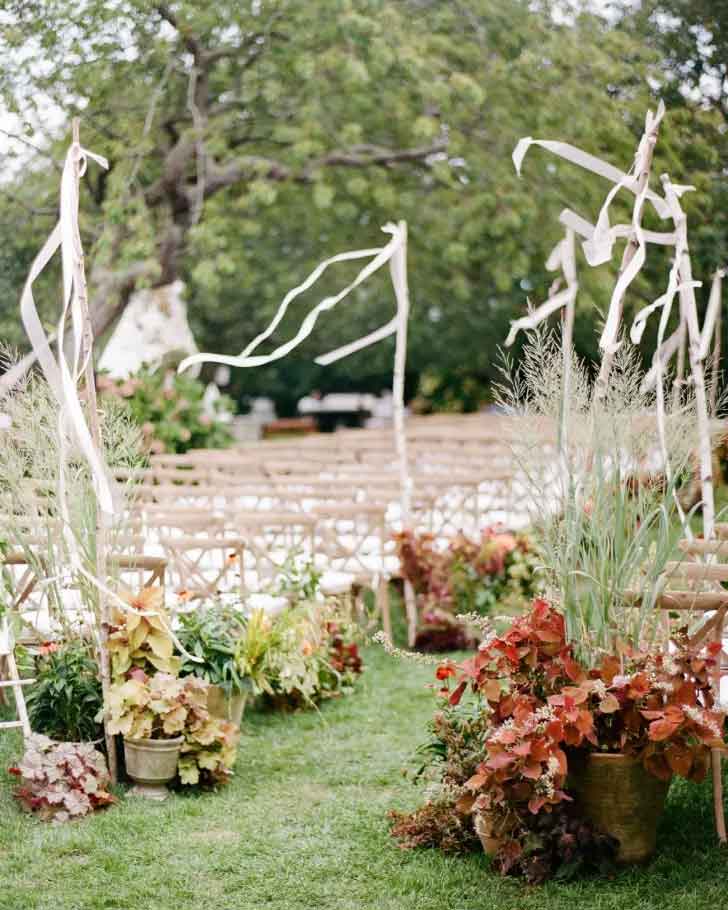 We cannot imagine a cuter way to decorate your outdoor wedding aisle than with potted plants you can take home for your own garden (bonus points for putting them in pretty rustic planters). Add different levels, colors, and textures for a varied look that feels lush and elevated.
4. Curvy Baby's Breath Outdoor Aisle Decorations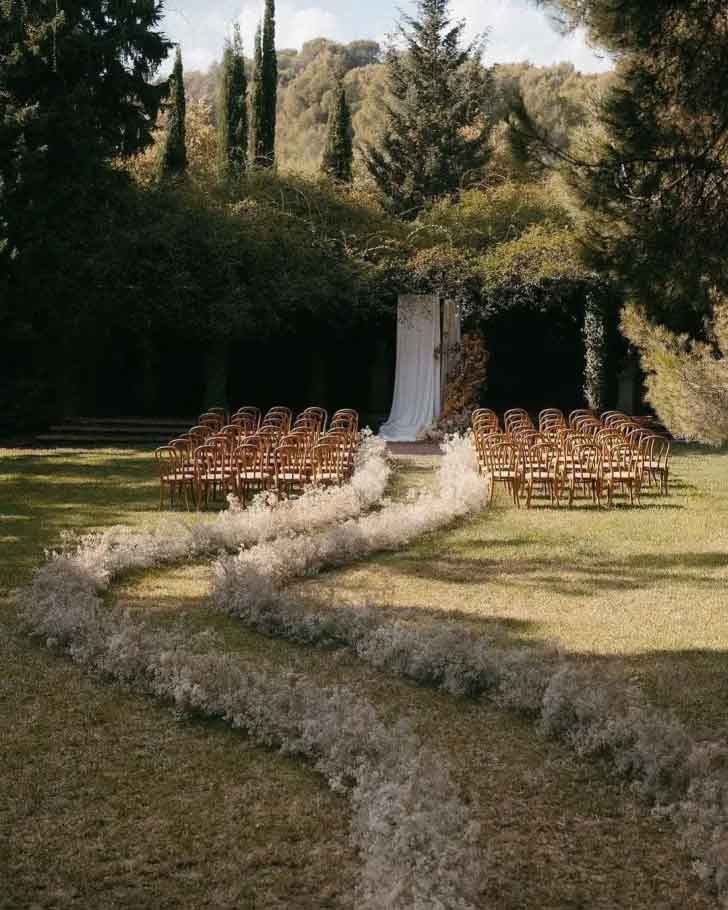 When it comes to romantic outdoor wedding aisle decor ideas, it's this one that haunts our dreams (in the best way). We love the way the baby's breath florals create a cloud-like curving pathway to the altar. Pretty sure we're in heaven!
And an added bonus? Baby's breath are known to be one of the most budget-friendly flowers, making them a perfect option for anyone looking to keep wedding aisle decor costs down.
5. Rustic + Vintage Doorway Outdoor Wedding Aisle Decor Idea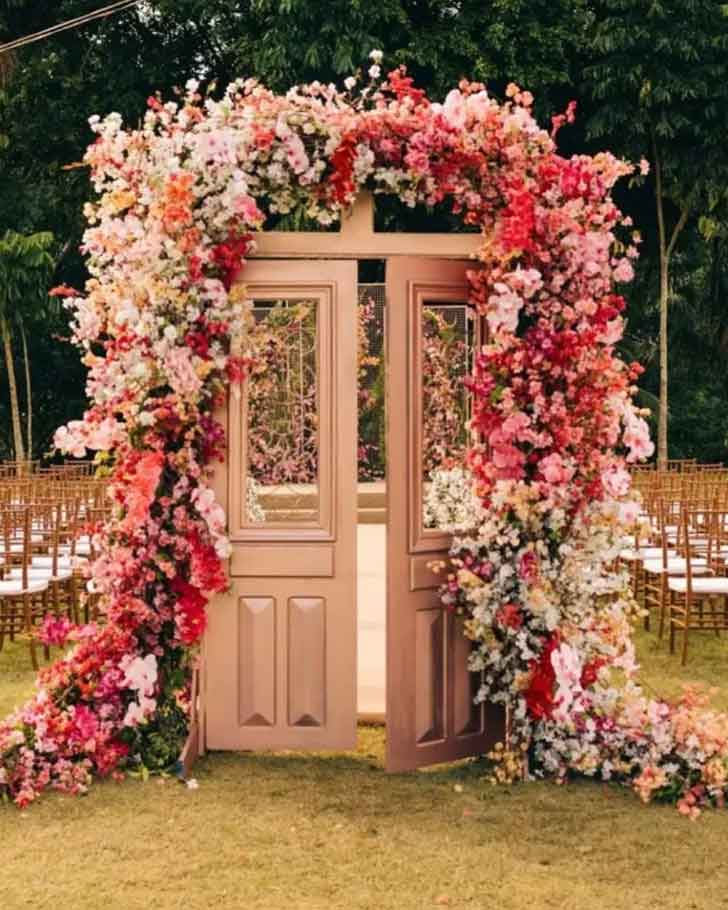 Wedding aisle decor ideas that bring the indoors outside? We love to see it.
We love the symbolism of including a door at the start of your aisle. You're entering a whole new life adventure when you walk through those doors.
And could there be anything prettier than opting for a vintage, rustic door completely decked out in an over-the-top floral arrangement? We think not.
Keep your wedding aisle decor budget-friendly (and sustainable) with a faux floral arrangement to frame the door. Pure magic.
6. Modern Meets Glam Altar Outdoor Wedding Aisle Decor Ideas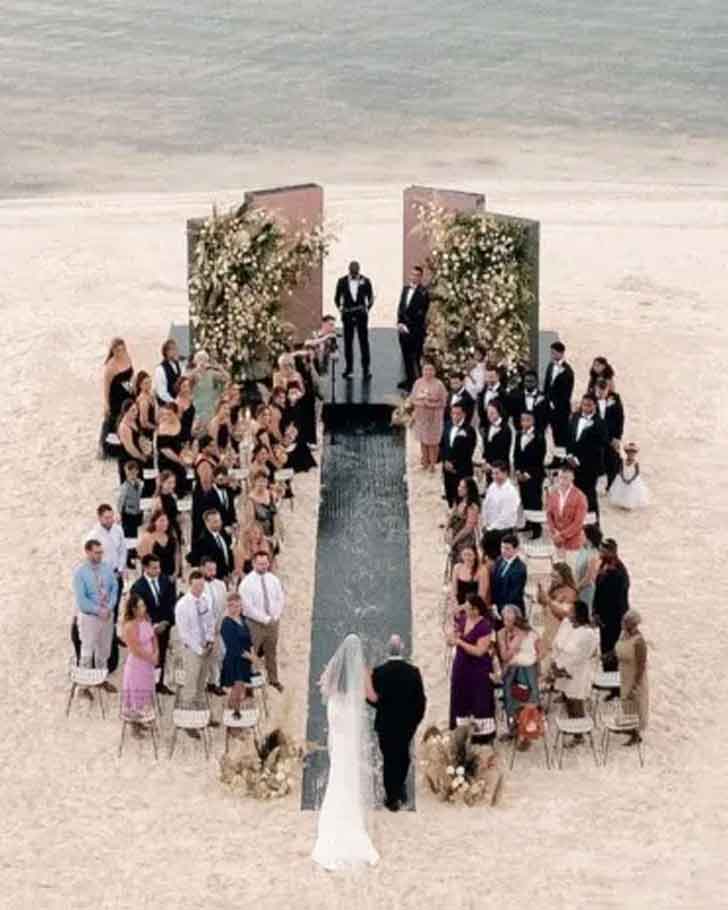 Planning a small wedding by the ocean? Up the glam factor by going all out with your outdoor wedding aisle decor. We love the way this wedding incorporated a statement black floor runner that pops against the bright sand.
Another epic option? A reflective mirror aisle installation.
And to complete the look, don't be afraid to go all out with your florals. We're obsessed with the way this wedding incorporated extra large arrangements that meandered up those modern walls at the altar. The perfect contrast with the cool and calming ocean behind everything.
7. An Outdoor Wedding Aisle Framed by Rustic Mismatched Chairs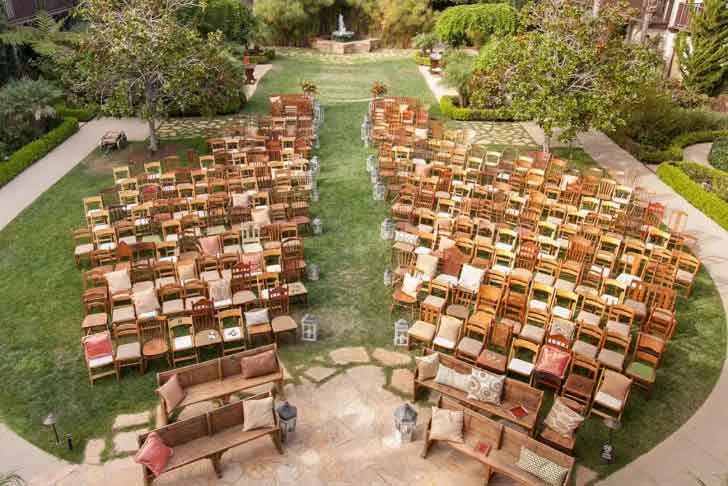 Don't be afraid to get creative with your wedding seating, especially if you're planning a boho or rustic affair.
It's no secret we love the mismatched look (hello, mismatched bridal party dresses!). But incorporating this look into your outdoor wedding aisle decor is one of our favorite ways to give your wedding some character.
Complete the look by lining your outdoor aisle with these rustic, vintage-inspired lanterns to create a cozy and welcoming vibe. Straight out of a storybook, if you ask us.
8. Circular Hay Bale Seating Arrangement Outdoor Wedding Aisle Decor Idea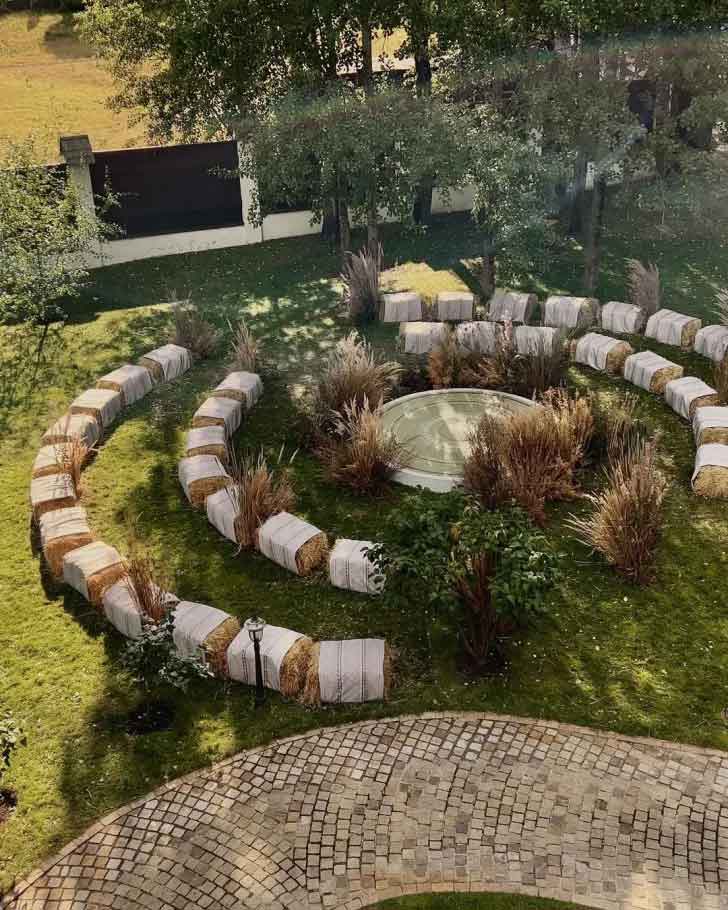 Be the center of attention, literally, with a circular hay seating installation! This outdoor wedding aisle decor idea is perfect for a backyard wedding or a wedding on a farm. And with a shortened aisle, you can use more of your decor pieces at the alter or during your reception!
We definitely recommend adding blankets over the hay bales so your guests are comfortable.
A circular setup like this one is particularly good for wedding photos, because it gives your photographer SO MANY different angles to capture the two of you as you say your "I do's".
9. Dramatic White Flower-Lined Outdoor Wedding Aisle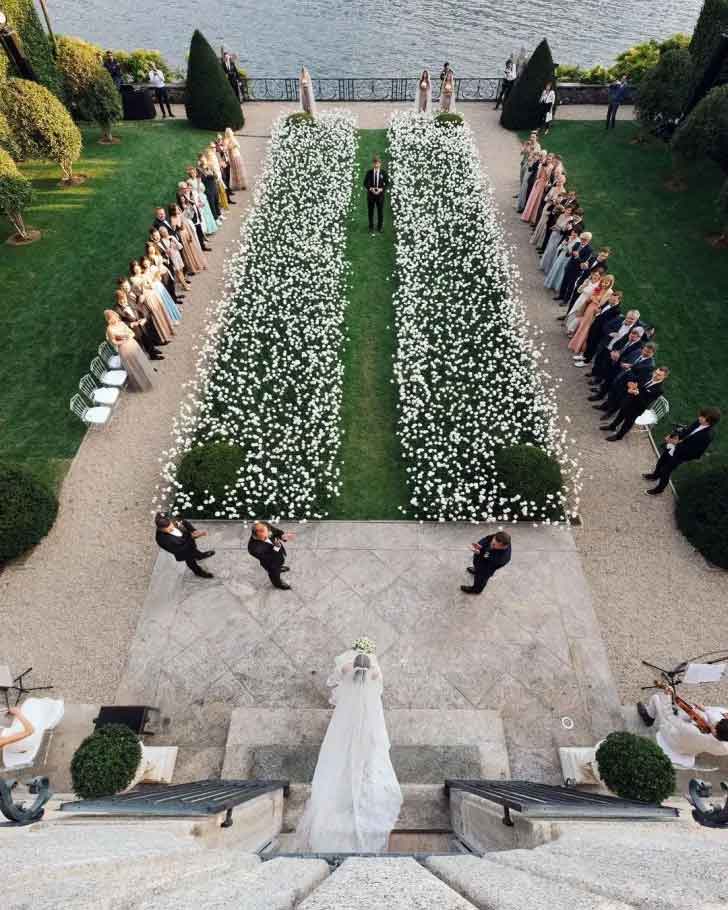 Sometimes the best outdoor wedding aisle decor ideas are the simplest. Case in point: this stunning white flower-lined pathway.
We love the way this couple took advantage of a natural feature of their venue and opted to use the existing florals to make a statement. Elegant and budget-friendly.
And the symmetrical setup of simple white chairs on either side of the aisle? So pretty! We love how it gives each guest the perfect view of the bride as she makes her way to her groom.
Safe to say, this natural wedding aisle decor is what dreams are made of.
10. Rustic Tree-Lined Road Outdoor Aisle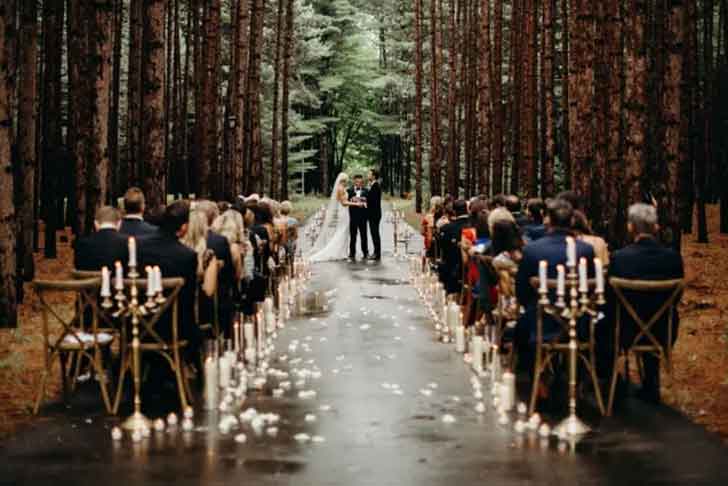 This whimsical, rustic tree-lined road is what outdoor wedding aisle decor dreams are made of. You honestly don't have to do much here. The trees do most of the talking, and that's exactly how we like it.
Line your rustic woodland aisle with simple hurricane candle holders and gorgeous vintage-inspired wooden chairs, and you're golden.
If you're getting married in a place where wildfire risk is high, opt for LED candles as your outdoor wedding aisle decor instead of your standard wax candle.
Related article: 6 Tips for Winter Weddings
Need to order wedding furniture? Welcome to contact!
Please follow our Instagram or Facebook to get more latest news.