Indoor Wedding Aisle Decor Ideas
Indoor weddings give you the opportunity to work with the features and structures of your venue to create some truly magical designs for your "I do's". With no wind and no rain to worry about your indoor wedding aisle decor can be a bit more whimsical! You can utilize the ceiling and walls, as well as the aisle – so it's time to get creative!
These aren't your grandma's indoor wedding aisle decor ideas. Our favorite designs incorporate everything from vibrant colors to statement florals to Art Deco inspired looks that feel like they came out of the past (in the best kind of way).
1. Greenery Adorned Candle + Lantern Indoor Wedding Aisle Decor Idea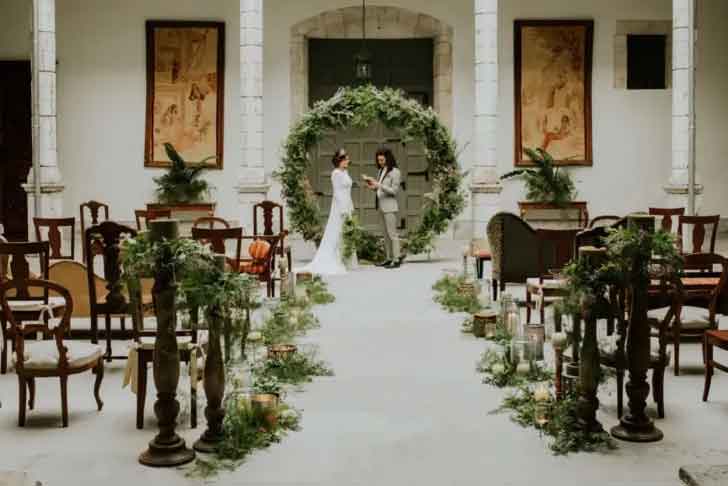 This romantic indoor wedding aisle decor idea is perfect for our greenery loving couples! Why go overboard with florals when you can opt for this simple, yet stunning option? Bonus points for incorporating a collection of vintage + rustic lanterns to create an eclectic vibe that feels oh so intentional.
Plus, greenery can be a more cost-effective option if you're looking to save on florals.
2. Dramatic Ceiling Floral Arrangement Indoor Wedding Aisle Decor Idea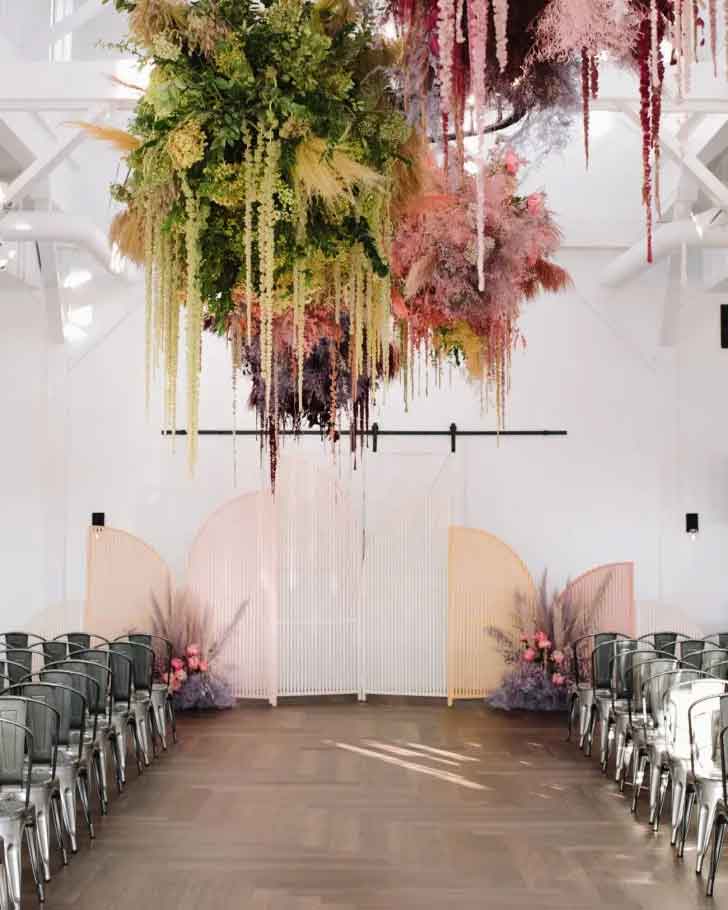 The best indoor wedding aisle decor ideas aren't limited to the floor. When you get married inside, you have the benefit of using the ceiling to create an utterly stunning dreamscape, and this rainbow floral one has totally taken our breath away.
This kind of aisle decor is perfect if you are wearing a large princess-like gown that flares out! You won't have to worry about knocking anything over or getting anything on your dress.
3. Cutesy + Eclectic Potted Plant Indoor Wedding Aisle Decor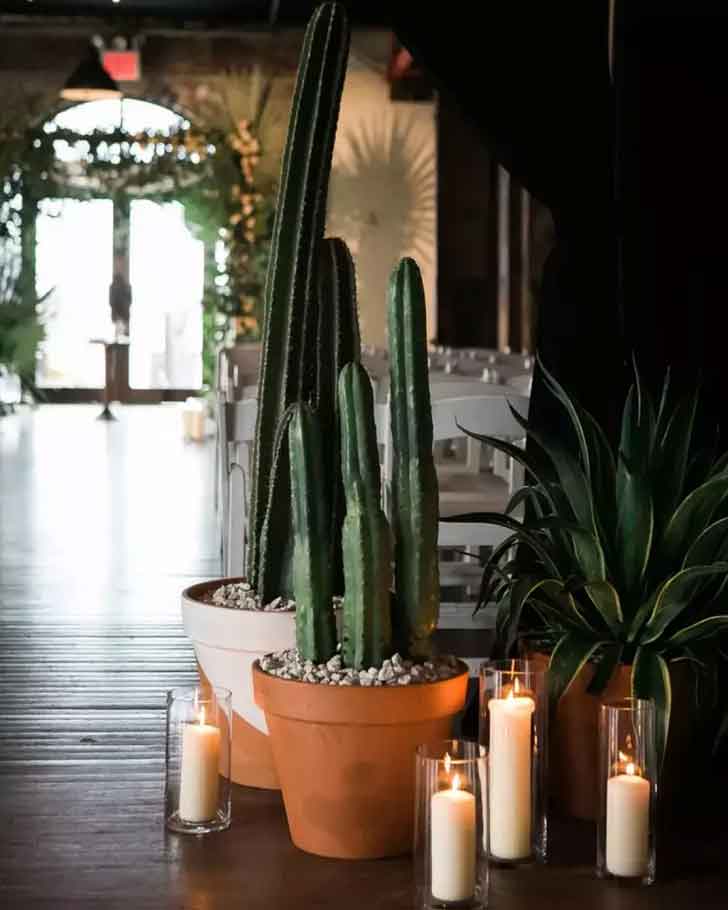 We totally get it…custom floral installations are not only a LOT of work, but they can also be quite expensive. And one of our fave budget-friendly indoor wedding aisle decor ideas is incorporating potted plants instead.
We love it when couples think about what types of plants they'd want to take home after the wedding day too. After all, who doesn't love a multi-use purchase?!
Mix your potted plants in with some dreamy candles in hurricane candle holders like the ones above for some seriously romantic vibes.
4. Color Blocked Floral Indoor Aisle Ideas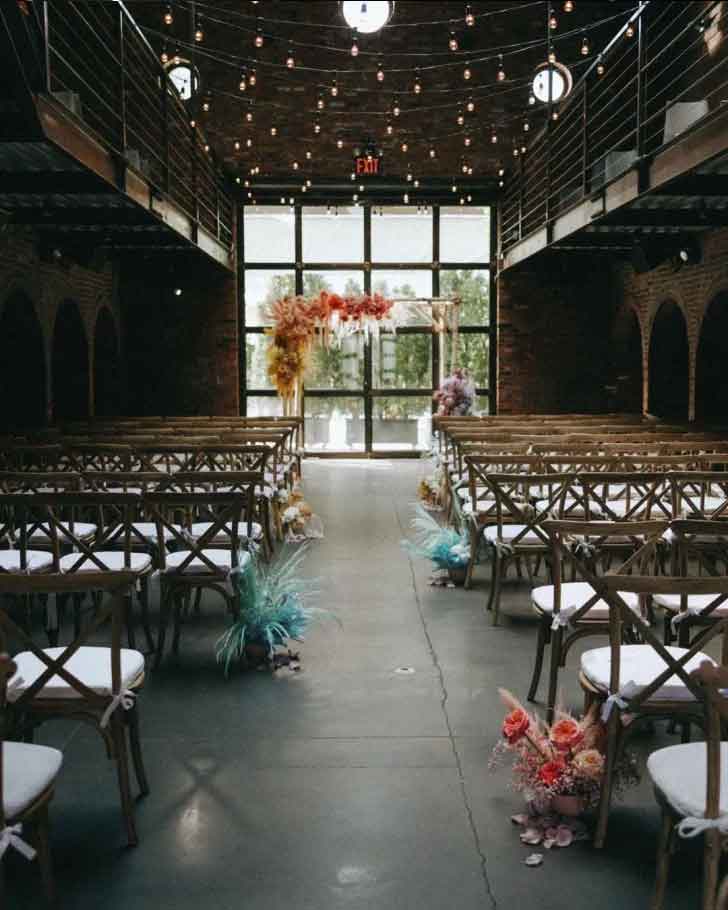 This one's for our color-loving couples. When it comes to indoor wedding aisle decor ideas, we're kind of obsessed with color blocking florals.
This aesthetic is especially great if you don't want to fully commit to just one color palette. Mix and match your fave tones for a playful look that brings your aisle to life.
Collab with your florist and planner to come up with the best color block palette and types of florals to achieve the vision you have for your aisle. If you're down to design it yourself, be on the look out for pampas grass you can use, like this stunning blue bundle!
5. Iridescent Accented + Rainbow Aisle Ideas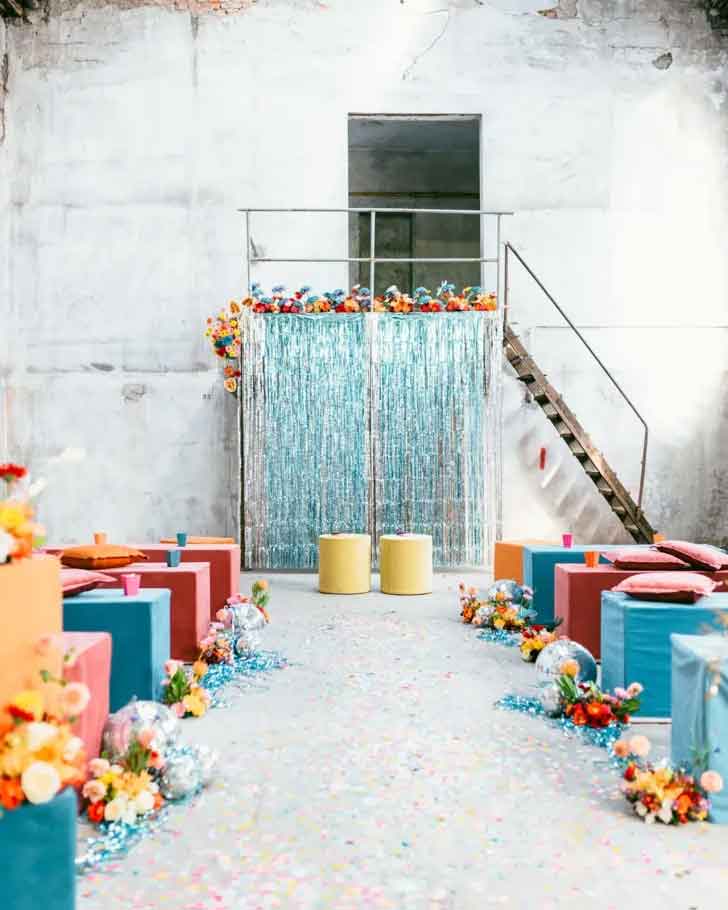 We're pretty convinced that walking down an aisle covered in confetti is the perfect way to celebrate the rest of your life together. This indoor wedding aisle decor idea is perfect for the couple that is the life of every party!
We love the addition of the disco balls alongside the entire pathway to the altar. And those color blocked benches? TOO COOL.
These gorgeous iridescent streamers are perfect for your bright, pop art-inspired wedding. And don't forget the disco balls!
6. Retro Art Deco Inspired Indoor Aisle Ideas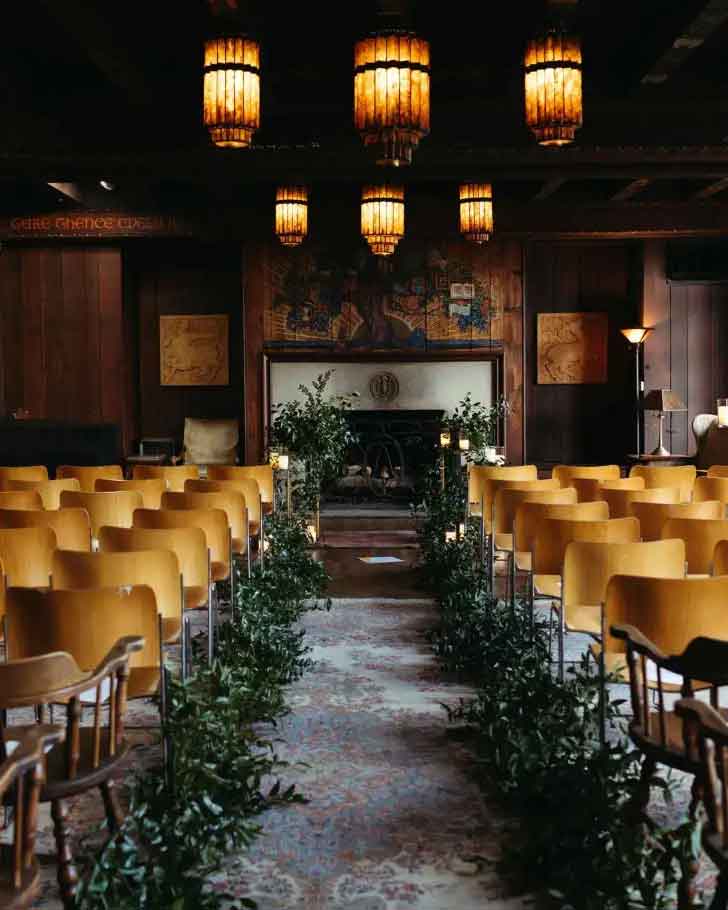 There's something about the elegance of the Art Deco era that gets us every time. It's equal parts glamorous and vintage warmth, and we're absolutely smitten.
Honestly, the best indoor wedding aisle decor ideas are the ones that can utilize the natural character of the space. And that's exactly what this aisle does. All you need is a simple greenery garland to complete the look. Seriously timeless!
Related article: Outdoor Wedding Aisle Decor Ideas
Need to order wedding furniture? Welcome to contact!
Please follow our Instagram or Facebook to get more latest news.