How to create Boho wedding day
There are several ways to create a boho themed wedding depending on the elements that you love. Austen and Josh did such a beautiful job at incorporating all the things they loved to achieve a jaw-dropping design. Here are few tips to create a bohemian style wedding day.
First, choosing a geometric altar can bring an enchanting element to the wedding ceremony. It's very important to note that an outdoor wedding crowns the bohemian style. Nature adds great tangibility to the mood of your reception and ceremony if you do decide on a bohemian theme. You can keep the vision of the surrounding environment, by adding florals and/or greenery to the space. Playing off of the natural features of your venue will enhance the experience. You can also line the altar with well-worn rugs to give the natural space a sense of comfort and inject color and texture.
Another great way to achieve a boho wedding is by having a mixture of dried florals and bright colored florals. Using fresh blooms for decor along with dried grasses or pampas can create such a beautiful yet free look. The Purvis' wedding also had a bar cart and lounge area for their cocktail hour. The intrinsic casualness of a lounge along with a bar cart offers such a bohemian touch. Especially when using bold textiles, plush cushions, and saturated pops of color for your lounge.
Creativity is the main ingredient for a boho wedding. You have the chance to let yourself run wild while also creating a cool calm atmosphere with every element creating a sense of imagination.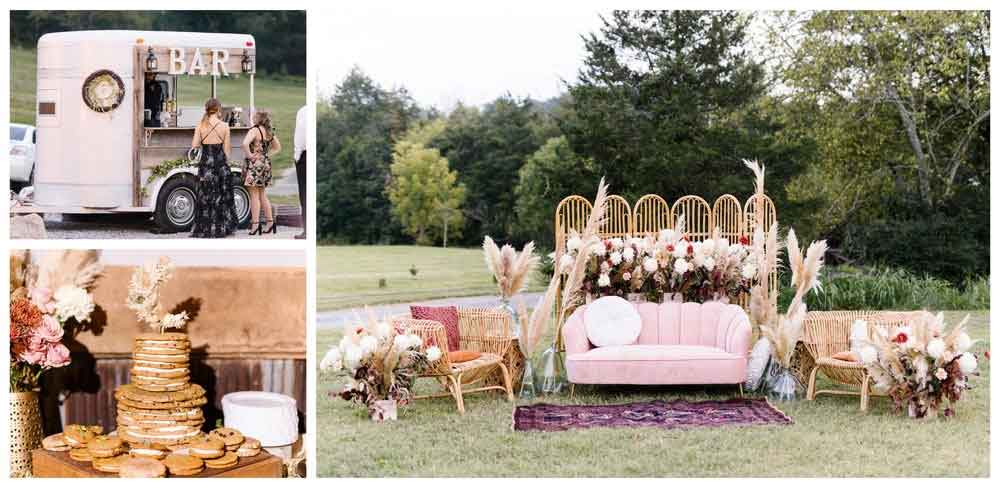 Related article: Buying Bar Stools: The Ultimate Buyer's Guide
Need to order wedding furniture? Welcome to contact!
Please follow our Instagram or Facebook to get more latest news.