Creating the Perfect Wedding Bar: Tips for Choosing the Best Bar Furniture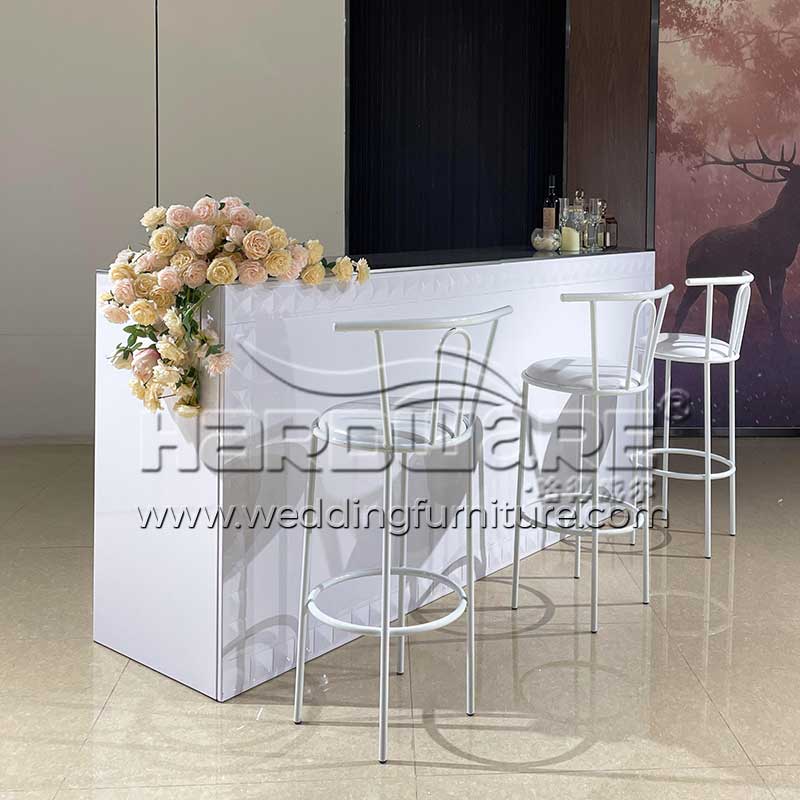 When it comes to planning the perfect wedding, the bar is an essential component. Not only does it provide a place for guests to grab a drink and socialize, but it can also serve as a focal point and a key element of the overall decor. To create a stylish and functional wedding bar, it's important to choose the right bar furniture. Here are some tips and advice to help you make the best choices.
Consider the size and shape of your bar.
Before you start shopping for bar furniture, you'll need to determine the size and shape of your bar. This will depend on factors such as the number of guests, the available space, and the overall design aesthetic. For example, if you're planning a large wedding with hundreds of guests, you'll need a larger bar that can accommodate multiple bartenders and a wide selection of drinks. On the other hand, if you're having a smaller, more intimate wedding, a compact bar may be a better choice.
Choose comfortable and attractive bar stools.
Bar stools are an essential element of any wedding bar, as they provide seating for guests who want to enjoy a drink or chat with friends. When choosing bar stools, look for ones that are both comfortable and stylish. Consider factors such as the height of the stools (should they be counter height or bar height?), the material (wood, metal, or upholstered?), and the design (modern, rustic, or classic?). It's also important to choose stools that are easy to move and store, as you may need to rearrange the bar area during the wedding reception.
Incorporate lighting and decor to create the right ambiance.
In addition to bar furniture, lighting and decor can also play a key role in creating the right ambiance for your wedding bar. Consider adding string lights or candles to create a warm and inviting atmosphere, or use colored uplighting to add a pop of color to the space. You can also incorporate personalized signage, such as a custom cocktail menu or a chalkboard with a message to guests.
Choose furniture that complements your overall design aesthetic.
Your wedding bar furniture should be in line with the overall design aesthetic of your wedding. For example, if you're going for a modern, minimalist look, choose bar furniture with clean lines and sleek finishes. If you're going for a rustic or vintage-inspired vibe, look for pieces with natural wood textures and distressed finishes. It's important to choose furniture that complements, rather than clashes with, your overall design scheme.
By following these tips and choosing the right bar furniture, you can create a wedding bar that is both stylish and functional, and that will provide a memorable experience for you and your guests. Whether you opt for a sleek modern bar with metal stools or a rustic wooden bar with upholstered seating, make sure to choose furniture that reflects your personal style and that will help you achieve the wedding of your dreams.
---
Related article: Wedding Backdrops for Every Style
Need to order wedding furniture? Welcome to contact!
Please follow our Instagram or Facebook to get more latest news.