Counter Stools Vs Bar Stools Guide 2022
Counter Stools Vs Bar Stools Guide 2022 – Measurement Chart
People often confuse restaurant bar stools with counter stools. While the two are different assets, they are used in the same venues in the same field. Height is the key difference as well as how they contrast from each other in terms of functionality. Because of their hard to note differences, people end up buying one instead of the other and find out post facto that the stool they purchased did not fit their seating needs.
BAR STOOL DIMENSIONS
A stool that is too short for you to reach your bar or one that is too tall causing bruises to your knees on the underside of the counter is an unnecessary inconvenience you don't want. Learning how to differentiate between the two types of stools can help you avoid this headache in the first place.
Simple features make all the difference in keeping your guests comfortable. A bit of tape measure is all you need to pick the right stool for your counter spaces or restaurant tables. Choosing a stool that expresses your style and décor the best is also important.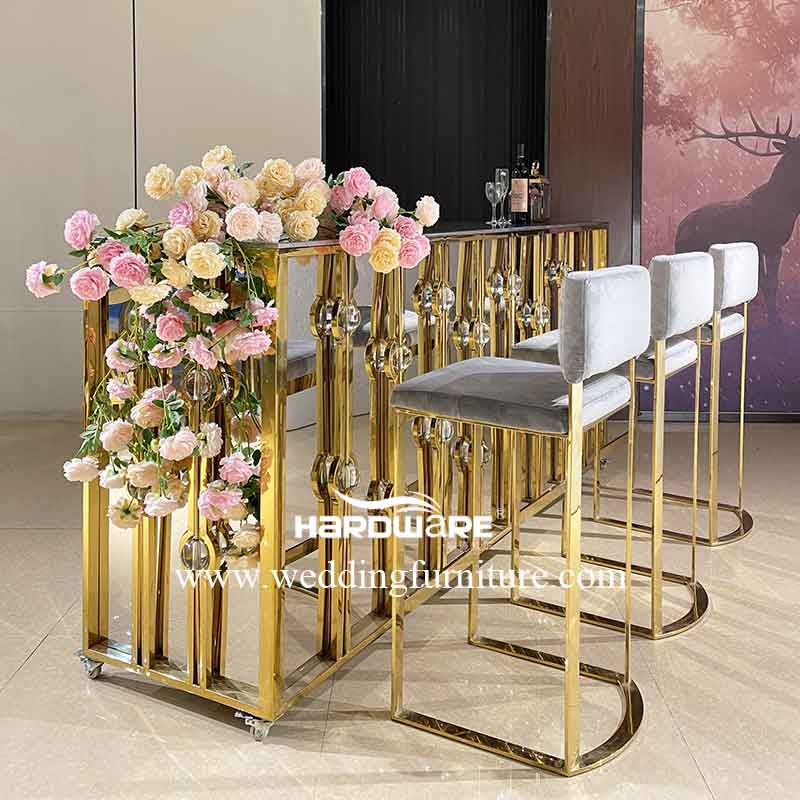 This guide will further explain why both types of stools are not interchangeable along with the conspicuous distinctions between them. It will also allow you to easily pair the right table height with the various seating available. Below we have added diagrams showing the height of the various seating options and the sitting position of the people using them. The first two images are our main focus and help to illustrate the difference between bar and counter stools and the images below show extra tall and dining table heights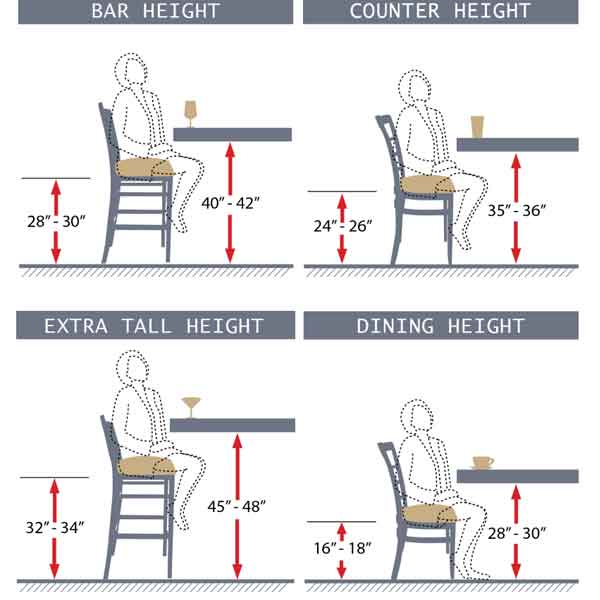 WHAT IS A COUNTER STOOL?
A counter stool is described as a type of restaurant seating where one can comfortably sit behind a counter. Counter stools can be used on bar counters, adjustable height restaurant tables, kitchen tops or in any dining area. The top is normally designed in a way that is accessible to patrons who are sitting or standing. In other words, counter stools need to be tall enough or higher than a regular height restaurant table. Standard height for a counter height on the average stands 36″ above floor level. Naturally, a counter stool seat will measure 24″ to 27″ from the ground up.
Because bar counters and (counter height) restaurant tables stand between 35″ to 37″ tall. Pairing them with counter stools that measure 24″ to 27″ tall will put guests at the perfect height for dining, socializing, or sipping on a cup of coffee. Because they easily tuck neatly underneath the table. These stools are recommended for dining/restaurant tables located in cramped spaces. Tables that sit lower than counters at the height between 28″ to 30″ will require regular restaurant dining chairs that stand 16″ to 23″ high.
WHAT IS A BAR STOOL?
A bar stool is a tall chair that is usually featured with footrests offering support to the user's feet. Height and narrowness of restaurant bar stools are determined by their stability for use as regular and bar height tables at bars, lounges and pubs. As suggested by the name, bar stools are exclusively designed at bars though nowadays you can find them at kitchen counters. The standard height for a bar height table top typically measures 40″ to 42″ from the floor. Height of a bar stool seat should be somewhat between 29″ and 30″ from the floor. Restaurant bar stools with those dimensions allow customers to comfortably use the counter or bar height table surface for eating and drinking while providing enough room for your knees.
Much like counter stools, restaurant bar stools are measured from the floor to the top of the seat. Counter stools and restaurant bar stools differ by a seat height of 12″.
ODD DIMENSIONS AND ELBOW ROOM
Although, restaurant tables bar stools and counter stools are built with standard dimensions. Not every structure of these items adheres to these sizes. If your counter top or table top measures out in an odd height, select a stool that is at least 10" lower. Doing so will give your legs and knees plenty of room even when you sit cross legged. If you have trouble finding the perfect height stools, adjustable stools are your option. Each of these stools includes a hydraulic pump that allows you to set the stool height however you like.
Space between your stools is a measurement that is just as crucial as their height. To avoid overcrowding your counter or table, your stools should be spaced six inches apart if the seats measure 16″ to 18″ wide. With wider seats or with arm rests and swivels, space should increase by 8″ to 10″. The ideal measurement for stools situated in between each other is 28″. In conclusion, height should serve as guidance when shopping for counter and restaurant bar stools. Once you sort out the differences in height and other specific features, you can avoid buying the wrong stool.
Use the table below for a quick reference when matching up a table height with the right seating:
| | SEAT HEIGHT | TABLE HEIGHT |
| --- | --- | --- |
| Extra Tall | 32″ – 34″ | 45″ – 48″ |
| Bar | 28″ – 30″ | 40″ – 42″ |
| Counter | 24″ – 26″ | 35″ – 36″ |
| Dining | 16″ – 18″ | 28″ – 30″ |
WHAT IS THE DIFFERENCE BETWEEN BAR HEIGHT AND COUNTER HEIGHT STOOLS?
Bar stools, counter stools, and tables are often built to standard sizes, although not every structure adheres to these dimensions. Bar stools' overall height is 42″ with a seat height between 29″ and 31″ while counter stools' over all height is 36″ with a seat height between 24″ to 27″.
If your bar or counter tops come at a bespoke height made to your specifications, the ideal seating should be about 10 inches lower than the counter. This will allow for enough knee room.
HOW MANY DO I NEED?
Use this formula to determine how many bar or counter stools you need:
Allow 6 inches between each seat for bar stools 16" and 18" wide
Allow for 8" to 10" between each seat for bar stools that are 18" and wider
Allow for extra room between each seat to make it easier for people to move in and out of their seats for swivel bar stools.
Related article: Decorate Wedding Arch
Need to order wedding furniture? Welcome to contact!
Please follow our Instagram or Facebook to get more latest news.