Choose Metal Chairs for Restaurant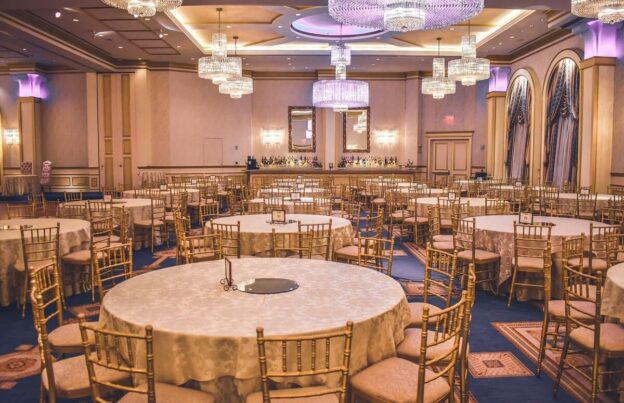 What Is A Metal Chair, and Why Use One?
Metal chairs have been around for decades now for residential use, and now they have become mainstream for commercial use as well.  Thanks to their high tensile strength and availability in various designs, metal chairs are comfortable yet stylish, durable yet functional, and long-lasting yet affordable. No wonder metal chairs have found their way into many restaurants. The rustic, sleek, and industrial look of metal chairs make them ideal for any theme and décor in a restaurant. Mostly, steel, cast iron, or aluminum are the popular metals for constructing commercial furniture, and the choice depends on the type of theme you wish to create in your restaurant.
Why Are Metal Chairs So Popular?
Many things go into making metal restaurant chairs so popular. Here, we list some of them:
1. You can plan stylish, functional outdoor seating:
Metal chairs are resilient and seldom show any deterioration when exposed outdoors for long periods. If yours is a restaurant with a patio or outdoor seating, durable outdoor metal chairs with anti-rust coating give you hassle-free operation for many years. In a nutshell, trendy metal chairs in bright tones offer stylish yet functional outdoor seating to woo your guests.
2. Sleek style to match the contemporary design
Whether it is a modern bistro or a minimalistic café, commercial metal chairs are a perfect fit. With their sleek design, metal chairs are lightweight and can make your restaurant seem more airy and spacious. With metal chairs, you get limitless options in color and design that compliment any décor or theme in your restaurant. The trendy yet timeless appeal of metal chairs has been popular in all restaurant types for ages now.
3. When you want stackable chairs for changing needs
Let's face it; the seating requirements and capacity of a restaurant are quite dynamic. Whether it is a banquet or a conference, you often need to expand your seating capacity and layout temporarily.  Whether storing your patio chairs between the seasons, hosting an event, or cleaning your dining space, stackable metal chairs are convenient yet durable and long-lasting.
4. When you want to utilize maximum space efficiently:
Despite using high-density metal, these chairs are space-efficient yet lightweight, and shifting and stacking them is effortless. Unlike bulky wooden chairs, metal chairs occupy less space; as a result, your restaurant's dining area appears bigger, and your guests do not feel crowded. Moreover, you can complement restaurant metal chairs with bar stools to create a visually appealing layout and maximize your seating capacity.
What Are The Advantages Of Metal Chairs?
1. Resilient Metal Material offers Durability:
Every restaurant chair has joints where different chair parts like the seat, back, and legs come together. While wooden chairs usually hold the joints together with glue and screws, restaurant metal chairs have welded joints. The welded joints in metal chairs can make them more sturdy, long-lasting, and durable than some wooden chair models.
2. Stackable and Lightweight
Since metal frames have high tensile strength, it is possible to manufacture sleek yet durable metal chairs. Metal chairs with narrow tubes and thinner frames are lightweight and yet resilient for any busy restaurant. The high-density metal chairs are space-efficient and allow you to utilize your restaurant's dining space effectively. Also, most metal chairs are stackable so that you can increase your restaurant's capacity and store them away when not in use.
3. Comfortable
Most restaurant owners have a misconception that metal chairs are uncomfortable, but that is simply not the case anymore. With the advancement of manufacturing processes, deliberate curves in the chair design can make even the purely metallic chairs quite cozy. Moreover, you can consider upholstered seats or cushions to offer comfortable seating for your guests, and they amplify the décor too. With carefully chosen designs and materials, metal chairs provide comfortable seating for a longer duration in a restaurant.
4. Budget-friendly
There are many budget-friendly options in metal frame chairs. If you buy commercial-grade, high-quality metal frame chairs with a commercial warranty, you don't have to worry about maintenance or repair charges for a long time. The last thing a new restaurant needs is to have to replace its chairs in the short term.
5. Easy to Clean & Maintain
Metal chairs are super easy to clean. While routine dusting does the trick most of the time, you can use a damp cloth with a mild soap solution for stains. Inherently, metal chairs are strong and less prone to chipping or scratching. In case of any minor damage to the painted surface, you can use sandpaper and retouch paint to fix it.
6. Variety of Style & Design Options
Over time, manufacturing processes have advanced, and restaurant metal chairs are available in various styles, patterns, designs, styles, and colors. Moreover, the warmer colors of some chairs can mimic the appearance of wooden or laminated chairs to make them pretty much indistinguishable.  Metal chairs can be painted in vibrant colors giving your dining space a real pop!  Purchasing a bunch of metal chairs all the same color can create a uniform, standardized visual palate in your restaurant. From industrial theme to warm tone to contrasting style statement, metal chairs work either way effortlessly.
7. Compatible for both indoor outdoor use
Metal chairs are versatile and compatible for both indoor and outdoor use. Outdoor metal chairs offer sufficient protection against heat and UV rays from the sun. Unlike wooden or plastic chairs, metal chairs are less prone to fade or crack against temperature variations. Since metal chairs can withstand extreme weather conditions better than other materials, they are a great choice for your restaurant's patio or balcony.
Summing it up:
With plenty of styles and customization options, metal restaurant chairs can adapt to any theme. Moreover, their strength, durability, affordability, and elegance offer a practical, comfortable, and reliable seating option. Whether yours is a family restaurant or a coffee shop, fast-food joint or fine dining, choosing metal restaurant chairs calls for an inviting dining experience with the perfect mix of style and comfort for your guests.
Related article:  Choose Dining Tables and Chairs
Need to order wedding furniture? Welcome to contact!
Please follow our Instagram or Facebook to get more latest news.