Choose Dining Tables and Chairs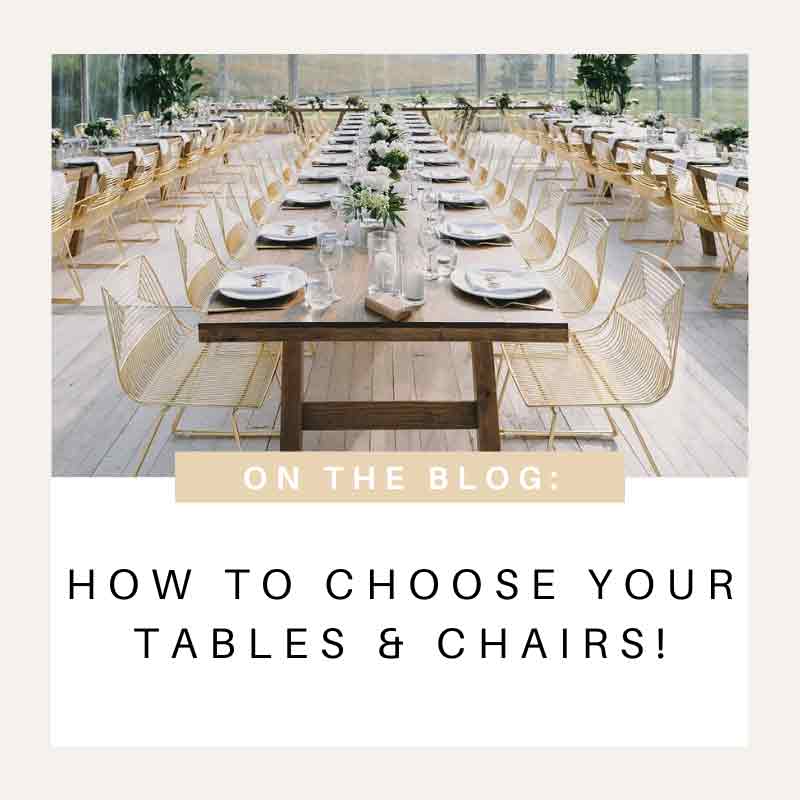 Dining tables and chairs can literally transform your entire wedding reception – But with so many beautiful options out there. How do you choose the best table and chair combo for your wedding?
If you're currently planning a sit-down wedding reception, keep reading as we take you through the different options available in our range, along with some styling tips and inspiration for each one!
Wedding Table Options
Let's talk first about your wedding dining tables. Thankfully, we've come a long way since plastic trestles! These days, your dining tables can become a statement piece in themselves.
To help you choose the perfect tables for your event, think first about the logistics of your dinner service. Are you planning a feasting-style menu or alternate drop/buffet?
Once the logistics have been considered, you'll also want to think about the overall look and feel you want to create. When it comes to styling, our timber table options provide a natural, earthy and organic base, and can be easily paired with pretty much any color scheme or chair style. They are incredibly versatile and can be dressed up or down to provide either a rustic or modern setting.
Our black feasting tables work perfectly for a more sleek and dramatic look. These tables can be styled with neutral tones for a monochromatic vibe. Or contrasted with bold pops of color and luxe metallics. We think these tables work best with a black, white or gold chair style.
Wedding Chair Options
Now let's talk chairs! You'd be amazed at how much of an impact your dining chairs will have on the overall atmosphere of your venue. They're essentially the first things your guests will notice, and can totally transform a space.
If you're hosting a sit-down wedding reception, dining chairs will be one of your key styling pieces to help you bring your wedding vision to life. Not sure which dining chair will best suit your styling concept?
No matter which dining table and chair combination you choose, we do recommend securing them early as they can book out quickly! Check out our furniture collection for our tips on when to consider buying furniture for your wedding, or get in touch with our friendly team here to receive a quote.
Related article: Planning A Pastel Themed Wedding
Need to order wedding furniture? Welcome to contact!
Please follow our Instagram or Facebook to get more latest news.