Have you seen our new white feasting tables? Due to popular demand, these beautiful white timber dining tables are now available to hire for weddings and events.
Our white feasting tables are the ultimate blank canvas, and the styling possibilities are endless! Whether your vibe is coastal, modern or luxe, keep scrolling as we showcase 6 ways to style these stunning white tables below.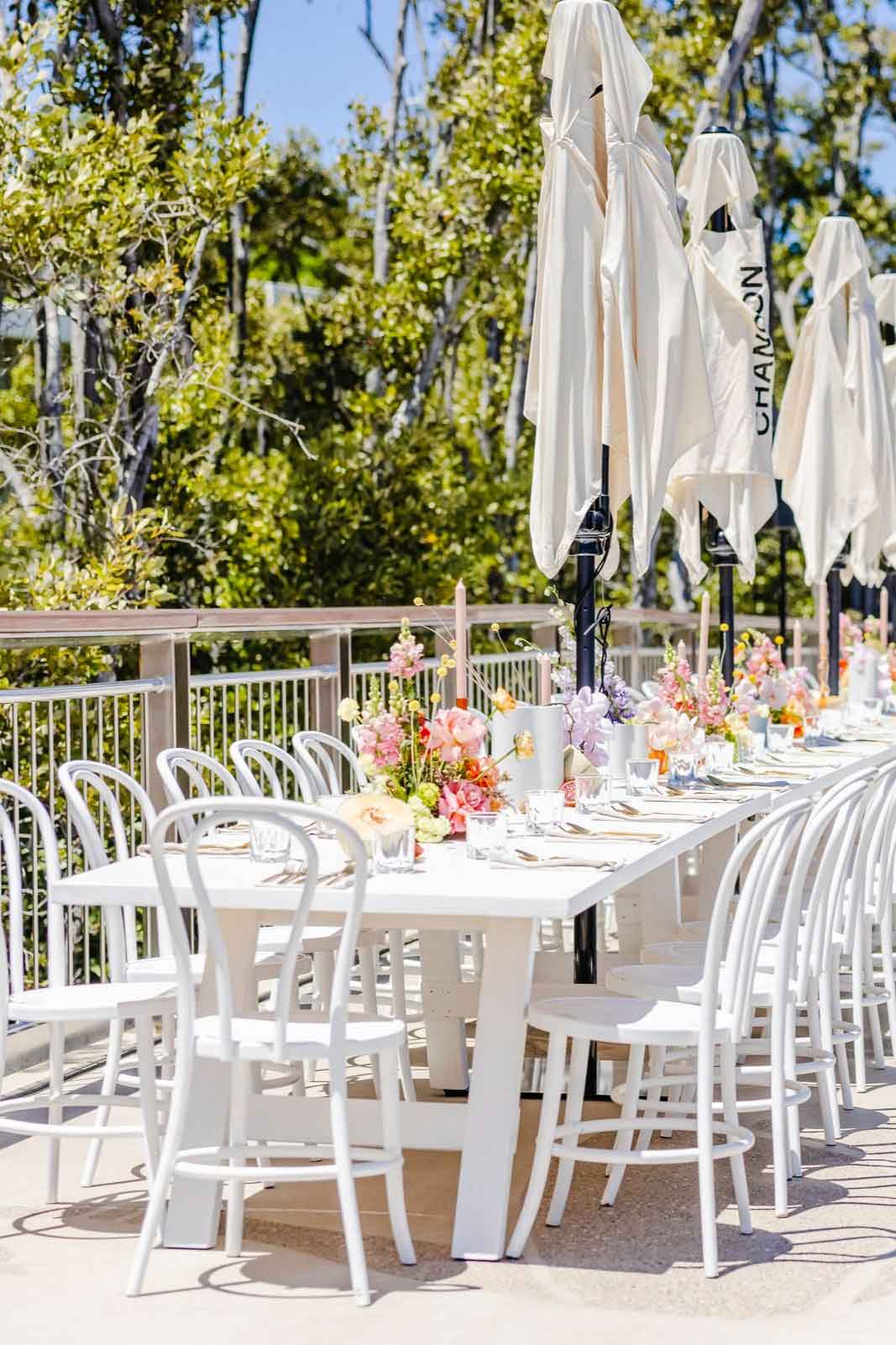 White on White
For a chic, minimalist look, you can't go past a classic white-on-white palette. Pair our white feasting tables with our white bentwood chairs to set the tone for an elegant event.
We think this color palette is best paired with classic tableware, dreamy white blooms and a hint of silver, copper or gold. Layer our white or oatmeal linen napkins with our classic white dinner plates, crystal glassware and gold cutlery for a high-end dining experience.
Neutrals
If neutrals are more your style, consider pairing our white feasting tables with our cross-back chairs. Complete your bohemian-inspired tablescape with plenty of soft linens and organic textures.
Contrast
For sleek color contrast, style our white feasting tables with our black dining chairs. This stunning combination works beautifully for a relaxed yet elegant look. Continue the contrast using our black charger plates, black and gold cutlery or black linen napkins.
Colour Pop
Introduce a pop of color by pairing our white feasting tables with our white chairs! Our cushions work beautifully for a tropical feel, while our Sky Blue cushions work well for a relaxed setting. Create a cohesive look by tying your chosen cushion color into your floral arrangements, centerpieces and stationery.
Coastal
Achieve a subtle coastal theme by styling our white feasting tables with our white Bamboo chairs. The mix of bamboo, timber and white linen creates the perfect seaside-inspired setting. Complete the look with clamshell centerpieces, gold cutlery and some linen napkins in white, oatmeal, grey or khaki.
Luxe
For a hint of luxury, style our white feasting tables with our Gold Dining Chairs. The ultimate sophisticated duo, this combination works beautifully with elegant gold-dipped cutlery, gold charger plates, scattered candlesticks and soft pastel blooms.
Currently, planning a wedding or event?
We would love to help you with your upcoming celebration! Get in touch with us here to receive a copy of our latest hire catalog, or check out our latest blogs below for more planning tips and inspiration.
Related article: Black Feasting Tables
Need to order wedding furniture? Welcome to contact!
Please follow our Instagram or Facebook to get more latest news.