Where Can We Buy Tables and Chairs for a Wedding?
Exploring Options on WeddingFurniture.com
When planning a wedding, every detail matters and the choice of tables and chairs plays a significant role in setting the tone for the entire event. Whether you're envisioning an elegant and classic affair or a modern and chic celebration, the right furniture can transform your venue into a breathtaking space that reflects your unique style. In this article, we'll delve into the world of wedding furniture, exploring options available on Wedding Furniture, a comprehensive platform for sourcing tables and chairs for weddings.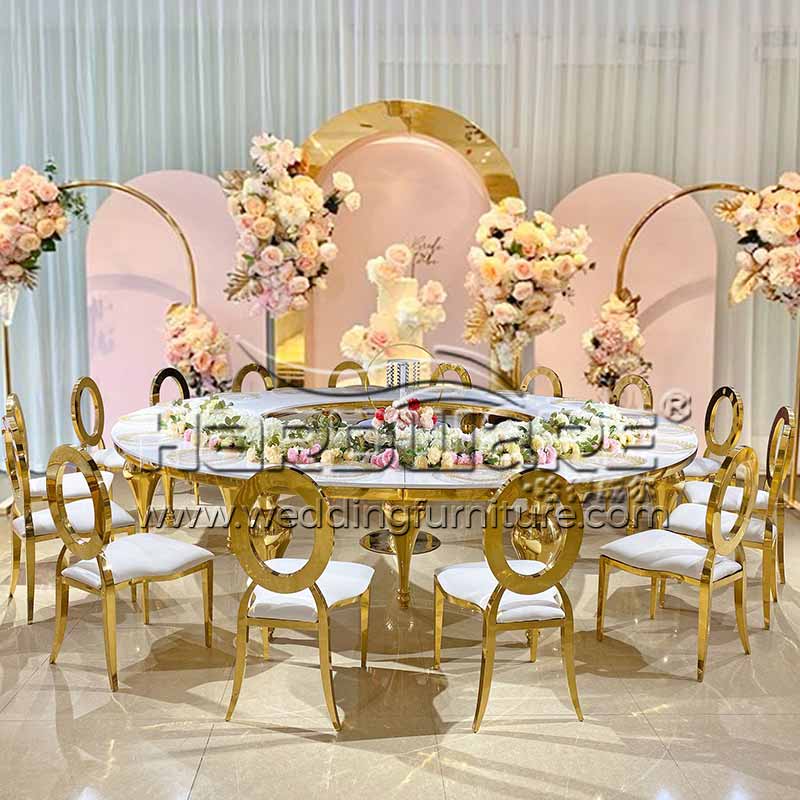 Elevating Your Wedding Decor
Your wedding is a once-in-a-lifetime occasion, and the decor should be nothing short of extraordinary. WeddingFurniture.com understands the importance of creating an unforgettable ambiance, offering an array of furniture options to suit various themes and preferences. From vintage-inspired pieces that exude timeless charm to sleek and contemporary designs that capture modern elegance, the website caters to a diverse range of tastes.
A Look at the Collections
1. **Vintage Grandeur**:
For those seeking to infuse their wedding with a touch of nostalgia, WeddingFurniture.com offers an exquisite collection of vintage tables and chairs. Imagine ornate wooden chairs adorned with intricate carvings, complemented by elegantly designed tables that transport you to a bygone era.
2. **Modern Sophistication**:
If your vision involves clean lines, minimalist aesthetics, and a contemporary vibe, the modern collection has you covered. High-gloss tables paired with sleek, cushioned chairs create an ambiance of modern sophistication that resonates with the discerning couple.
3. **Rustic Charm**:
For couples who adore the natural beauty of wood and the cozy atmosphere it creates, the rustic collection showcases farm-style tables and cross-back chairs that embody rustic charm. These pieces seamlessly blend with outdoor venues and barn weddings, adding warmth and character.
4. **Elegant Thrones**:
Elevate your special day with the regal elegance of throne chairs, designed for the bride and groom. WeddingFurniture.com offers an exclusive selection of high-back chairs crafted from premium materials, ensuring a seating arrangement fit for royalty.
The Convenience of Choice
One of the advantages of using WeddingFurniture.com is the convenience of choice. The website provides a user-friendly interface that allows you to explore different collections, view detailed images, and gather inspiration for your wedding decor. Each furniture piece is accompanied by comprehensive descriptions, ensuring you have all the information you need to make an informed decision.
Making Your Dream Wedding a Reality
Your wedding day should reflect your love story and unique personality. With WeddingFurniture.com, you have a partner dedicated to helping you create the perfect setting. By offering a diverse range of tables and chairs, the website enables you to curate an ambiance that aligns with your vision.
Where Can We Buy Tables and Chairs for a Wedding?
So, when the question arises, "Where can we buy tables and chairs for a wedding?" WeddingFurniture.com emerges as the answer—a platform that empowers couples to transform their dream wedding into a stunning reality. Explore the collections, envision the possibilities, and embark on a journey to curate a wedding that will be remembered for a lifetime.
For more information and to start creating your wedding decor masterpiece, visit [www.weddingfurniture.com].
---
Related article: French-Inspired Wedding Furniture
Need to order wedding furniture? Welcome to contact!
Please follow our Instagram or Facebook to get more latest news.