Wedding After-Party Decor Ideas
Keeping the Celebration Going
The wedding after-party is a chance to continue the festivities and let loose with your closest friends and family. To create an unforgettable experience, the decor should reflect the fun and lively atmosphere of this late-night celebration.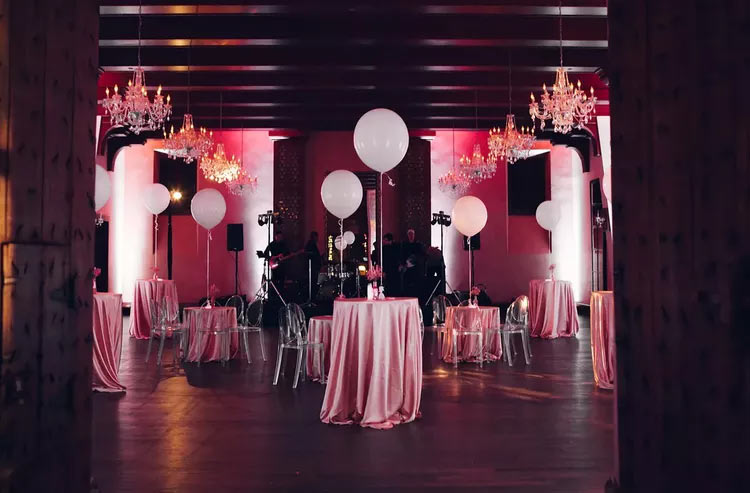 Festive Lighting:
Set the mood with festive lighting that creates an enchanting atmosphere for the after-party. Incorporate string lights, paper lanterns, or neon signs to add a touch of whimsy and create a vibrant and playful ambiance. Play with colored lighting or disco balls for a dance party feel.
Lounge Areas:
Create cozy lounge areas where guests can relax and mingle during the after-party. Arrange comfortable seating, plush couches, and ottomans to encourage conversation and a laid-back atmosphere. Add decorative pillows and throws in vibrant colors or fun patterns to enhance the party vibe.
Themed Decor:
Consider incorporating a theme that reflects your personality or interests for the after-party decor. Whether it's a tropical paradise, vintage glam, or a retro disco theme, let the decor elements, such as props, signage, and table settings, transport guests to a different world and add an element of excitement.
Fun Photo Booths:
Set up a photo booth area with props and backdrops to capture fun and memorable moments. Provide an array of hats, glasses, signs, and other accessories that guests can use to express their creativity. This interactive element adds a playful touch and creates lasting memories.
Neon Signs and Marquee Letters:
Incorporate neon signs or marquee letters to add a touch of glam and personality to the after-party decor. Display your names, initials, or fun phrases in vibrant neon lights to create a focal point and enhance the party atmosphere. These eye-catching elements are perfect for photo opportunities.
Creative Signage:
Use creative signage to guide guests and add a personal touch to the after-party decor. Create customized signs with catchy phrases, directional arrows, or quirky sayings that match the mood of the celebration. This not only adds a decorative element but also helps set the tone for the party.
Late-Night Snacks and Treats:
Offer a variety of late-night snacks and treats to keep guests fueled and entertained throughout the after-party. Set up a dessert bar with a selection of mini desserts, a popcorn station, or a gourmet food truck outside the venue. These culinary delights add an element of surprise and satisfy guests' cravings.
The after-party
Elevate your wedding after-party with unforgettable decor ideas that keep the celebration going. From festive lighting and cozy lounge areas to themed decor, fun photo booths, neon signs, creative signage, and late-night snacks, these elements contribute to the lively and festive atmosphere. Let your creativity shine and infuse the after-party with personal touches that reflect your style and create a memorable experience for you and your guests. With the right decor, the after-party becomes an extension of the wedding celebration, ensuring that the fun and excitement continue long into the night.
---
Related article: Embracing Modern Wedding Style
Need to order wedding furniture? Welcome to contact!
Please follow our Instagram or Facebook to get more latest news.