Types of Wedding Chairs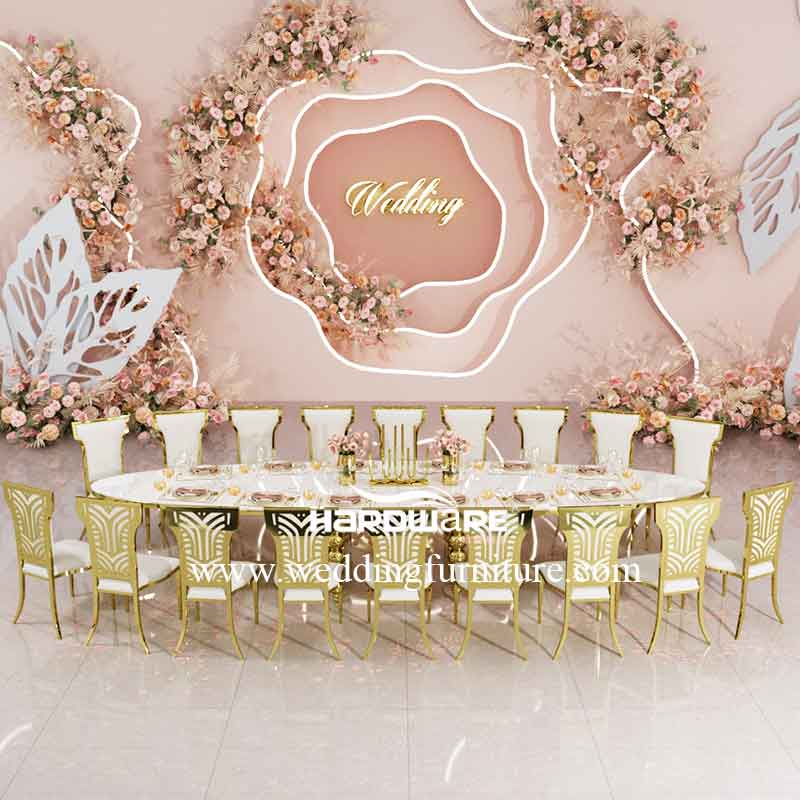 Folding Metal Chairs Or Plastic Chairs
Folding chairs are used for areas where permanent seating is not possible such as garden weddings.
These chairs can be used for both indoor and outdoor events. Such events can include:
Wedding & birthday events
Funerals
Competitions & sporting events
Graduations
Festivals
Business conferences
These chairs are made of plastic and are the most economical option if you are looking at buying chairs for your wedding.
They are made with a durable frame complimented by a plastic seat and backrest and can be sat on comfortably for long periods.
Just because these chairs are a cheaper option, it does not mean that they can't be decorated beautifully to fit in with your wedding theme.
Tulle is a wonderful material to use when it comes to decorating these types of chairs. You can use tulle to make bows, fold them into a variety of shapes or even let it just flow down the back of the chair.
Sashes can also be used to decorate folding chairs.
Chair covers are another option that can be used to cover these chairs and you are often able to buy them from the same place that you order the chairs from.
Resin and Wooden Chairs
These chairs have an arched back design with padded seating and are extremely comfortable.
These chairs can be used at both the ceremony and your reception and can easily be moved from one area to another.
These chairs are elegant and durable and are not prone to weakness as they are made from natural wood grain.
If you are looking for an elegant yet durable chair for your wedding, then resin and wooden chairs are the way to go.
Ways to Decorate Resin and Wooden Chairs
There are many ways to decorate your hired resin or wooden chairs for your wedding.
Use ribbon to decorate the chairs
Use fabric to cover the chairs
Add pearls or diamantes to the chairs
Decorate the chairs with flowers
For a rustic-themed wedding use lace and burlap
Bamboo Chairs
Bamboo chairs are one of the most popular styles when it comes to weddings. These chairs can be found in natural wood colors, neutral colors, or even metallic colors.
These chairs are very often used for more traditional weddings and formal events. The nice thing about these chairs is that they can be left bare. Or you can cover them with chair covers.
Bistro Or Banquet Chairs and Chair Covers
These chairs are ideal for weddings and are light enough to be folded or stacked. They have no armrests and are perfect for weddings, funerals, and banquets.
Banquet chairs can also be found in many country clubs, restaurants, and hotels.
Banquet chairs can be ordered in all types of dimensions with some having higher backs and others having lower backs.
When using banquet chairs for your wedding it is important to consider their measurements to make sure that they are going to fit properly into your wedding layout as well as make sure that they are going to fit adequately around the tables that you are going to be using.
These chairs work very well with chair covers and can make your wedding look both elegant and beautiful.
Silver and Gold Chiavari or Tiffany chairs
Chiavari Chairs otherwise known as Tiffany chairs are often used for special celebrations and fancy weddings.
These chairs have a small frame, no arms, and a seat that tends to taper up at the back.
These chairs are a hit when it comes to hosting elegant and elaborate wedding ceremonies and is perfect for larger weddings.
If you can spend a little more on chair and want your layout to look stunning, then these are definitely for you!
Most couples these days opt for these kinds of chairs to seat people at their weddings.
Related article: Chiavari Chairs for Weddings
Need to order wedding furniture? Welcome to contact!
Please follow our Instagram or Facebook to get more latest news.