Top 10 2023 Wedding Themes
What is the best theme for a wedding?
The answer is different for everyone!
The theme you choose for your wedding day should be a reflection of who you are as a couple—what you love and what you want to share with your guests.
That being said, in 2023, wedding themes aren't going to be themes so much as they are aesthetics. That just means you're trying to create an experience for your guests that relates to a specific style. A theme, on the other hand, relates to the specific details that contribute to the design.
It's the difference between a wedding with details that scream "Bridgerton!" and one that's based on classic Regency style with nods to your favorite Netflix show.
Let us show you what we mean! Here are the top 10 wedding themes for 2023.
Enchanted Forest
An enchanted forest wedding is all about letting nature be the star of the show. Get married under towering pines and create stunning floral arrangements out of greenery.
There are still ways you can decorate! Hanging tealight candle holders look stunning with candles, as well as air plants and moss. Fairy lights are a great choice, as are cloches and candelabras. The trick is to think about how to make your wedding feel magical instead of focusing on specific details.
Moroccan Boho
Boho style has been popular for a few years. Neutrals were the most popular color palette for bohemian weddings, but in 2023, wedding themes that include colorful bohemian details will be more popular with brides and grooms. One of the best ways to inject more color into your boho wedding is to incorporate Moroccan style.
Think colorful rugs, vintage glass tealight candle holders in a rainbow of colors, and pampas grass. Incorporating experiences, like a traditional Moroccan tea ceremony, can elevate this theme as well.
Modern Minimalism
If the idea of a lot of color and décor leaves your head spinning, choose a modern wedding theme with a minimalist twist.
The trick is with this theme is to choose your venue wisely. When you choose a captivating space, there's no need for too many decorations. Industrial buildings with concrete walls and exposed rafters and art museums are great options for indoor celebrations, while a sculpture park is a great way to take your modern, minimalist wedding outdoors.
This aesthetic also lends itself well to a green wedding theme. With very little decorations needed, you can minimize the impact your wedding has on the environment.
Regencycore
Bridgerton-inspired weddings are lovely, but 2023 invites us to think beyond the narrow lens of a single TV show and think about the setting itself.
Regencycore weddings are all about focusing on the opulence of Great Britain in the early 1800s instead of focusing on the show itself. Focus on abundant floral displays, instead of specifics, like hanging wisteria. You should focus on vintage accents with sophisticated calligraphy on invites, menus, and signs—no mention of Lady Whistledown required.
Farm Fresh Abundance
Rustic weddings are still popular, as are barn weddings, but you can freshen up these themes by thinking about décor that incorporates farm-fresh details.
This is among the best wedding themes for summer, as that's when abundance is all around us. Get married among farm animals, like sheep and llamas. Create displays that include fresh fruit and vegetables, with charcuterie boards that are covered in local produce. Have fun with your floral arrangements and include things like artichokes and broccoli.
Desert Chic
There's just something about a desert wedding. They were popular in 2022, and they will continue to be popular in 2023. Some desert weddings will continue to feature neutrals, but weddings in 2023 will increasingly include more color.
The actual desert is a beautiful setting for a wedding, but you can also go desert chic in other venues when you include plenty of potted cacti and terracotta details. Colorful flowers can be combined with succulents in floral arrangements and colorful charger plates, napkins, and goblets can adorn tables.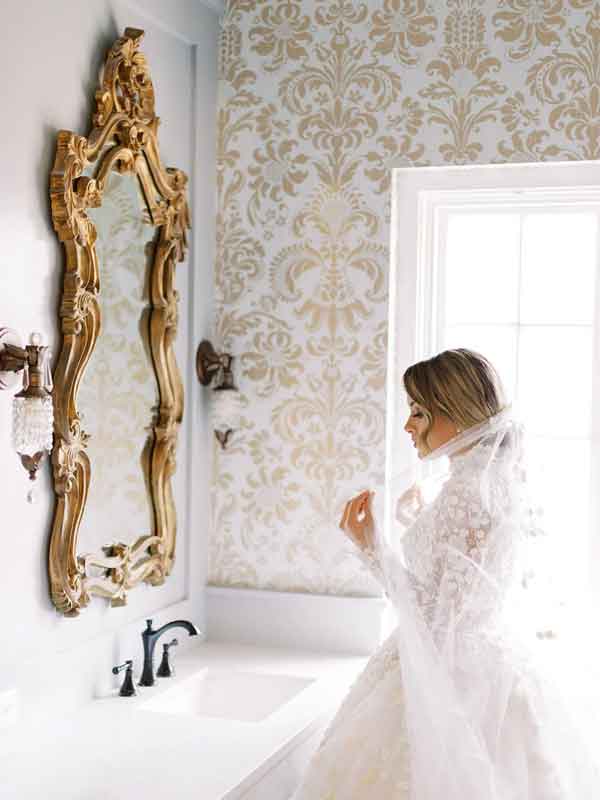 Effortless Bridal Glamour
If you're looking for a wedding theme with a vintage glam vibe, go classic bridal with a classic color palette of white.
This theme is partly inspired by style icons like Grace Kelly and royalty, like Kate Middleton. Think classic white flowers, like roses, orchids, and lily of the valley. Gold details, fur shawls, long veils, and champagne towers are also right at home with this wedding theme.
Luxe Night Life
Midday wedding ceremonies are rising in popularity, but that doesn't mean the reception has gone by the wayside! It has just transformed into a true nighttime party, with time in between the ceremony and reception to rest before the big night.
Think speakeasy-style after parties, neon lights, and disco balls. It's all about creating an upscale bar or restaurant vibe so you can party the night away with your friends and family.
Playful Color Palettes
Color palettes will continue to evolve in 2023 with some fresh and interesting choices that felt like a world away when neutral palettes were taking over weddings.
Start with Viva Magenta, Pantone's color of the year, and create a uniquely vibrant color palette. Wedding themes for spring might include a rainbow of hues, while wedding themes for winter might include surprising choices jewel tones in shades of red and blue with yellow accents.
Decade Inspired Décor
The 80's are making a comeback when it comes to bridal style and custom neon signage, but it isn't the only decade with décor elements that are having a real moment.
Send time back ten years earlier to the 70's and decorate with disco balls and daisies. The 50's is perfect for brides who love crinoline and tea length dresses, while men who appreciate fedoras and pressed suits will love taking things back to the roaring 20's.
Related article: Decorate your wedding with wedding furniture
Need to order wedding furniture? Welcome to contact!
Please follow our Instagram or Facebook to get more latest news.