Perfect Wedding Church
Couples would want to take their relationship to the next level by tying the knot. If given all the resources and opportunity, for sure many will like to have the ceremony by having a Church wedding. They probably have imagined themselves walking down the aisle or waiting for their partner to reach the altar. Might be cheesy but you know that it gives you major kilig vibes!
Planning for an important celebration like a wedding involves a lot of preparations and thinking. To take some load off of your shoulders, we come up with this list of majestic Catholic Churches where you can have your most-awaited matrimonial ceremony.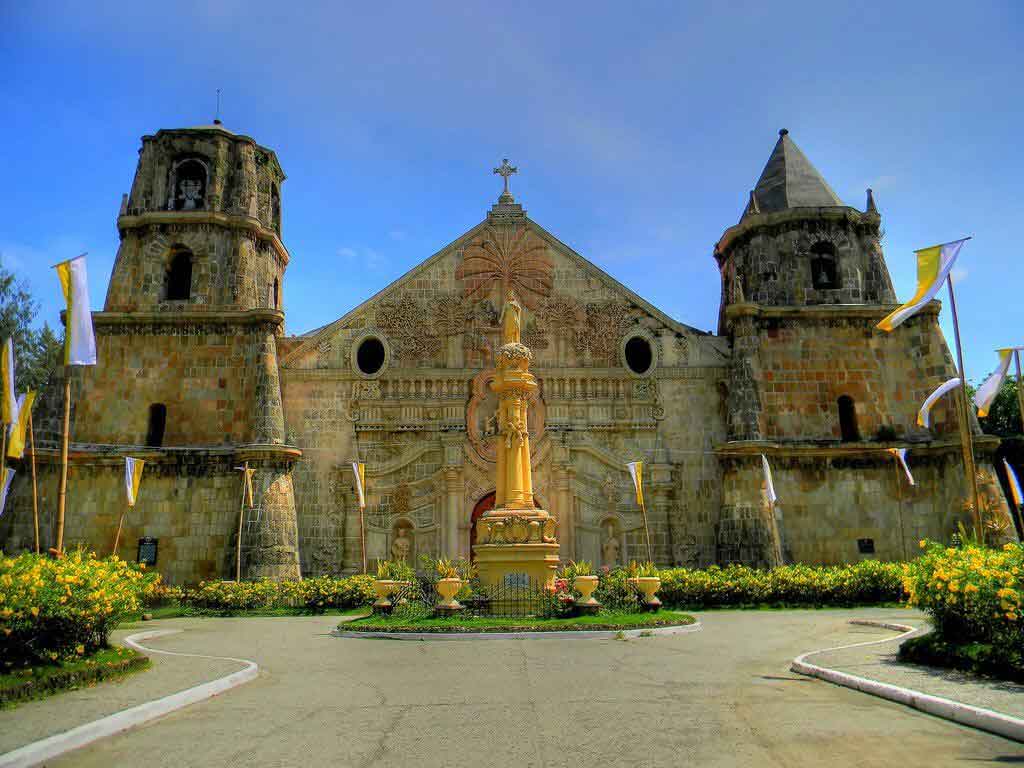 Get your pen and paper, and list all the possible locations and Churches that captivated your heart:
Bacarra Church in Bacarra, Ilocos Norte
Torres di Bacarra is one of the most visited churches in the Philippines for its uniqueness. It is dome-less and has a leaning bell tower, not to mention the fact that is centuries old already. The existence of Baccara Church can be traced back to the Spanish colonial era.
Baclayon Church in Baclayon, Bohol
Another categorized oldest church in the country is La Purisima Concepcion de la Virgen Maria Parish Church or Baclayon Church. Unfortunately, the 7.2 magnitude earthquake has devastated this UNESCO World Heritage Site last 2013. Nevertheless, you will still be able to see the beauty of this church as it is built of coral stones and flaunting a cruciform layout.
Bantay Church in Bantay, Ilocos Sur
Saint Augustine Parish Church or Bantay Church exhibits its neo-gothic with pseudo-Romanesque elements having its origin date of the 1590s. Feel the nostalgia in this one of the oldest churches. Bantay Church has gone through several renovations as it has been damaged during World War II.
Barasoain Church in Malolos, Bulacan
Most of us are quite familiar with Barasoain Church or Our Lady of Mount Carmel Parish for the significant historical roles it played. It was in Barasoain Church where the First Philippine Congress was convened, the Malolos Constitution was drafted in 1898, and the inauguration site of First Philippine Republic in 1899.
Betis Church in Guagua, Pampanga
Others dub Saint James the Apostle Parish Church or Betis Church as the Peter's Basilica of the Philippines when it comes to its incredible artistry. The painter Simón Flores is the man behind captivating ceiling mural and the Holy Family painting also present in Betis Church. The church has been declared as a National Cultural Treasure.
Binondo Church in Binondo, Manila
Displaying fantastic Spanic and European baroque design, Minor Basilica of Saint Lorenzo Ruiz or Our Lady of the Most Holy Rosary Parish has been very close to our hearts as it is located in one of the Chinese communities in the Metro. Binondo Church belongs to the long list of churches founded by Dominican priests.
Calasiao Church in Calasiao, Pangasinan
Saints Peter and Paul Parish Church is another Baroque-themed church and also tagged as a National Cultural Treasure. You can see how Spanish-looking the church as it is mainly composed of ladrillo along with a fortress-looking façade.
Church of San Juan del Monte in San Juan, Metro Manila
Santuario del Santo Cristo or Church of San Juan del Monte was built in 1774. The Church also played key roles in numerous events such as being a shelter by the Katipuneros during the 1898 revolution and seat of the Cofradia del Santisimo Cristo de San Juan del Monte.
Daraga Church in Daraga, Albay
If you want to see great Baroque with Churrigueresque architectural style, you should see Nuestra Señora de la Porteria Parish Church or Daraga Church. This church was built in 1772 with its walls composed of volcanic rocks.
Guadalupe Church in Guadalupe Viejo, Makati
Definitely one of the famous wedding sites in the Metro is Nuestra Señora de Gracia Church or Guadalupe Church. It has the façade of neo-Romanesque-gothic and sets of Doric columns. The Augustinian friars of Province of Santo Niño de Cebu are currently looking after old church.
Liliw Church in Liliw, Laguna
A literally cool church to visit is Saint John the Baptist Parish Church, Lilio Church or Liliw Church. It became comfortably cool as the one-of-a-kind stained glass windows of the church are filtering the natural light. It was built primarily as a reduccion or an annexed vista of Nagcarlan.
Malate Church in Malate, Manila
This church is dedicated to the patroness of childbirth or Nuestra Señora de los Remedios. Malate Church is one of the two churches to have a twisted column and a retablo-style façade and is said to be a blend of Muslim and Mexican Baroque design. Upon entering the church, you will see the image of Our Lady of Remedies in the altar, which is bought by Augustinian Fathers from Spain during the 1600s.
Manila Cathedral in Intramuros, Manila
One of the famous churches in the country is Kalakhang Katedral Basilika ng Maynila or Manila Cathedral. This church is dedicated to the Blessed Virgin Mary as Our Lady of the Immaculate Conception. As of writing, it still serves as the See of the Archbishop of Manila. It was first established in 1571, and the eighth and current rendition was done in 1958. Recently, it has gone thru several renovations and retrofitting.
Miag-ao Church in Miag-ao, Iloilo
Santo Tomas de Villanueva Parish Church or Miag-ao Fortress Church is one of the Baroque churches hailed as a UNESCO World Heritage Site. In Miag-ao Church you can see the limestone image of the Birhen ng Barangay, as well as the original 1790s images of Saint Thomas of Villanova.
Paete Church in Paete, Laguna
Paete Church has been said to be the only Roman Catholic Church in the municipality of Laguna. Aside from that, it is also famous with its collection of images showing the Passion of Christ, century-old paintings and wooden images of different saints. It has also undergone renovations to withstand calamities.
Paoay Church in Ilocos Norte
Another UNESCO World Heritage Site and National Cultural Treasure is the Saint Augustine Church or Paoay Church. Its 24 enormous buttresses located on the sides and back of the structures as well as the three-story coral bell tower are breath taking and overwhelmingly beautiful. The bell tower is separately built from the church for earthquake safety.
Quiapo Church in Quiapo, Manila
All of us have heard Quiapo Church for the world-renowned miraculous Nuestro Señor Jesus Nazareno or the Black Nazarene as its well as its procession. Quiapo Church has been declared to be a Minor Basilica in 1988. The Baroque Church has gone thru a number of renovations, and only a few of its features have remained from its original and classic design.
San Agustin Church in Intramuros, Manila
The one in site today is actually the third building of San Agustin Church. The first one was made of bamboo and nipa and built in 1571 but burnt after three years. The second building was wooden but again destroyed by fire in 1583. Nevertheless, the current building of the church was the one to be hailed as a UNESCO World Heritage Site in 1993.
San Jose de Ivana Church in Ivana, Batanes
One of the churches that are greatly preserved is San Jose de Ivana. It was primarily dedicated to being a chapel by Dominicans in 1787 and now is under the jurisdiction of the Prelature of Batanes. The stone church was initially built in 1795 and was followed by the bell tower in 1817. An earthquake partially affected the church in 2000 but has been renovated by 2001.
Santo Niño Basilica in Cebu City
Named as one of the oldest church in the Philippines is Basilica Menore del Santo Niño or Santo Niño Basilica. The Spanish explorers discovered the statue depicting the Child Jesus or Santo Niño de Cebu in 1565 and can be found in this church. You can see a lot of antique relics and religious artifacts in Santo Niño Church.
Sarrat Church in Sarrat, Ilocos Norte
Santa Monica Parish Church or Sarrat Church was formerly known as the San Miguel Church. The Church was also declared as an Important Cultural Property in 2009.
Taal Basilica in Taal, Batangas
Given its enormous size of 88.6 meters long and 48 meters wide, Minor Basilica of Saint Martin of Tours or Taal Basilica is named to be the largest church in the country as well as in Asia. The people began its construction of Taal Basilica three years after the founding of the town of Taal. It has gone thru a number of restorations particularly in 1953, 1972 and 2011.
Tayabas Basilica in Tayabas, Quezon Province
The Minor Basilica of Saint Michael the Archangel is known for its key-shaped design thus being called as "Susi ng Tayabas." Another thing people look forward to this church is the clock inside its belfry, which is said to be one of the oldest clocks of its kind in our Asian region.
Choosing an excellent venue
You might be on the look for a big church or local wedding chapels, but one should know that the wedding ceremony is just the beginning of bigger and more responsibilities as a couple. What plays a heavier part in your wedded life is your marriage itself. But of course, choosing an excellent venue for a wedding is also important.
The wedding may not come near yet, but it is better to plan and start inquiring for the dates you and your partner are thinking of. With all these beautiful churches we have presented, for sure you have at least picked one. Try visiting them as well to get the feels on the site!
Related article: Choosing A Centerpiece: Things To Consider
Need to order wedding furniture? Welcome to contact!
Please follow our Instagram or Facebook to get more latest news.