Outdoor wedding venue ideas
A few venue ideas for your outdoor wedding will help you narrow the choices. Keep in mind the specific features you want for your nuptial location while exploring all possibilities.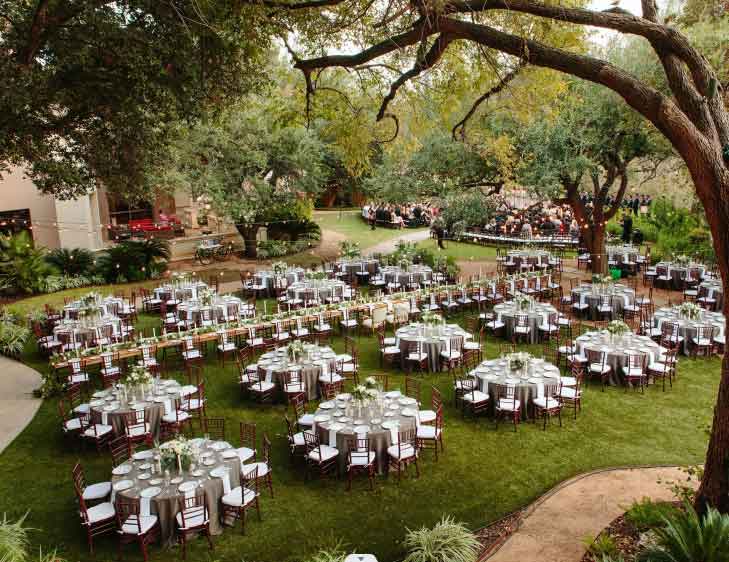 Wineries
Wineries are a popular outdoor wedding venue thanks to the romantic scenery. Grape vines, rolling fields and plenty of quality wine for guests to enjoy are all reasons brides may want to consider a winery wedding. For those considering such a location, be sure to visit at least three different options prior to booking – each winery has its own unique character, wines and venue options that can vary widely. Checking a few different spots will give the couple a good feel for the available options, and will help align them with the best fit for their particular vision. Another thing to keep in mind is that most wineries do not allow hard alcohol to be consumed on site due to their specific alcohol serving permits. If they do allow hard alcohol consumption, the couple may be required to secure additional permits and bartenders at an additional fee.
Vineyards
When considering a winery as a wedding venue, many brides envision beautiful hillsides covered with rows of grape vines. Many wineries are keen on this idea. And have the option of getting married surrounded by the vines, or with the vines in the background. Even if the wineries' ceremony or reception location options are not located amongst the vines, many allow photographers to take pictures of the couple in the vines. So be sure to get permission if this is an important part of your wedding day vision.
On-Site Restaurants
Larger wineries are often equipped with on-site restaurants that can provide the catering for your wedding. California wineries with restaurants, in particular, tend to have large outdoor dining areas that they offer as wedding reception space. Couples can choose to exchange vows with a backdrop of the vineyard and head to the outdoor restaurant space after to celebrate with their loved ones. One big benefit of holding the reception at a pre-existing restaurant's outdoor space is the easy access to a kitchen, bar, lighting, tables and chairs – all items that need to be arranged for separately at many other outdoor venues.
Outdoor Courtyards
Wineries typically have both indoor and outdoor tasting areas. The outdoor tasting areas often do double duty as a wedding reception site. Traditional winery tasting areas can be crafted of beautiful storied materials. Such as bricks and stones covered in trailing ivy and vines, making them a stunning backdrop for an outdoor wedding ceremony or reception.
Farms and Fields
The last decade has seen a big shift in brides looking for rustic, romantic open fields for their wedding venue. The finished result can be a beautiful outdoor celebration under the stars. But requires a lot of work to coordinate all the rentals, food, beverage and lighting. Consider the following options if you are looking for a wide open space wedding.
Local Farms
Local farms can be a good place to consider if you're planning a rustic outdoor wedding. Often times the venue site fee will be less than well-known outdoor venues who advertise and market directly to brides, and it offers the same charm and open canvas. When inquiring, be sure to ask if they ever do events on site, even if they are not weddings. Farms often have harvest festivals or family events on site. And a farm who has experience with a larger event will be easier to work with and will be aware of what is required for power and lighting needs. If the farm does not already have a generator on site in the spot you are considering for the reception, be sure to include the cost of renting one in your wedding budget.
Types to Consider
If you want a farm with a particular look and feel, consider one of these types:
Fruit and vegetable farms – An apple orchard would make for a stunning backdrop for a fall wedding in September, and foodies may find themselves right at home with rows of abundant vegetables growing in the background of their wedding photos. Ask the farmer if they are willing to sell some of the seasonal produce at a wholesale price – The caterer can incorporate the fresh produce into your menu, or you can bag up fresh apples or applesauce as a favor for guests to take home.
Flower farms – Flower farms are incredibly beautiful venue options in the Spring and Summer months. Rose, dahlia, ranunculus, hydrangea and lavender farms all are in bloom in different seasons. So consider your wedding date and the flower farm's blooming season when looking at your options. Another little-known benefit to having your outdoor wedding at a flower farm is that the farms sometimes sell flowers to the bride and groom at wholesale cost – Saving money on your floral decor and supporting the farm at the same time.
Horse farms – Equestrians can honor their passion by picking a horse farm for the backdrop of their big day. Many horse barns have gorgeous landscaping with boxwoods, flowers and trees, and have large open grassy fields perfect for reception setup. Photos of the bride and groom canoodling in the stables next to the horses make for beautiful romantic shots. One thing to consider with a horse farm is the potential smell – The manure pile should be far, far away from the reception location to cut down on flies attacking the catering table.
Hotels With Outdoor Spaces
Though hotels are usually considered as indoor venues, many have enough space on their grounds that they offer lovely outdoor venue options. When working with a hotel, two huge benefits is they already have most of the items needed for your wedding on site and usually also have a catering or events manager that will help during through the planning process. Another great benefit to having your outdoor wedding at a hotel is that any out of town guests can simply book a room on-site without having to deal with transportation in an unfamiliar city.
Large Resorts
Large resorts are a great option to consider for an outdoor wedding venue since they have vast grounds and multiple ceremony and reception spaces. Depending on the style of wedding you are planning, a few locations to keep in mind are:
Beachside resort ceremony in the sand – Many beach resorts have their own stretch of private beach, which is an ideal option for couples who want to be wed with their toes in the sand and the ocean breeze in their hair. A great benefit of having a ceremony on the beach is that the decor can be very simple – A traditional arch or chuppah isn't needed since you have a gorgeous view behind you already. Simply line the aisle with lanterns and candles, and you are good to go.
Golf course resort wedding – Golf resorts are an underrated outdoor wedding venue option. The views are beautiful and serene, and the grass is always neatly mowed with a smooth surface – no need to worry about tripping down the aisle in your wedding day heels. You can even utilize a golf cart for your transportation needs. If you or your significant other are golfers, feel free to play up the built-in theme – Create a unique escort card display by having guest names calligraphied onto golf balls, and placing the balls on tees tucked into flats of wheat grass.
Poolside – A poolside reception makes your wedding celebration feel like a true vacation. If the sky is the limit with your budget, consider asking the hotel if they will accommodate covering the pool in glass for your big day. It's a pricey big-ticket item, but imagine guests dancing on top of the pool that is glowing with lights from below the water.
Bed and Breakfasts
For brides and grooms who prefer a charming, intimate feel to their outdoor wedding, a bed and breakfast would make a better option than a large hotel. Bed and breakfasts probably will not have a catering manager on-site, but they are likely to have at least some of the rental supplies like tables, linens and chairs, and a place for out of town guests to stay during the festivities. Bed and breakfasts are ideal for couples who are having a smaller guest count wedding. Especially if many of the guests are from out of town. If all guests are local, the guest count is less of an issue as long as the venue can support the number of people you are hoping to invite.
Make your guests' experience even more intimate by creating fun welcome baskets or bags to receive upon check-in.
Fun items to include are:
A map of the local area – customize it by adding your favorite date spots or restaurants to try while they are in town
Snacks – fun ideas to include are local favorites or the bride and groom's favorite
Bottled water or other refreshments
Band-aids and Advil if guests' feet or heads ache the day after the wedding festivities
Garden Wedding
A garden wedding is a perfect pick for couples who want to get married outdoors in the Spring and Summer. There are a variety of location options for hosting a garden wedding, but one thing is for sure – to get the right look and feel, make sure your chosen venue has a lot of beautiful foliage, flowers, grass and greenery all around.
Backyards
If you or someone you know has a beautiful, expansive backyard, you may want to consider it as an option for your wedding venue. A backyard wedding feels particularly charming when the place has a special meaning for the couple, be it the bride's childhood home or grandparent's home.
If you still want a backyard feel for your wedding but do not know someone personally with the right space, consider renting an estate for the weekend. VRBO, FlipKey and AirBnB are great options to check out for homes with gardens.
Keep in mind the following tips if you are thinking about pulling the trigger with an estate rental for your wedding:
Always be up front – make sure the renter knows you are planning to hold your wedding there. There is a lot of additional liability and risk (that comes along with additional insurance requirements) when having a wedding, and the renter needs to be kept in the loop.
Make sure you consider all of the additional cost factors involved in an estate wedding – You need to bring in all the rentals, vendors, purchase additional insurance, and should also think about hiring a planner to manage the costs and mitigate risks.
Botanical Gardens
Look no further than your local botanical garden for a picturesque outdoor wedding venue. Hold your ceremony in the manicured formal gardens and your reception in a field surrounded by wildflowers. The wonderful thing about having your wedding in a botanical garden is that everything will look perfectly lush and in bloom, reducing your need to bring in additional flowers for decoration.
Historical Venues
If your dream garden wedding takes place in a location steeped in culture and tradition, choose a location rich with history. Incorporate the story of the space in your table numbers by adding a fun fact about something related to the venue for guests to read as they wait for their entree. Consider the following types of venues:
Museums – Art museums, history museums, and even children's museums all typically have outdoor space for events.
Historical homes – Most cities have at least a few grand, historical homes that host events in their gardens.
Libraries – While not all libraries have gardens, some of them in warmer climates do, especially outside universities.
Forest Setting
Rustic and outdoor-loving brides and grooms may want to consider a forest setting for their outdoor wedding. Get inspired by the Twilight movie's ethereal all-white ceremony decor amidst the pines, or get married in the middle of a mushroom circle with your nearest and dearest standing around you.
Tips to keep in mind if a rustic forest wedding is your top pick:
Permits – Be sure to acquire all necessary permits. Before you begin the planning process, do some research on nearby local and national forest parks, and contact them individually to inquire about the process of having your wedding there. Usually the minimum requirement is a permit, and the list of rules and regulations are typically stringent at a park due to fire hazard and the desire to preserve the beauty and safety of the natural habitat.
Guest count and rentals – As with many natural, rustic locations, everything will need to be brought in for your wedding. Many brides find it easier to have a much smaller guest count when planning a forest wedding so guests can simply stand for a short ceremony (less chairs to bring in!). Also, forest clearings and open space for reception setup are typically smaller than a venue like a hotel where there is a pre-planned flat area for the dancing and dining.
Access to location – Windy roads can be tricky for guests imbibing, as well as for rental companies bringing your tables, chairs, and lighting. Consider planning small bus transportation (keep in mind that over 25 passenger vehicles cannot navigate small winding roads) for getting guests to your wedding. And be sure to keep the rental company in the loop so they can bring the appropriately sized vehicles for delivery and pickup.
Tips for Choosing the Right Outdoor Venue
Choosing the right outdoor venue for your wedding depends on a few factors.
Budget Considerations
First and foremost, the right venue needs to fit into your wedding budget. Reception (including food, beverage and venue space) should typically account for only 40-50% of your overall budget, so plan accordingly. If your dream location is out of reach, chances are with a little creativity you can find another great option in your budget.
Related article: Wedding BBQ ideas for a fabulous event
Need to order wedding furniture? Welcome to contact!
Please follow our Instagram or Facebook to get more latest news.