Gorgeous lucite wedding decor ideas
Gorgeous lucite wedding decor-Imagine exchanging vows under a floating arrangement of blossoms with a picturesque countryside backdrop in full view. More and more couples are embracing Lucite and acrylic decor to make wedding daydreams like the one just described come to life. What's so remarkable about Lucite is how it allures with contradiction – bold yet invisible, modern yet timeless, edgy yet understated. Clear decorative elements make a statement, elevating a space while creating fluidity for the eye to freely gaze. Lucite works with just about any style: add soft florals for a romantic feel; sleek accents create a contemporary vibe; gilded details align with elegance. From the start of your ceremony to when dessert is served, we've rounded up gorgeous ideas for incorporating Lucite and acrylic decor into your big day.
Display A Lucite Welcome Sign
For a natural touch, frame a Lucite welcome sign with seeded silver dollar eucalyptus. Here's a chance to be creative with your message and choose a script or typography that will set the stylistic tone for the rest of your wedding.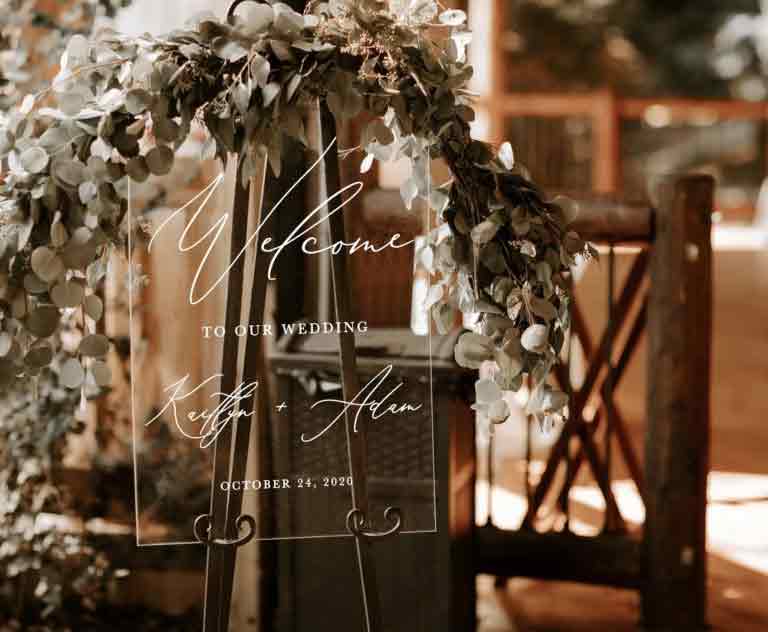 Display Ceremony Arrangements on Lucite Pedestals
Lucite pedestals bring a modern flair to traditional ceremony arrangements. Blossoming urns set on clear stands underscore the natural beauty of the grounds at Oheka Castle. Sleek arrangements of crisp blooms displayed on Lucite pedestals with cascading white carnations radiate modern romanticism.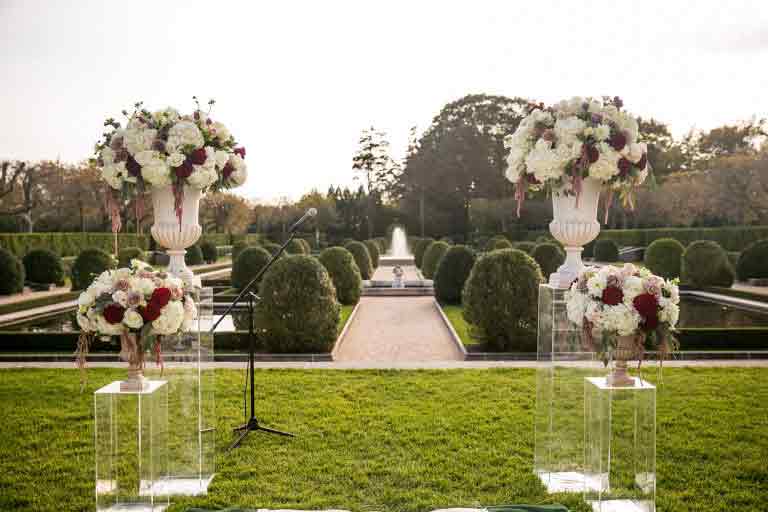 Incorporate 'Ghost' Chairs
The only time you want to be 'ghosted' during wedding planning is when the topic of seating furniture is under consideration. Reflecting the glow of aisle candles, Lucite chairs add luxurious elegance to a ceremony atmosphere. 'Ghost' seating offers versatility when it comes to reception styling whether paired with lush, blossoming centerpieces or a sophisticated cocktail-inspired tablescape.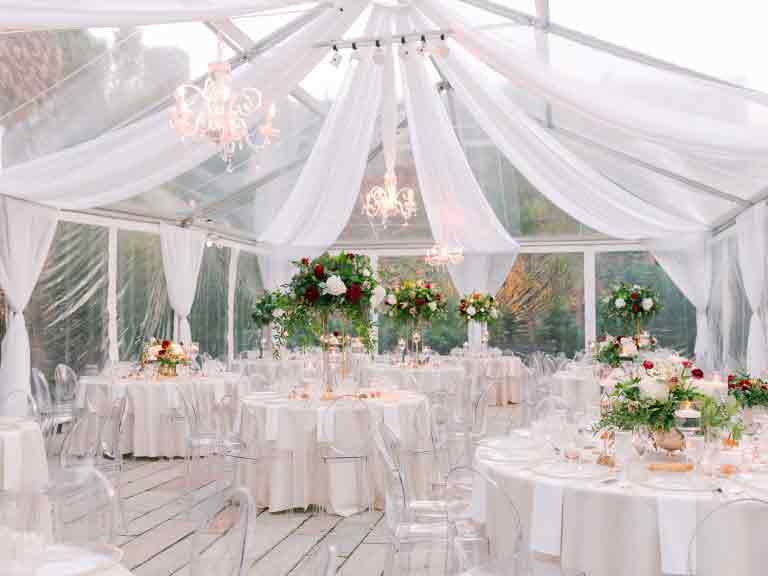 Display Clear Table Numbers
Acrylic table numbers are the perfect complement to decor, capturing the flicker of candlelight while showing off pretty florals and greenery. Table signage is another area where couples can incorporate customized details.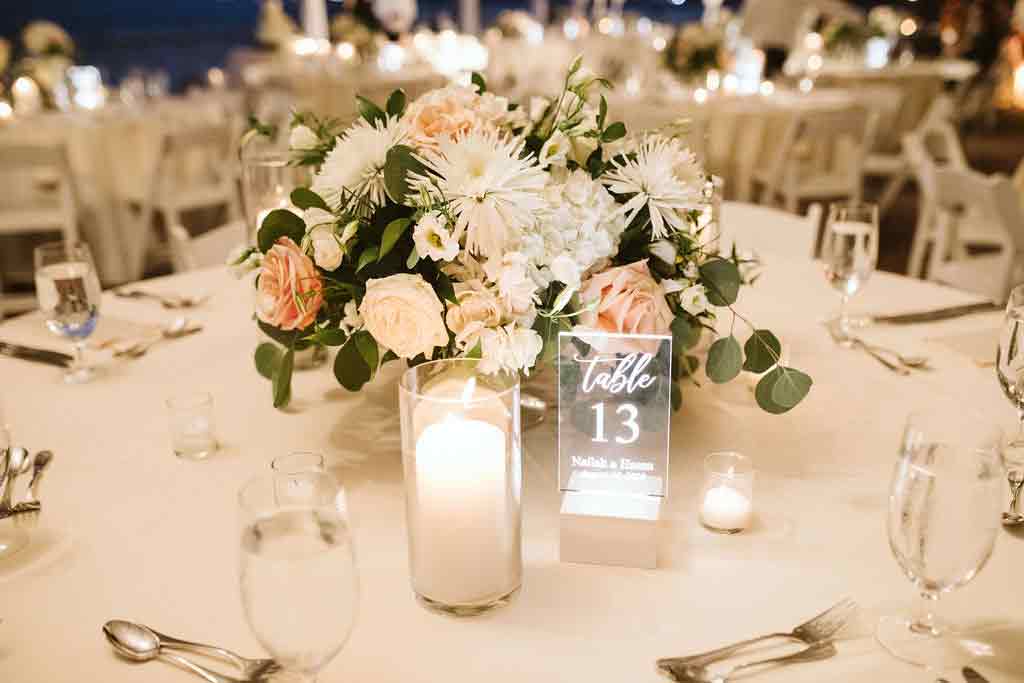 Table Centerpieces With Acrylic Stands
To clients who want their table centerpieces to look polished, unique, and contemporary, we suggest using asymmetry and elements of varying height in decor. Acrylic pieces are a fresh and stylish way to achieve the look. Here, asymmetrically arranged cubes trimmed with white ranunculuses, mini calla lilies, and hydrangeas with candle accents create a dramatic and sophisticated feel.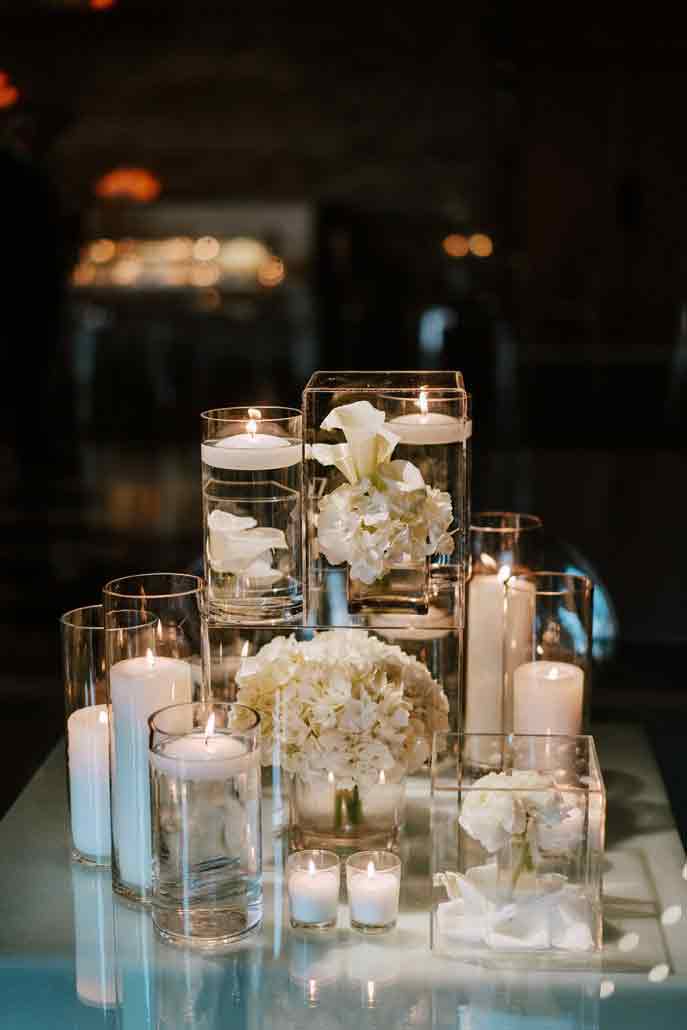 Set the Table with Acrylic Dinner Menus
Acrylic can be used just for just about all wedding stationery and signage. Take the traditional place setting to the next level with a clear menu set upon a tasteful dinner plate.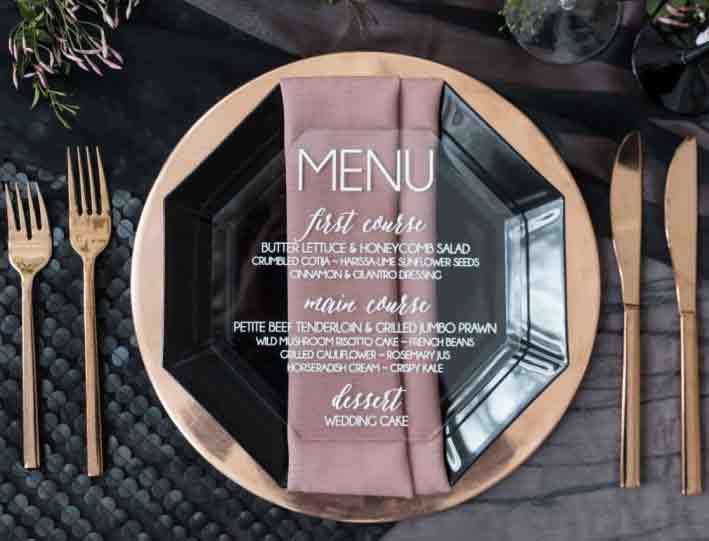 Celebrate with an Acrylic Signature Cocktail Sign
While you agree that your love for each other is true, you don't see eye-to-eye when it comes to which favorite adult beverage to serve guests. No matter – an acrylic signature cocktail sign lets you both celebrate with a specialty drink of choice.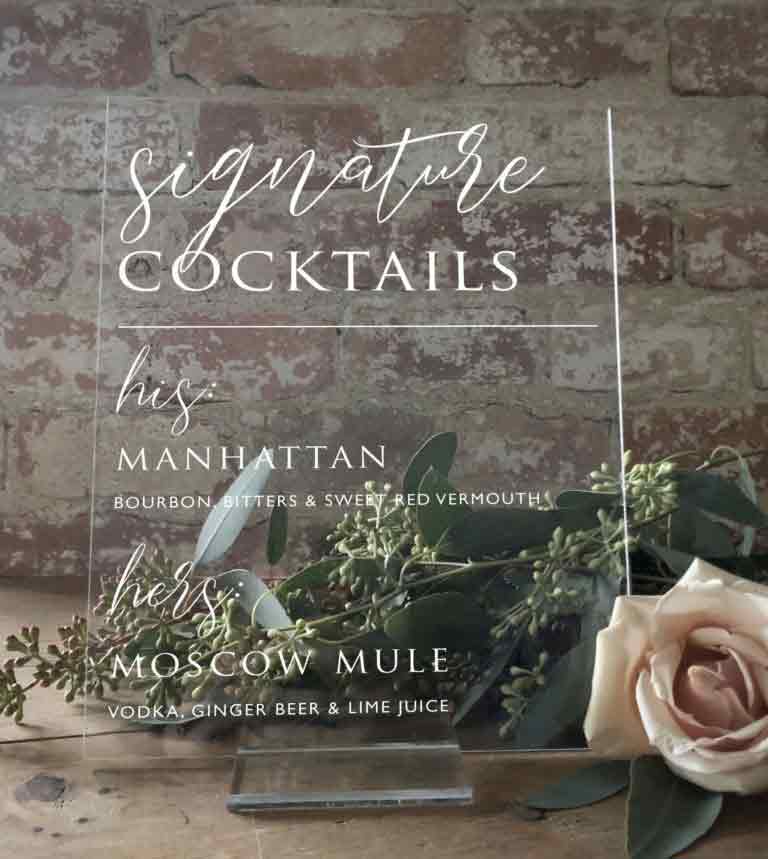 Raising The Traditional Wedding Cake Stand
Are you looking for cool, artistic ways to present your wedding cake? Consider setting your big day dessert on an acrylic cake stand filled with an arrangement of fresh flowers.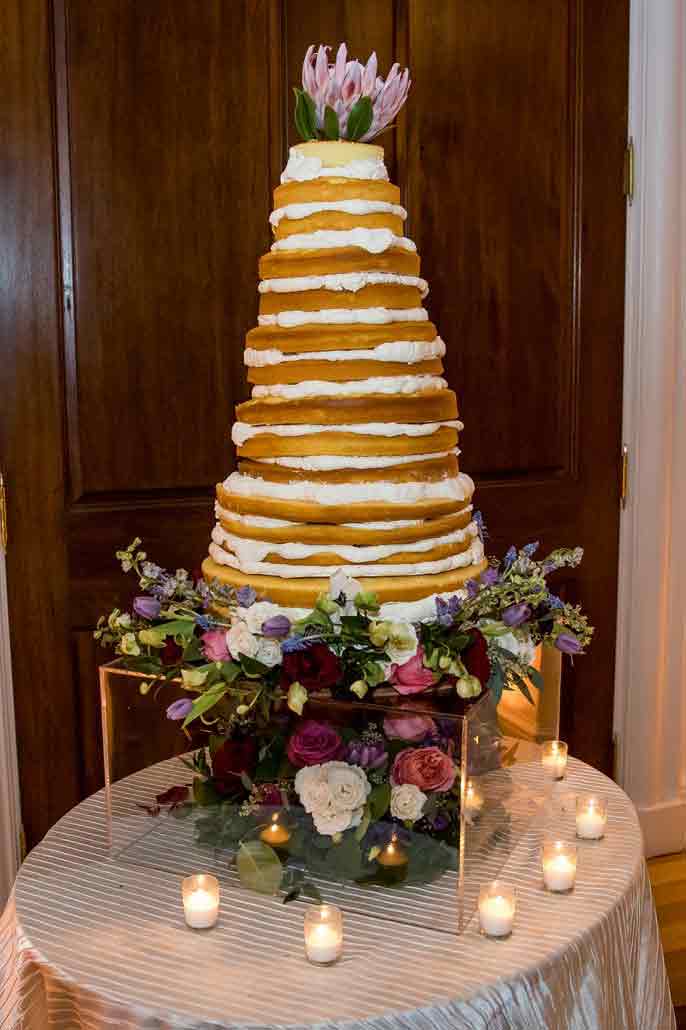 It's no wonder that translucent decor has become an instant classic among wedding florists and planners. From personalized signs to focal points such as chuppahs and ceremony arrangements, we hope these ideas have made clear the transformative impact Lucite and acrylic accents have on the look and feel of your wedding.
Related article: Decorate wedding venue
Need to order wedding furniture? Welcome to contact!
Please follow our Instagram or Facebook to get more latest news.