Double-Used Round Back Louis Chairs
Elegance Redefined
Step into a world of refined elegance with the Double-Used Round Back Louis Chair. We explore the enchanting allure of this versatile chair, renowned for its classic design and dual-purpose functionality. Discover how the Round Back Louis Chair effortlessly merges timeless aesthetics with practical versatility.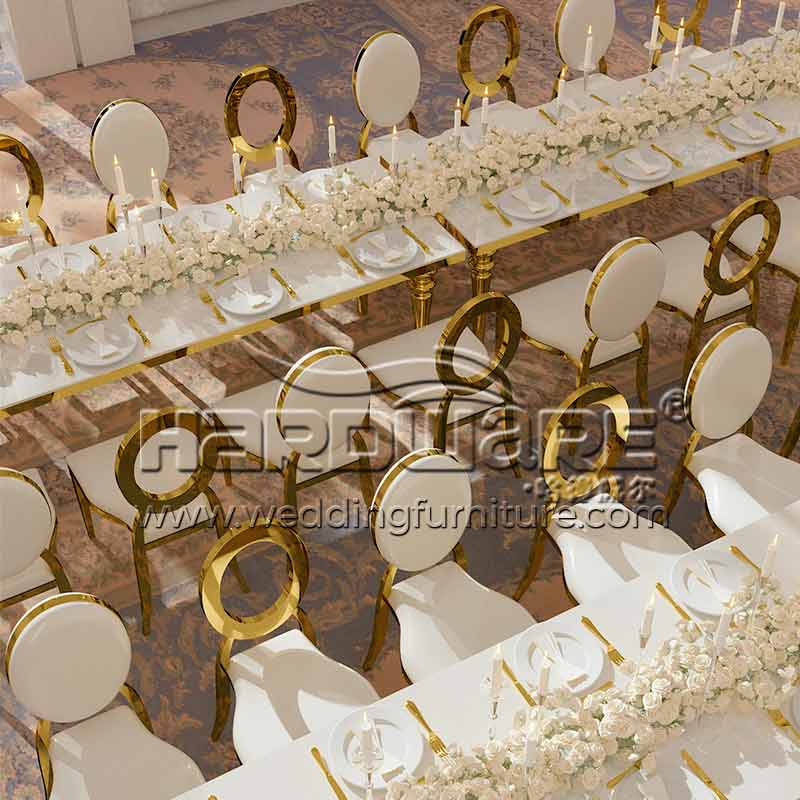 Classic Design, Modern Appeal
The Round Back Louis Chair is the epitome of classic design, featuring the signature rounded backrest that exudes sophistication. Despite its traditional roots, this chair seamlessly integrates into modern spaces, offering a timeless appeal that transcends design trends.
Double-Used Brilliance
What sets the Round Back Louis Chair apart is its ingenious double-used functionality. The back of this Louis chair can be switched between a hollow back and a solid back, and can also be stacked. The seat cushion can also be made of leather or velvet. This chair effortlessly transitions between formal dining settings and elegant event arrangements, proving its adaptability and making it a valuable addition to any space.
A Symphony of Materials
Crafted with precision, the Round Back Louis Chair showcases a harmonious blend of materials. From the sturdy frame to the luxurious upholstery, every element is chosen with care, ensuring durability and visual appeal that withstands the test of time.
Versatile Upholstery Options
Personalize your Round Back Louis Chair with a range of upholstery options. Whether you prefer sumptuous velvet, classic leather, or chic patterns, the versatility in upholstery allows you to tailor the chair to suit your taste and complement your interior design.
Event-Ready Elegance
Transform your events with the sheer elegance of the Round Back Louis Chair. Its dual usability makes it an ideal choice for weddings, galas, or any occasion where a touch of sophistication is required. Create a statement with a chair that effortlessly marries style and functionality.
Enhancing Dining Experiences
In a formal dining setting, the Round Back Louis Chair elevates the dining experience. The rounded backrest provides ergonomic support, while the timeless design adds a touch of luxury to every meal. Invest in dining furniture that transcends mere functionality to become a symbol of refined taste.
Space-Saving Brilliance
The Round Back Louis Chair's rounded silhouette is not just aesthetically pleasing; it also contributes to space-saving brilliance. The absence of sharp corners allows for easy placement around dining tables, making it an excellent choice for rooms with limited space.
Double-Used Round Back Louis Chairs
In the world of furniture design, the Round Back Louis Chair stands as a testament to the perfect fusion of elegance and functionality. Its classic design, coupled with double-used brilliance, makes it an invaluable addition to both residential and event spaces. Embrace the versatility and sophistication of the Round Back Louis Chair, where timeless design meets modern adaptability.
---
Related article: Cross-Leg Dining Chairs Unveiled
Need to order wedding furniture? Welcome to contact!
Please follow our Instagram or Facebook to get more latest news.