Don't Make These Mistakes Before Booking A Wedding Venue
We totally get it, you've just gotten engaged to the love of your life and you are so pumped to dive into planning and booking things. However the number one most important thing to book first is your venue! This will confirm so many important things for you like the date (HUGE important detail for vendors), capacity, and if you have to stick to a specific list of recommended vendors. So here are 5 things you should hold off on doing until you book your wedding venue.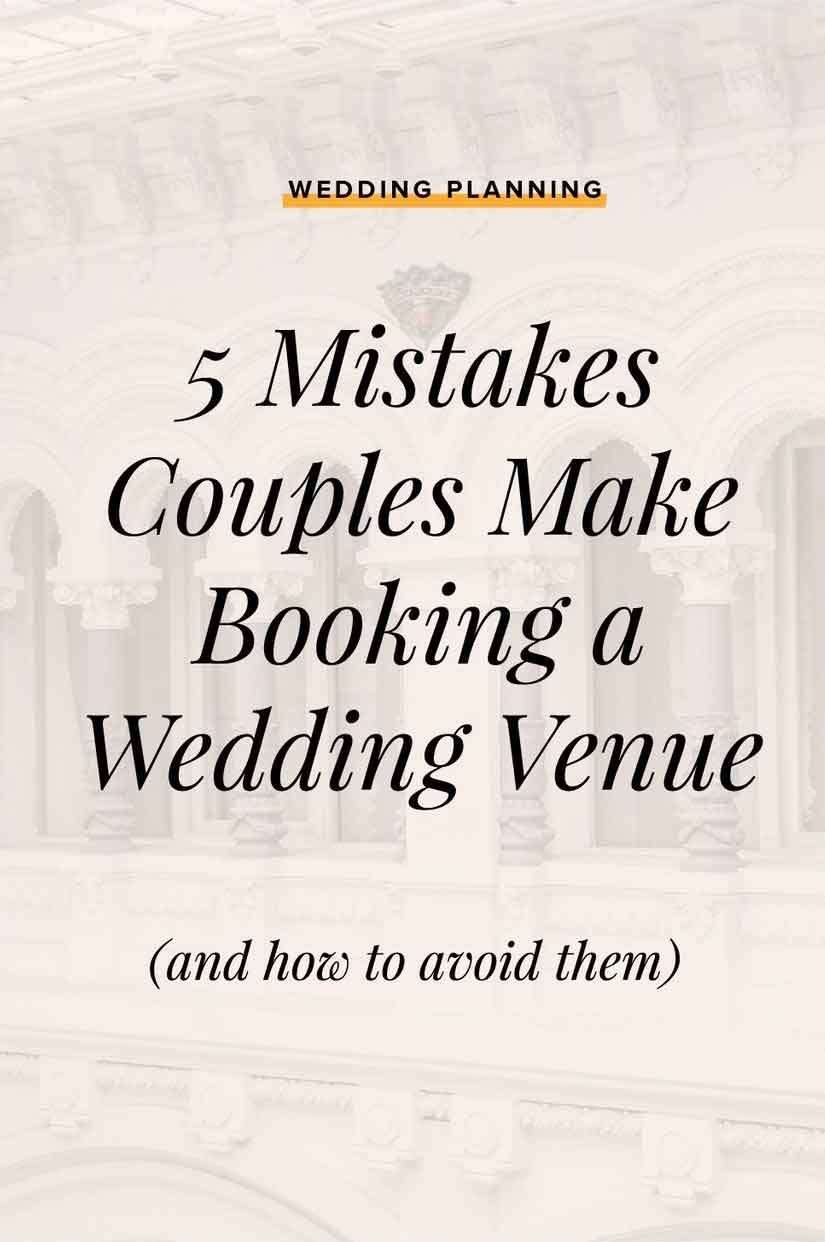 1. Booking Vendors
This is such. a. huge. one. We can't emphasize this enough because your vendors will need your wedding date, and many venues have specific requirements including insurance. Your wedding venue might also not allow outside caterers or they might have a list of vendors you exclusively must use. All that to say, secure your venue first and wait to book any vendors until you have secured your wedding venue.
The only caveat is if venue selection is something you want to go over with your wedding planner for their advice which can sure come in handy. Just be sure you're allotting plenty of time for booking your planner + scheduling this site visit with them first so that you aren't pinched for time on finalizing a date with your venue. Spots fill up fast (sometimes a year and a half in advance!), so just be mindful!
2. Send Out Save-the-Dates
While you might agree this feels a little obvious, it's always a good reminder that you shouldn't send out save-the-dates until you've locked in the date with your venue. Even if you've decided you want to get married on a specific date for sentimental reasons, you still need to wait until the venue is actually booked, whether that be a destination location, a gorgeous space you've been eyeing or even your own backyard. The venue confirmation is a must before sending out any formal communication to guests. This will also make sure that you don't invite TOO many people by not knowing the location's maximum capacity.
3. Buy Your Dress &a Shoes
Imagine this scenario. You envision yourself in a ball gown wedding dress all your life, but then you end up booking a beach wedding… We don't have to tell you all the things that come after that. You will always want to consider your wedding venue before buying your dress and shoes to ensure that your heels aren't sinking into the sand/grass or that your dress doesn't end up flowing with your overall wedding vibe. After you've booked your wedding venue, and start wedding dress shopping, you can easily picture yourself in that location in the dress you're trying on.
4. Pick Wedding Colors
This one kinda goes with your dress and shoes. You don't want to rent speciality linens without having a clue as to wha the wallpaper might look like in the ballroom, what the landscape team anticipates for the floral varieties during your wedding season or what special elements about your dream venue you might want to tie in with your color selection. Remember, you always want to design your wedding/choose styling elements that enhance what's already there, not cover it up! So needless to say, it helps to know in advance what you're working with. Plus, the venue might have a plethora of linens and napkins to choose from that work perfectly with your vision AND the venue.
On that same vein, wait to look for floral designs and bouquets until you have a venue and a date locked in a contract. You won't know what flowers will be in season and what colors will work best with your wedding until you have that venue reserved!
5. Choosing Wedding Party Outfits
Once you have your venue and have picked your colors you will have a much better idea of your overall theme. This will help your wedding party not clash with the venue, your wedding dress or the overall ambiance. Since your wedding party will be in soooo many photos, you want to choose their outfits carefully.
Related article: Must-Know Wedding Planning Hacks
Need to order wedding furniture? Welcome to contact!
Please follow our Instagram or Facebook to get more latest news.