Different Dining Chair Materials
Different Dining Chair is made from a wide variety of different materials and often they consist of a combination of materials. Here are the benefits and drawbacks of the most common types of chair materials used in hospitality settings.
Metal
Metal is the strongest material for chair and stool construction. A welded joint is as strong as the metal itself and metal will not snap in normal circumstances.
Simple metalwork also tends to be cheaper than wooden equivalents.
Metal chair bases stack the highest because the frame is thin and strong.
Painted metal chips less than painted wood (it can still, however, chip).
Not all metal chairs are treated for outdoor use even when powder coated, so can't all be used outside.
Sled frames have a slight side-flex (although still robust) and are often used for meeting rooms, conference rooms and education environments as they stack highest and can be connected together using connector pieces between legs.
Chairs with metal legs often have plywood or plastic molded shells (seat and back) screwed to them; the fixings on these parts should have female metal inserts to ensure strength.

Wood
Most European wooden chair frames are made from FSC-sourced beech, sourced in the south of the continent. Other popular timber types include oak and ash.
Wooden chairs are increasingly created using computer-operated robot machines, which allow sophisticated design.
Wooden chairs flex, eventually opening up glued joints, so contract-specification chairs should have screwed and glued joints wherever possible.
Square leg profiles are simpler and so cheaper to produce than round legs, particularly tapering round legs.
Wood can be light and elegant although this will be at the expense of strength.
Stackable chairs tend to only stack 3-4 high. Bentwood chairs, created using steam-heating, are ideal for tight spaces as they typically have a very small footprint.
Wooden top rails ('show wood') help prevent upholstery staining when the chair is being handled. Crumb gaps between the seat and back help avoid dust/crumb traps.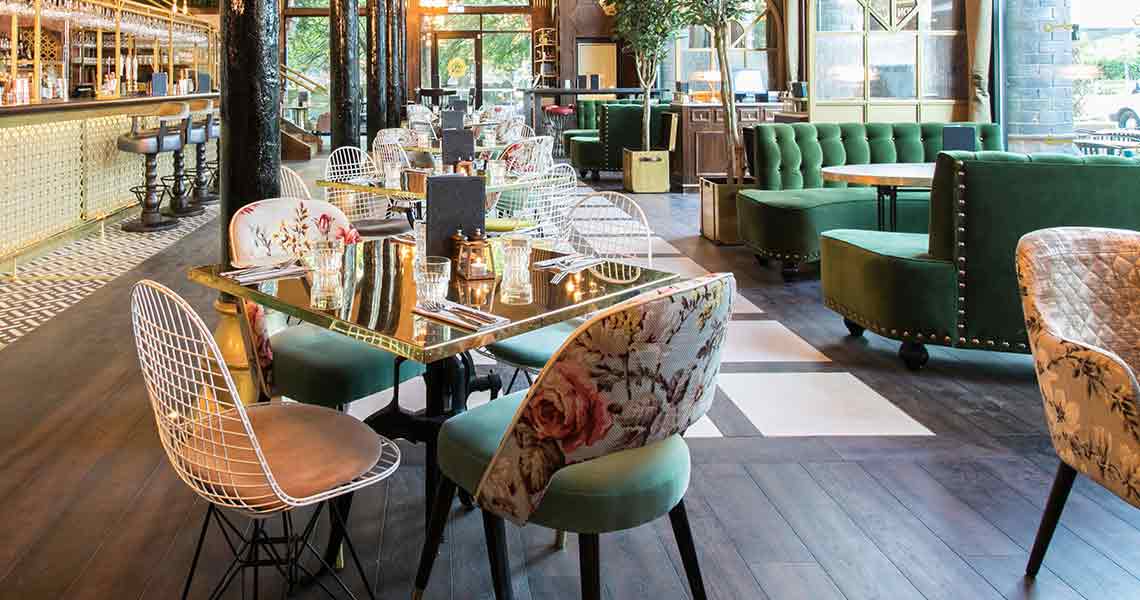 Upholstered chairs
There are several ways of constructing the seat of an upholstered chair. The two most popular dining chairs are:
Webbing
Wide fabric straps are fixed across the frame, under any foam and upholstery. This is an excellent method of construction, making a comfortable seat.
Board
The base of the seat is made of solid sheet material, cheaper and often less comfortable.
Most upholstered dining chairs also contain foam. CMHR foam (Combustion Modified High Resilient) is required for UK hospitality furniture (It is not required in all other European countries).
There is a limited choice of densities of CMHR foam, but it can be layered within a cushion, usually with lower density layers above higher density layers.
Keep an eye out for our blog on upholstery for more information or download our Furniture Care Book.

Plastic
Plastic chairs are mass-produced in big volumes and are very widespread.
They have many benefits:
Usually available in many colors
Easy to maintain
Good value for money
Mostly stackable 6-8 high (or even more on some models)
And some disadvantages:
Are light, so can blow away outside
Can sometimes be scratched easily
Cannot be altered (although for orders of around 300+ pieces, bespoke colors can be requested)
Common types of plastic
Plastic is a material consisting of malleable organic compounds that can be molded into solid objects. There are numerous types of plastic, two of the most popular for furniture being:
Polypropylene
Polypropylene is cheap, light and tough. The Monobloc white beach chair, often described as the world's most common plastic chair, is polypropylene.
Polycarbonate
Polycarbonate is more brittle, but strong and with excellent light transmission, meaning it is ideal for transparent chairs such as the Louis Ghost.
Some plastic chairs have a core to provide extra strength.
Plastic chairs tend to be either 'one-piece molded' (ie the whole chair is made in a single mold) or are combined with metal legs. Both rely on the process of injecting plastic into a mold.
Related article: Specialty Banquet Tables You Should Own Now
Need to order wedding furniture? Welcome to contact!
Please follow our Instagram or Facebook to get more latest news.